Stand Up for God: A Christian imperative to defend one's faith in the public arenas of life.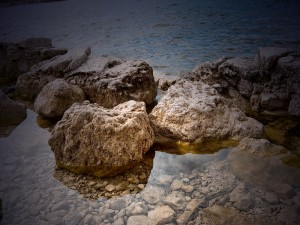 I wasn't prepared for all the noise. For how loud the world would feel to me after two days of wind and water and writing.
There is something about large bodies of water like Lake Superior. They take the edges off of sound. Your voice can go no farther than here, than this water. It disappears underneath the waves, and you are left in the muted quiet.
When I walk in through the garage door after the retreat, there is a flurry of gladness. Kisses and hugs and Mama's home! Right on its heels, though, is Total-and-Utter Meltdown. There is fighting and crying and two small bodies clamoring to be held by the same weak arms.
All my stuff is in the car still, and Andrew is turning up some music, hoping that a kitchen dance party will distract from the toddler fury. Our current song is "Most Nights," by Fun because it's catchy and Dane likes the woah part.
When we get to the chorus, I always find myself weepy for some reason I can't quite put my finger on: I still wake up, I still see your ghost/Oh Lord, I'm still not sure what I stand for/What do I stand for? What do I stand for?/Most nights, I don't know anymore.
*
It hasn't even been two weeks since that senseless late-night movie shooting in Aurora, Colorado, and already the internet has whipped itself into a new frenzy.
The candlelight vigils have given way to fast-food picketing. Demonstrations. Our speechlessness and grief in the face of great evil has been replaced with Big Opinions and inflammatory remarks. It is the buzzing of a hundred thousand words making the same old arguments.
It's all so loud, and it makes me tired all the way through. I sometimes wonder if we'd be better off if we couldn't speak at all. If we were forced to communicate only through nonverbal cues. A smile. A touch. Arms reaching.
There is a Christian bumper-sticker phrase, If you don't stand for something, you'll fall for anything. And in my early On Fire days I was always standing up for God. Or, more accurately, against swearing. Against evolution and abortion and sex before marriage.
I understood that I was not to be ashamed of my faith. I understood that this meant Speaking Out and Standing Up. It meant a certain kind of Loudness.
But the world is so noisy to me this week. It makes me wonder if we have grown addicted to the sound of our own voices rising angry from our chests. We are saying it this way, saying it that way, so many words, so little communication.
*
On the evening Olympic coverage, I watch as a young swimmer who looks like AC Slater wins the 100 meter free-style by 0.01 second. He pulls off his goggles, and there it is: the awestruck grin, the unbelief, the incredulous laugh.
When he emerges from the pool, there is a microphone and a barrage of questions: "What were you thinking when you saw the score?" and "What did that feel like?" And it seems redundant to me: asking for words to describe the indescribable moment.
Watching him, I am aware of the limitations of language. So much of what is important happens outside of words. It is written across the face; it is spoken in our movement.
I am acutely aware, these days, of how much I don't know. I am sitting at the edge of that rock called Grace. I am dipping my feet into the cool depths of Mystery.
If pressed, I might say that I "stand for" Jesus. Compassion and Truth. Beauty and light. But I have no idea how that trickles down to the stickiness of life, to hot-button issues, to this noisy world.
If I'm being honest, I will tell you that I've never been much for standing. In my short semester on the high school debate team, I cried before every match, shook through every argument.
If I'm being honest, I'll tell you that I think that there should be a comfy chair in every room of every house so that you can curl up anywhere with a good book or a good friend or simply into the quiet of your own heart.
I'll tell you that I am better at sitting. At feet-dangling. At porch swings and café chairs and rocks at the side of the water.
I know that it's more complicated than this. I know that these are important things we're talking about, and that someone needs to recognize that. I know the importance of voices rising together, of speech free and clear. I know the importance of fighting injustice.
But I also think that there is beauty and love in shaking our heads, saying, "Most nights, I don't know." There is wisdom in leaving space for that. There is inherent compassion in sitting with a candle in grief-struck quiet. And when the wildest, most wonderful thing has happened, the only possible reaction is awe.
We sit at the edge of our knowing, and sometimes the answer is to turn around and speak loud to the people around us.
But not always.
Sometimes it is right to sit down at the edge of the endless, sprawling deep. Let our voices disappear into the mysterious Goodness of God.