The boys and I have been in Chicago for a week now, waist-deep in preparations for the wedding of one of my best friends from high school days. It's wonderful and exhausting. We are all a little tired and a little out of our routine; there is not much time for writing.
So in honor of college classes starting this week, I'm reposting this open letter I wrote to students attending Christian College. It's that time of year, after all. School supplies and just the hint of something brisk on the air and new jeans and anticipation. For the one headed off in your first car, laundry basket and mini-fridge in the back…(and for the one who still feels like a little like she's eighteen even though she's not)…this one's for you.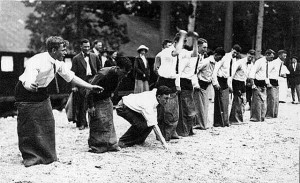 The first thing I want to tell you is this: it is not what you are expecting it to be.
I know about the glossy ads: campus lawns meticulously maintained so that they almost look like the "green pastures" of the 23rd Psalm, like you could lie down here and rest. A few feet away, unshaven college boys throw Frisbees lazily back and forth in the afternoon sun. I know.
Perhaps that four years of high school was a little unkind to you, and you are just looking for a place where you can belong. Or maybe you are filled to the top of your soul, high off all the leaving, looking forward, full of hope.
You are thinking "Christian College" and it looks like two thousand students lit like candles from the inside, glowing in the darkness. Instant friendship and up-all-night conversations over coffee and Krispy Kremes. It looks like safety. It seems like it would be so simple.
Here is the truth. Here is the paradox:
Where Christians gather there is love, wild and full of grace. And. Where Christians gather, there is pettiness. Gossip. Pain. Hate.
They are, after all, just people in the end. Young, like you, on their own for the first time. Making all their big mistakes, trying to figure out who they are. It will look like hypocrisy at times. It will make you double back. There will be a moment when it makes you rethink this whole Jesus thing.
At some point, the scripture-themed hall decorations will start to feel gaudy and cliché, the Bible you carry for class will begin to feel heavy against your back. There's a good chance that someone will write a judgmental Bible verse on your whiteboard or use a spiritual phrase to insult you. This is part of it.
There will be pressure to find "the one" and envy and mockery if you do. The rules you agreed to when you sent in your paperwork will tighten around your neck; you'll tire of all this theological discussion. (Premillenialism, predestination, a verse for everything, a test on Friday.)
This is what it means to grow up: to jump bravely into your imagined future and come down hard on the unyielding ground. You will find yourself a little broken, a little sad, a little lonely. And that's just part of it.
The second thing I want to tell you is this: don't give up.
You will feel yourself at a fork in the road at your Christian college: perform or disappear. Prove that your faith is strong, or despair. Choose neither of these. Choose stillness. Chose love.
Don't be afraid of darkness. It will come, even in this place that promises Light. Question. Doubt. Discuss. Do not accept easy answers here or give into the party lines. Push toward the hard edges of your pain. Be as honest as you know how to be.
Eat cold pizza and stay out past curfew and venture downtown. Make friends from outside this place; find them at hole-in-the-wall coffee shops with live music. Listen to their stories. I mean really listen.
Find a few people from your hall or your English class that get you. Just a few. Don't worry if it's not your roommates, if you don't like your roommates, if your roommates don't like you.
Breathe deep breaths in the cold night air. Jump into the lake in the middle of winter. Feel your skin burst into flame as it touches the water. Know that God is here, and you, you are alive.