Awana: A para-church organization founded in the 1950s, still popular in evangelical churches across the nation today. Their mission is to raise children who know and love Christ. Their main tool for this is an evening program that is built around the memorization of Scripture.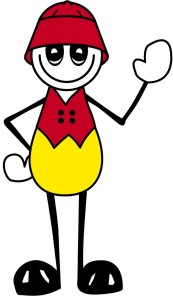 When you are an Awana Spark in the 1980s, you wear a red vest pinned with plastic crowns: bronze, silver, gold.
You have a spiral Sparks book filled with verses to learn by heart.  When you can say a certain number of these verses satisfactorily to your Sparks table leader, you get a jewel, a shiny brad in red or blue or green or gold, and you stick it into one of those holes in your crown.
You can tell from these glimmering crowns who is smart, driven, motivated. You can tell who is not by the threadbare look of their red, undecorated vests.
You will repeat dozens (hundreds?) of verses in your Awana years, but you will actually remember very few of them. John 3:16 – that quintessential salvation verse. The Sparks theme song and the Books-of-the-Bible songs, which you sing every night in a room of raucous elementary school kids. (To this day, when you want to find the book of Hosea, you have to sing through the whole song to remember where it is.)
Mostly you'll remember winning Crazy Hat Night – that King Sized Hershey bar prize and all the accompanying glory. You'll remember your sweet table leader, Barb, who loved you, who smiled big whenever you came in.
Years from now, what will remain are not the verses, but that sinking you felt when the girl across the table was an entire book ahead of you, and there was no way you could ever catch up.
When you are an Awana Spark in the 80s, you are repeating Scripture every week. Certainly those truths, those words, are forming the soft clay of your heart. Creating a backdrop for your life.
But so are the crowns, the rewards. The jewels. The lack of jewels.
*
In high school, I fell in love with the Bible: the words, the beauty. It was the beginning of the On Fire days. I was underlining and circling and starring words. They were sparking new things in me, and I was writing them out in curly cursive.
I collected these verses like found treasure. I kept them everywhere: pinned to my walls, stuck in my textbooks, scattered on my desk. They'd gather at the bottom of my backpack, worn and crumpled.
Then I went to Christian College, and it got weird. We were a thousand Christian kids, many of us used to being the most spiritual. The leader of the Bible study, lead vocal on the worship team.
It was like the Sparks vests were back on, and we were comparing crowns. Who has the most jewels? The most patches? The most awards? Who loves God best?
And somewhere in there, I quit playing. I stopped comparing and started judging those who did. I grew a little cynical, a little bitter. I threw away my notecards.
*
These days, my mind is a black hole.
No matter how detailed a grocery list I make, I'm always running back to the store in the middle of my dinner preparations for avocados (because I swear they were not in the recipe the first time I read it) or a block of cheese (because I know I just bought one and it cannot possibly be gone already).
I walk to another floor of the house and forget why I'm there. I leave the load of wet clothes sitting in the washer overnight.
When I got pregnant with Dane, my doctor assured me that there was a medical reason for all of my forgetting. That "Pregnancy Brain" was a proven phenomenon, that the mind was actually pulling back, withdrawing, totally reorganizing. I shouldn't worry – it would come back stronger when the baby was born.
But the other day my husband found the bag of soggy frozen French fries that I'd stuffed in the fridge. So there's that.
My mother-mind is always whirring. So much time is spent remembering forward – did I remember to grab the diapers? The wipes? The sunscreen? My brain is racing through the day, down rabbit-trails of potential disasters, cutting them off. Remember the fruit snacks to bribe the tantruming child back into the car; remember the extra set of clothes for the inevitable poop blowout. Think, think, think. Remember, remember, remember.
Sometimes I feel like I cannot possibly stuff another thing into my brain. Like the whole thing might just shut down mid-email.
I've started, tentatively, with the notecards again. I've started with the verses.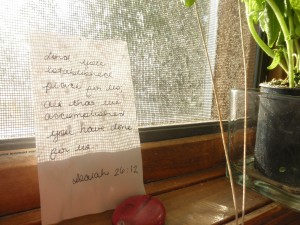 There are only a couple, written carefully, propped in my kitchen where I can see them. Short ones; beautiful ones. Ones that remind me to breathe. Ones that remind me of the beautiful, ocean-depth of God.
I've read them over and over again for weeks now. At the kitchen sink, scrubbing the pans. Sitting at the kitchen table, answering emails. I've read them hundreds of times, and I still couldn't say them back to you, could not earn a jewel.
My mind is a black hole; the words disappear almost as soon as I read them.
And it's okay.
It has taken me this long to understand that there are no crowns in this learning; no jewels. Only God, only my own heart, my whirring mind, the quiet morning.
It has taken me this long to understand that memorization and learning by heart are two completely different things, and that there is value in this reading and forgetting, reading and forgetting.
It's like walking the same invisible path again and again, wearing it deep into the earth. Teaching my feet to move toward Living Water; teaching my heart to remember the way.