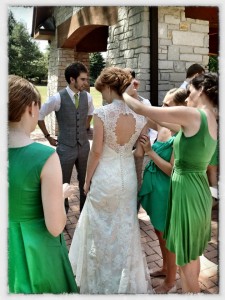 On the day of her wedding, the heat finally breaks, and we all breathe a collective sigh of relief. We are out of the Heavy 100s and back into the roomy warmth of the 80s.
For us in the bridal party, with our fancy dresses and our pinned up hair, with gray suits and vests, we feel it like a gift. I am very aware of the fact that my carefully applied makeup is not melting in the sun as we smile, as the photographer snap, snap, snaps. Smile. Now, be silly. Now with flowers held out like an offering, the orange petals of the lilies pressed together in our hands. Snap, snap, snap.
The bride is my baby sister. When she puts on her wedding gown, and our mom's old veil falls soft over her red hair, all I can think about is that Christmas that we got wedding stuff for our dress-up bin. How old was I then? Seven? How old was she? Three?
I can see us as clearly as if I'm watching a home video. We are in our matching, plaid Christmas dresses and our brand new veils. We are walking up and down the hallway, me in the lead, her dutifully following my orders.
Now, she is tall, regal. She is doing a practice walk across the room, and we are all crying, dabbing-not-wiping at our making, tipping our heads up and blinking at the ceiling.
*
My wedding day was two weeks after my 20th birthday, and I was young. Captivated, still, by fairy tales and love stories and Disney. The book, The Sacred Romance had recently debuted in evangelical circles, and I'd filled my copy with underlines and stars and puffy hearts. I loved the metaphor as faith as Romance. I spelled romance with a capital "R."
It seemed to me that there was no truer metaphor for God than a wedding. Than Groom and Bride and a great Wedding Feast. Happily ever after in a castle in the clouds, and I commissioned our baker to make our wedding cake into a castle. (She didn't really catch my vision, and it looked like the cake was covered in giant mushrooms instead of turrets.)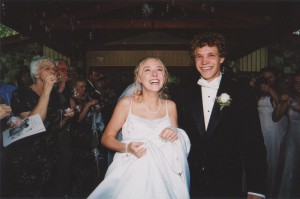 I carried roses; I wore a big dress; I felt, all day, like a princess. I remember it chaotic and wonderful and pink tulle and music.
I remember the people, so many of them from such far-away places. They were standing with big, wide smiles as I walked down the aisle; they were blowing bubbles into the air, and the sky was filled with them: wishes, and hopes and all that pure, translucent love.
*
My little sister is organized, and calm, and her big wedding binder has a tab and a paper for every detail. She's remembered all the things that I forgot at my own wedding: a button-down shirt for the hair salon, an emergency kit for the Getting Ready Room. Bobby pins and Band-Aids and an unopened box of Kleenex.
When she says her vows, she doesn't get the giggles like I did. She makes her promises quiet and strong. She looks straight into her groom's eyes.
The day is a hundred beautiful details, thought out and pinned together, Pinterest-style. It is her and it is him, their personalities shining into that traditional church wedding like so much sunlight.
I will remember her wedding day as beautiful, remember myself laughing, remember the dancing and the love and the cake made out of donuts. I will remember the way my sister looked coming down the aisle on our dad's arm; I will remember the way her hair looked curled under the veil.
I will remember buttoning the back of her dress, all those tiny, delicate pearls. I will remember thinking everything is metaphor.
*
These days when I think about God, I don't think much about Brides and Grooms and Wedding Feasts. I have been married nine years now; it has been a long time since I've felt like a bride. Almost a decade since I walked down the aisle in my white ballet slippers and laugh-cried through my vows.
And this is as it should be, I think. The world is full of metaphors, different ones for different times. I am raising boys now, teaching the messy lessons of potty training and of kindness. I am doing the dishes and vacuuming, and I am leaning into the liturgy of it. I am filling up the baby pool and thinking about love. I am casting my net into the pond, catching my son a frog.
I think of God in earthy, home-grown metaphors. In water and dirt and worms pulled up from the ground. In the smallness of my daily tasks; in the bigness of all this long, difficult mama-love.
But they leave the church hand-in-hand, and we are lined up along the sidewalk. We are pressed against the trees and the flowers, spilling over into the parking lot where their little red rental is strung with pop cans.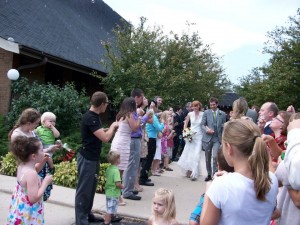 And suddenly, there seems no better picture of faith, no better metaphor for Christian community: they are walking into something new; we are surrounding them on every side. Our breath is blown into a thousand tiny bubbles, and it is hovering over them, under them, around them.
We are banded together in this moment, all of us thinking of nothing but the girl in the white dress, the boy in the gray suit. We are their cloud of witnesses, and we are watching them glow.
The line between "wedding guest" and "believer" seems thin as thread. In this moment, the work is so similar, almost exactly the same: we are making way for love; we are cheering and clapping.
We are watching and believing as Love forges bravely on into the world.