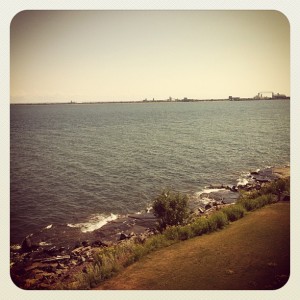 First of all, forget your computer.
In your flurry to get the kids dressed and to the babysitter's house, grab everything except for the gray laptop bag, weighted down with books and expectations and emails and power cords.
You'll realize you've forgotten it about thirty minutes outside of Duluth, and there will be the inevitable pang. You'll think of all you meant to do. All you could have gotten done.
You're so used to its weight on your lap, to the feel of the keys underneath your fingers.
The other writers in the car will graciously offer to share theirs, but politely decline. This is how it's supposed to go.
Wade slowly into the writing. Eat a fat sandwich of organic turkey and homemade bread from that little basement café you've always meant to try. Taste every single bite. Find a bench right by the water and watch the big ships come in for a while. At first, you'll be so aware of everyone talking around you, but then, your heart will find its own quiet.
Finish that book you've been reading so piecemeal over these past couple of weeks. Take the words in great, uninterrupted gulps. Mark up the margins as you go. When you get toward the end, slow way down, because endings deserve to be noticed and honored this way.
Start out by writing what you see. Then what you feel. Let it be messy and disjointed. If a thought grows thin, simply draw a hasty line beneath the paragraph and start a new one. It may spiral into prayer and then out again. Let it. Really, all of it is a kind of prayer. Sometimes you'll be aware of this; sometimes less so.
When you get to your hotel, let your heart swell with gratitude for this beautiful place. For its clean white linens and its lake view balconies. Loudly declare to the other girls that you will be taking a Jacuzzi bath at some point over the weekend. Don't worry too much about which room you end up in or where to put your stuff. Drink your first glass of sangria.
Don't be afraid to explore, but also, don't be afraid to stop. To choose a place and stay there. That little inlet with a pebbly shore, for example. The one with the big, wide rocks reaching out like arms to the water. With the bench overlooking it all.
Stop there and watch dusk settle over the lake. Watch the lift bridge light fluorescent. Count the stars. Call your husband and thank him for the chance to get away. Write in your notebook; write the first thing you think of. Don't worry if it's bad, just write to feel  pen against paper, your heart against the surface of the world.
Go to sleep early and wake up early. Creep out of bed before the sunrises and put your bathing suit on underneath your pajamas. Be quiet when you close the hotel door.
Sit on the edge of a rock and watch the sun rise out of the water. Don't think about it, just strip off your sweats and tank top and jump into the lake. Notice that the only sound is your body cutting through the water. Notice that you are alive and strong and beautiful. Notice the ships at the horizon, trekking toward the canal, the birds wildly wing across the sky.
Notice it all…and then dry off and sleep for a few more hours, your hair damp on the pillow.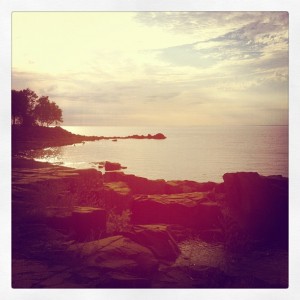 Don't be afraid to "waste time." Let the hours trail through your fingers as you look out on the water from your perfect spot. When you get too warm, swim; when you get too cold, lie on the sun-baked rock like a seal. Turn off your Mama Mind entirely, except the part of it that reminds you to wear sunscreen.
Don't judge yourself by how many words you write, how many pages you fill. The pen to paper, the trail of words…this is only one part of the process. What the world sees of your writing is only just the top of the great gray stone. There is so much that plunges below the surface, and all of it is important.
Take long showers and eat well. Drink Sangria and Mike's Hard Lemonade throughout the afternoon…but also drink plenty of water. Be kind to strangers when they invade your space.
Take off your shoes whenever you can, because this is holy ground.
On the last morning of the retreat, you will almost convince yourself not to get into the water. It takes so long to dry off, you'll think. You'll wonder if it's worth it to wreck your hair.
Here's a hint: it's always worth it.
Wading into water; wading into the words…it's all so similar that for a moment the lines will blur. You are in the cold, clear of your own heart, and there are stories everywhere. It's just a matter of going beneath the surface.
Before you leave, make sure you get your razor out of the shower and your Diet Coke out of the fridge. Throw out your own garbage. Take one last, long look at the lake. The ships are moving slowly toward the harbor, big behemoths, holding so much weight.
Be grateful, be glad, and move on.