Father God: A name of God used in the Bible. A metaphor. A role.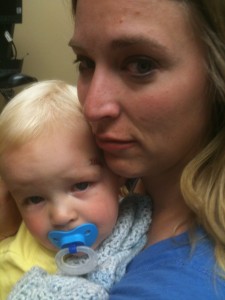 First there was the thud, then the screaming.
Three measly stairs. Maybe four. I can't remember exactly, but they were linoleum and unforgiving, and Liam was marked by one of them, a mean red gash across his smooth, baby forehead.
This is the cruel irony of parenting: you watch them for a hundred thousand seconds all strung together and nothing happens. But look away for a second, half a second, and suddenly, your kid is at the bottom of the stairs, bleeding like a geyser all over his 12T Avengers t-shirt.
When the ultrasound technician said "Boy" for a second time, I knew that these sorts of things were coming. Broken arms from poorly executed bicycle stunt-jumps. Welts from paintball guns. Black eyes from living room wrestling matches. Scraped elbows and skinned knees and Band-aids and Neosporin.
But there is something jarring about holding your split-open son as he bleeds and flails. Something about pressing a washcloth to his head as he whimpers in his car seat, about walking into an emergency room with your boy in your arms.
In our curtained-off ER cell, the doctor comes in and speaks to us in a southern drawl about stitches. I ask if there will be a scar and he nods, and it makes me cry again. I know that Liam is young. That scars fade to almost invisible. I know that he's a boy and that war-wounds are cool.
I know, too, that the world is a sharp, hard place. This is not the first time he will be broken by it, not the first time he will be scarred. But it feels so early. So young to have this truth written upon his forehead.
They put a monitor on his toe and some numbing cream on his wound, and they manage to scrounge up a Spiderman storybook for us to look at. He doesn't cry at all until they come back with a torture-tool called the Papoose, which is a nice name for a straightjacket. Then he goes totally ballistic.
He is strapped to the emergency room table, and his dad and I are bent over him, hands on his him as he fights the constraints with his whole body. We are watching and trying not to watch as our child is stitched back together.
And the truth is, I don't understand the relationship between bad, painful things and a loving, all-knowing, God. Ask me about earthquakes. Ask me about cancer. Ask me about starvation and genocide and those beautiful Invisible Children, and all I can do is shake my head and cry and not know.
All I can say is this: the God that I believe in calls himself Father. Calls us his children.
What I know in the ER is that pain and love are not separate, but rather a kind of continuum. They are the two sides of the same beautiful thing, and I stand at that precarious edge where they meet. I feel the weight of them both.
I love, and I ache all the way to the bottom of my Mama soul. Dad aches right next to me. We watch the doctor loop, pull, loop, pull, five black stitches into the forehead of our youngest child, and we feel every prick, every tug, every long, hard moment of it.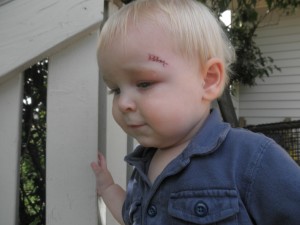 There is a lot that I don't understand. I won't pretend that any of this is easy. But this moment in the ER feels a little like a glimpse into the wild, beating, parent-heart of God. It feels like truth, like a whisper, like him saying, I feel it all too. I feel every last bit of it.
When we get home from the ER, Dane is waiting freshly bathed and in only a diaper. "Liam's got an eyebrow!" he says, and we laugh, and it feels like release.
We sit him in his high chair and he eats like a mad man and then toddles toward the matchbox cars, oblivious to his stitches, already over the whole hospital trauma.
We watch him, smiling, our hearts heavy with that love-ache that will never go away.