Christian Bookstore: A store that sells Christian products meant to enhance the spiritual life of its patrons.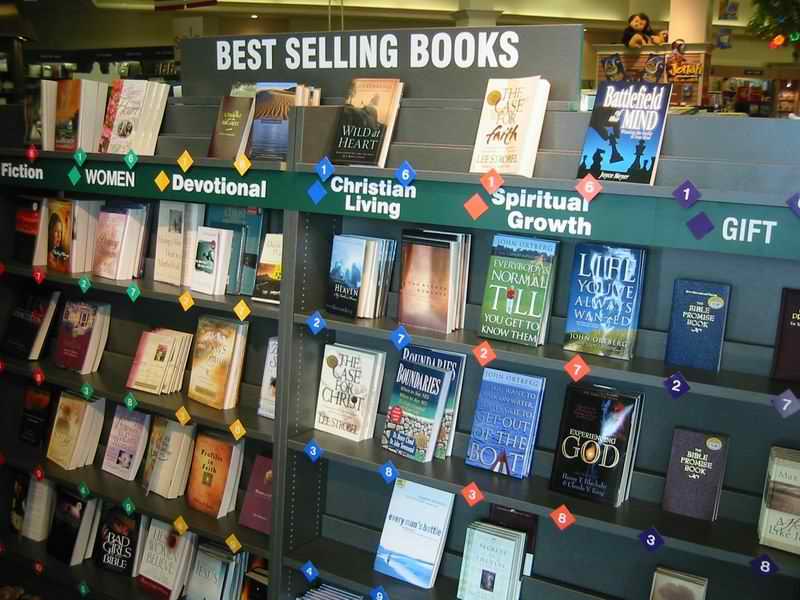 If you're 13 and "totally into Jesus," and if the summer stretches infinitely before you, you might find yourself at the local Christian Bookstore. A lot.
It is called Earthen Vessels, and you can bike there easily from your best friend's house on Tanglewood. It is a veritable Jesus Superstore. Depending on how bored you are and how heavily humid the July weather is, you can spend hours here, wandering. Touching. Picking up and putting down.
You are a little intoxicated by all of these products. You start with a Jesus fish necklace, work your way up to the t-shirts. You buy your first Christian CD, the Newsboys Shine, which becomes your own kind of anthem.
For 25 cents apiece, you can buy little wallet-sized cards featuring graphically-enhanced Bible verses, and you buy them by the handful, hot glue them to notebooks along with generous amounts of glitter.
Book by pastel-covered book, you collect the entirety of a Christian teen romance series featuring a heroine named Christy Miller and her Jesus-loving, surfer boyfriend, Todd. You finger the delicate silver orbs of purity rings; you page through Christian bridal magazines. You begin to develop a picture of Christian dating and marriage that looks like the ending of a Hallmark movie.
Week after week, you plunk your babysitting money on the counter, and the white-haired woman rings you up. You feed that small flame in your heart with one Christian product after another, and you find that it works. That God-fire grows big and hot and wild in your heart, and then you are consumed by it.
*
Admittedly, I was not in the best place last night when I went to the Christian Bookstore.
The kids have been rising early, not napping, yammering from their bedrooms well past bedtime. And in between all that not sleeping, there is the whining, the tantrums, the hitting and pushing, the potty-training angst.
At Aldi, I thought I recognized a man from our church, but it turned out that I actually recognized him from Northgate Liquors…the emergency place I go when I'm out of Trader Joe's Three-Buck Chuck. This is the kind of week it's been.
I almost never go to the Christian Bookstore these days, but I needed to pick up something for our small group, and it could not be avoided.
So I went in, and it all felt so much like it did in Junior High that I almost burst into tears right on the spot. It's got that Soft Lighting, the kind that says, "Hey sister-friend. Blessings to you."
The worship music is somehow loud and quiet all at once, and I found myself tracing the old paths around the shelves.
It was simultaneously nostalgic and infuriating. I saw books that have been on my list to read; I saw books titles that made me want to scream in frustration.
I came across the most recent album by Jaci Velasquez, who I haven't thought about in years, but whose song "On My Knees" I used to sing dramatically in the shower. She looks older, a little tired. A little different.  A little the same.
I stood for a long time in front of the massive display of Beth Moore Bible Studies, all these beautiful workbooks assuring an encounter with God. Promises. Products.
And the whole place pulses with it: the haunting implication that the answer is here, that God is here. That if you read this book or this book or this book, if you listen to this CD, buy this fancy new Bible with the pretty cover, you will find Him.
But somewhere along the way, the products stopped working for me. I have known the silence of God, weighty and dark and inexplicable. And though the Depression has lifted, I find myself now at the razor sharp edge of motherhood, where all of life cuts deep. The love. The frustration. The beauty. The anger.
I am tired. Exhausted. And there is no product for that. There is only a God who will not be packaged. A God wants my heart not my credit card. Who wants my quiet and my loud and my good and my bad. My sparse, distracted prayers. My sparse, distracted self.
Maybe he will speak to me through a "Christian" book. Or maybe he will speak through a novel or a magazine heading or a song I've never heard. That red-winged blackbird who comes back day after day to the same tree.  A brand new word from the lips of my 1 year old.
Maybe he won't speak at all, but I will know he is there because of the way the sun rises over our pond.
The light comes, muted at first, and then the sun breaks through, stark and beautiful.
It is not the artificial light of the Christian bookstore, the kind that lulls me, sedates me. It is bigger. Brighter. Changing and unchanging. It is calling to me, and I am not "sister-friend." I am "Beloved."
The Light comes, free and mysterious and simple. It is all around me, and I find that it is enough.