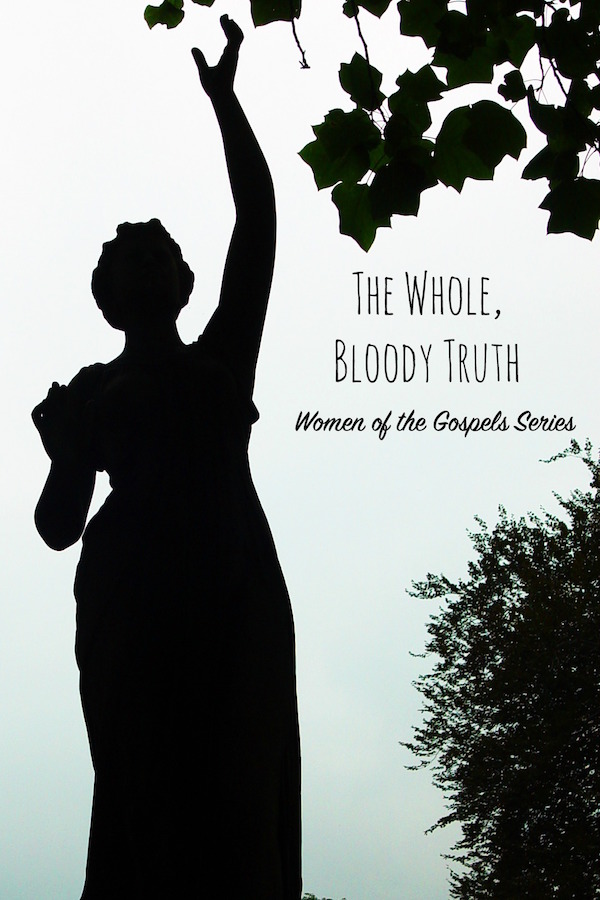 OK, I know I've been sending you all over the internet to read my posts lately. Just one last field trip, and we'll be back here for a while.
I'm honored today to be guest posting at Rachel Held Evans' blog. She's doing this great series on the many women mentioned in the story of Jesus. I chose an old favorite of mine, that nameless woman who bled and who grabbed Jesus' cloak in order to be healed. Her story is told in Mark 5:24-34.
This mysterious woman was forever changed and deepened for me during my first Autobiographical Writing class in college. My writing mentor, professor, and friend, Judy Hougen reintroduced her to us not just as a desperate woman, but as someone courageous enough to tell the whole truth of her story. And who was healed in the telling. (Speaking of Judy, you should all be following her blog. It's amazing.)
I hope you'll join me over at Rachel's blog for the post. Here's the teaser:
This is what last ditch effort looks like: a woman's frantic grab at a stranger's cloak. 
He is walking by, and she has heard of him: whispers of healings, echoes of prophecy, murmurings of one who carries healing powers in the tassels of his robe.
Who can say what it feels like to bleed for twelve years, to find yourself perpetually on the wrong side of the line in a culture where there is Clean and there is Unclean? (Click here to read the rest.)
ALSO. GREAT NEWS! For those of you who have joined me in praying for Amy: the lumps are gone; cancer is no longer a possibility; the surgery is canceled. The doctors are not sure how it all happened. Thank you for being part of this journey into the joy and wonder and doubt and fear of intercessory prayer with us. (You can read the whole story on Genevieve's blog.)