Organic Christianity: A fluid term used to describe a new movement among Christians away from "programs" and toward more simple, natural methods of ministry. The focus is less on institutional maintenance, more on people and mission.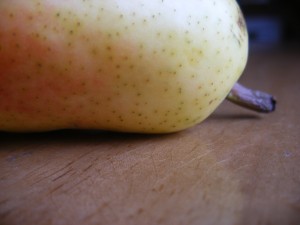 Since we're being honest, I suppose I'll tell you that I love Kraft Macaroni and Cheese. And not even just the regular kind – I love the marketing-ploy kind with the Cars– or SpongeBob-shaped pasta. It's something about the noodle-to-pretend-cheese ratio.
I know that nothing good can come of powdered cheese that is electric orange. I know that it's not so much pasta as "enriched macaroni product," but this does not seem to stop me. Neither of my kids will eat it, and still I pick up a box or two. For me.
I love the idea of a hearty loaf of seed bread, of whole wheat flour, of flax seed and whole grains. But given the choice, I will always pick the white, fluffy stuff: golden crusts and the smoothness of all that refined flour.
I try to keep my Diet Coke intake to one can a day, but I've been known to drink as many as three. (Okay, four.)
But every year around this time, the stores fill up with seeds and trowels and the soil is rich and black. The farmers' markets begin opening up, wooden stands set up in parking lots, pick-up trucks filled with vegetables on the sides of roads. And it's so colorful and beautiful that I almost want to give up my Kraft and Diet Coke and live exclusively on home-grown lettuce and root vegetables.
I never get inspired enough to dig an actual vegetable patch, but every year I buy a tomato plant from outside Festival Foods. I make infrequent trips to the Tuesday afternoon Andover farmers' market so I can buy bundles of fresh herbs to make my own bruschetta.
And when I think about how I want it to be with God, with faith, with people, organic feels like the right word. Like rain and earth and slow, natural growth. When I think Bread of Life, I think hearty, grainy, fill-you-all-the-way-up kind of bread. I think of fresh-from-the-vine tomatoes and homemade salsa and peppers still dirty from the soil.
To me, organic faith looks less like a tidy, three-minute testimony and more like seeds strewn across so much time. It is less about inviting my neighbor to church, more about inviting her over for coffee. It's not really about sending my kids off to Sunday School class, but rather standing with them in the rain as it falls, telling them, God is here! He's giving the plants a drink of water. Isn't that cool?
It is watching, tending, tireless. It looks for the needs, the holes, the pain and it goes to those places with baskets of muffins, offers of babysitting, long telephone conversations. It grows up naturally, quietly, this kind of faith, and brings life and color and beauty to the world.
Of course, it's never as simple as all that, and somewhere in my life, I got used to pretend, fluorescent-orange-powder cheese instead of the real stuff. I got used to the ease of it, the taste of it, learned to crave what is not good for me.
Somewhere I learned to serve a white-bread God, refined by platitude and cliché and stunted language. A preservative-filled God, concocted by food-scientists somewhere, filled with little "extra" things to make him go down easier.
But it's May now, and from the front window, I can see my neighbors working in their yard. Her garden is expansive, her vegetables award-winning. They will hand us the excess of their harvest when we cross the street to get our mail. I will take the zucchini and cut it up, stir fry it with carrots and peppers. I will choose it, one night, instead of frozen pizza.
Slowly, slowly, I am learning to love what is good for me. To let go of what's not. Today, the honey wheat instead of the white bread. Today, more listening, less talking. More questions, less answers. The hard, quiet work of real love. And grace over all of it like so much rain.