To go deep: To get to a place of spiritual and emotional transparency with a group. "Going deep" is often characterized by new and life-changing interactions with the Bible and with each other that result in feelings of deep friendship and intimacy.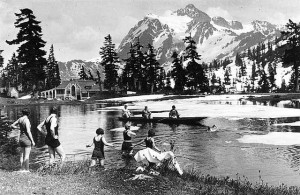 "I thought it would be different by now," she tells me as we drive. We are talking about our small group, which is on a bit of an unplanned hiatus while we regroup for summer. She shifts in her seat, sticks her fingers out of the cracked window.
The day is fading pink around us and the fields are glowing with it. Sometimes I forget how close we are to country. This suburb I live in is sort of a border-town, the far end suburban sprawl. Go a few miles north, and developments fade into fields and woods and strange little grocery stores with faded signs.
"I don't know," she says after a long pause. "It's been three years. I thought we'd be at a place by now where we could go deep," and I recognize in her phrase my own vague desires. I too have longed for this nameless place where suddenly, things change, suddenly, you are safe.
We sit cross-legged on someone's living room carpet week after week, Bibles in our laps, and it seems like all the ingredients are there. Scripture is spoken into the room, and you'd think that it would work like a key, unlocking our deepest selves.
I once believed that to learn these soul-truths together, in a small circle of believers, would be like diving to the bottom of the lake. I imagined it would feel like water, thought that I'd be surrounded by it, suspended and weightless and held.
For me, this has been one of the hardest parts of faith: how often I am beached in the shallows of church life and Christian-talk, how utterly dried out I feel sometimes. We gather, we talk, we tell our stories, and still, deep is a place that we can't seem to find, a world hidden somewhere beneath us.
But then I think about this group of women.
We have emerged, piecemeal, from this church. We are so different, like the five points of a star, connected by thin, fragile lines, by mystery and Light.
We trickle into each other's homes, still carrying all the weight of the day on our shoulders, and it's easy to feel like we're missing it in all of this talk of children and housework and Pinterest. At face value, this looks like the shallows, the verses we read, the study we follow, the way our answers fall awkwardly onto the floor.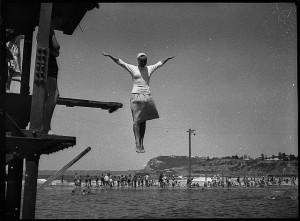 But of course, that's not true, because all of it matters. The complex and the simple, the beautiful and the mundane, the thrilling and the commonplace – all of it is connected. Each loose thread pulls at the deep truths of our hearts.
And maybe deep is less of a place we get to than a way we choose see each other. A kind of intent listening. A way into love.
I'm starting to believe that knowing each other's darkest secrets is not, in fact, what makes us deep. It's being faithful with the details we do know, choosing to believe that the little things are the big things. It's holding carefully the pieces of one another's lives in the open palms of our hands.
It's not Biblical knowledge or understanding the word in it's original Greek. The right study will not get us there, the right format will not do it. It's not information that heals us of our deepest hurts, it's love. And love is always a choice.
It is all so close. We are driving, and everything is overlapping, the borders blurred. One moment a Target store, and then, suddenly, cows tucked into a hillside. It's country and suburb, field and city, quiet and loud, deep lakes, wide fields, and all of it matters.
Look closer. Every blade of grass is charged with holy light.