Witness-Wear: Clothing or accessories emblazoned with Christian logos, phrases or messages. Its purpose is to communicate the wearer's Christian identity while simultaneously "sharing the message" with others.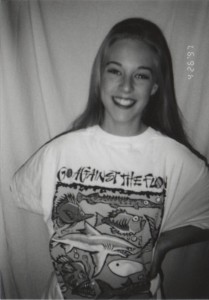 In case you think that I'm exaggerating about my former Jesus Freak levels…there's this picture.
It was taken by my best friend in junior high in front of a sheet that we'd rigged over my closet door. (And, yes, we had a fan blowing to give our hair that natural, super-model breeziness.)
We were twelve. In one afternoon, we went through two rolls of color film, one roll of black-and-white film, a dozen Christian t-shirts, and a variety of extra-cheesy poses.
The pictures were for our modeling portfolios. Our dream was to be "discovered" by Models for Christ. Cause, yes, that was (and apparently still is) a real thing.
Yeah…
Anyway, I'm blogging today over at Cru Press Green, which is the website for ministry resources for Cru (formerly Campus Crusade for Christ.)
The cool thing about this is that Crusade was hugely significant in my mom's life. It was through them that she discovered the depths of God's love for her and was changed by it. It's a unique piece of my spiritual heritage, one that I haven't spent much time thinking about or exploring.
In my post-Super-Christian life, I have found that I have a sort of a knee-jerk reaction to words like "witness" and "evangelize." They instantly raise my stress level and my defenses, and I'm not sure how to navigate the choppy waters of speaking my faith out loud anymore.
Still, the fact remains: my mom knows this Love because someone told her about it. And for me, a generation later, that fact changed everything.
I am grateful for the way Cru is engaging in the discussion around faith and sharing and loving and speaking. I'm thankful for the chance to say my piece.
If you get a chance, stop by and read it. It's about witness-wear and this ugly t-shirt and the boldness of real, honest love.