Safe for the Whole Family: A popular slogan for Christian radio stations who filter out questionable content to guarantee a safe and sanitized environment. (This is arguably the main impetus behind much of "evangelical subculture": creating a safe place, protected from the muck of "the world," for Christians to live in.)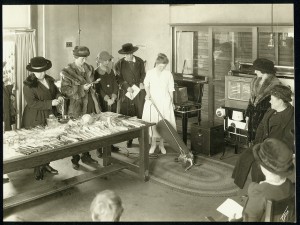 The salesman is young and blond and clearly uncomfortable in his dress-shirt and tie. The suitcases he carries are heavy with vacuum components, bulky in his arms.
He coughs, sniffles, apologizes. He's getting over a cold he says. Around his left eye, I can see the faint raised outline of a fading black eye.
The salesman is quick and matter-of-fact. He pulls metal parts from the box and assembles the vacuum in one fluid motion as he gives a running monologue of the features of this fabulous machine. He uses phrases like lifetime guarantee. Like the last vacuum you'll ever have to buy.
He is doing a quick demo, then whipping out the used coffee filter to show us the dirt content of my ledges, my walls, the creases where the floor and the wall meet.
Vacuum this area the best you can, he tells my husband, only to use his fancy, shiny model to prove what we are missing with our ten-year-old Hoover: sand, dirt, shredded bits of broken carpet knotted into miniature tumbleweeds.
He looks at me pointedly, this young boy. Do your kids crawl around on this floor? He says it gravely, holding the coffee filter out so I can see what is at stake here.
I try to stop the weird little laugh that bubbles up, but it's no use, because my kids were actually eating leaves off the lilac bush today, and I had to pull wads of green mush out of their mouths.
Dane is every day catching some new slimy critter, and for all the scrubbing, I can't seem to get the dirt out from under his fingernails. Liam is tasting grass and sand and various rocks, and this guy is holding up a little coffee filter of dust, and I'm thinking, Oh buddy, you have nooo idea.
And who can say what is under all this? What dirt we drag in from the outside world? Who knows what lodges itself in the fibers of our family? We wash and vacuum and at the end of the day throw those boys into the tub, but the dirt is in the air itself. It's hitchhiking in on our skin. It's invisibly working its way down into our carpet.
But there is this thing that the vacuum guy wants to sell me and it's the same thing that the Christian culture has been selling for years: safety. A clean environment, free of contaminants. You put up these barriers to keep dirt out, and you hunker down with your dear ones. You use the $2500 vacuum and you clean the hell out of things.
I heard recently at the round table of my parenting class that the influx of allergies in recent years is partially due to over-sanitizing. That there is a purpose to all of this dirt, that these germs make our children stronger. That without it, their bodies turn in on themselves, become intolerant of even good things.
And it makes me think about the wild gray of parenting. It's this ambiguous combination of protecting and releasing, of holding on and letting go, of discipline and freedom, and none of it is clean or sanitized or easy.
There is dirt embedded in every bit of it – our own selfishness, our own wrongness, our own baggage is deep in the carpet they crawl on.
The world is infused with pain and with evils of all shapes and sizes, and they will encounter it, our children. It will get under their fingernails, on their toes. And in the end what I want most to do for my children is to teach them to walk well in a world that is sharp and hard and broken. I want them to love bigger, to love stronger, to be able to stay healthy when they encounter dirt of all kinds.
I don't know what that looks like exactly. But I think that the Gospel in action is not really about sanitizing or about collecting unseen dirt in coffee filters. It's about a Love big enough to cover all that lies beneath the surface.
The vacuum salesman makes three strategic calls to his boss, bringing down the price by a full thousand dollars, but still we shake our heads. He puts away the vacuum attachments, the hose, the heavy metal base. Sighs.
When he opens the door to leave, invisible dirt particles fly in. They will work their way down into our inferiorly-vacuumed carpet. They will stay there, possibly until next time I get roped into a vacuum sales demo. There will be dirt, and we will teach our children, as best we can, to walk tall over it.