The Truth in Love: Lifted from its biblical context on unity and maturity among believers (Eph. 4:15), this phrase is often used as a precursor to a hurtful or insensitive comment. Similar to "Now don't take this the wrong way…", "I'm just telling you the truth…in love" can be used to absolve the speaker of responsibility while simultaneously undermining the validity of the recipient's thoughts, feelings or opinions.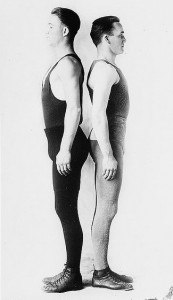 Liam is walking, and Dane is fighting back.
Wreck my train track? Fine. I'll body-slam you to the floor. Push my truck off the table? No problem. I'll briefly strangle you, then body-slam you to the floor.
Liam toddles unsteadily over to the Cozy Coupe…and is promptly run over. He grabs a toy and receives a smack across the face. He is minding his own business in the exersaucer until he is jabbed in the chest with a found stick.
There are a lot of tears and time-outs around our house these days.
I am sending Dane to sit on the stair-steps four-hundred times a day, my voice getting louder and uglier each time I say it: Time out!! My crouched-down-next-to-him explanation is getting growlier with each repetition: You cannot be mean to your brother. We have to be kind.
By the end of the day, I am curled in a little ball at the end of the couch, whimpering over a glass of wine.
And it's hard work, this road toward gentleness. It's not an inherited personality or temperament, not our natural response to a world that crowds us, bothers us, hurts us, takes our stuff.
It is there, put into the deep heart-places of us who were breathed to life by God, but we have to uncover it. Slowly. Painfully. One teaspoon of dirt at a time.
*
If you've spent any time in Christian circles, there's a good chance you've heard this from a well-meaning person: Can I tell you the truth in love? And you steel yourself for it because you know it will go down like syrup-soaked spikes.
Often you hear it from people who do not love you, who barely know you, who perceive some fault in you and feel the need to tell you all about it. In love. Of course.
And sometimes I think that instead of doing the hard work of becoming gentle, kind, people, we have developed a series of shortcuts, manipulations. It is possible (after four-zillion time-outs) to learn not to hit, but still not believe that everyone is valuable, that to be human is to be Beloved.
We find ways to appear gentle without having to wade into another's pain. We play in the shallows of kindness, settle for nice, perform perfunctory action without love.
But to "speak the truth in love" is not a singular occurrence that can be qualified with a cliché. It is the work of a lifetime. To know Truth down in the deepest places of our hearts takes time. It is work to dig into our own humanity, one lousy spoonful at a time, until we create a channel through which kindness might flow.
In their purest form, truth and love are an inseparable part of one another. To be a Christian is to believe that Christ is Truth, that God is Love. To live that out should look counter-cultural. Truth in love should not leave others feeling bludgeoned and bloodied but rather held. Understood. Valued. Beloved.
*
Seven in the morning and they've just woken up. The whole day is ahead of us. We will do it all again: the hitting, the pushing, the time-outs, the tears. I will teach him again and again the hard beauty of kindness.
I will tell it to myself as I am tempted to judge, to hate, to hurt, to push. I will say it like a mantra as I read emails and talk to people and drive our minivan through an angry world: Truth and love. This is the beating heart of faith. This is the hard work of it, the deep beauty of it.
Dane looks up at me as Liam comes near, grabby and curious and wanting Dane's juice. "Got to be gentle," he says, and the way he says it breaks my heart, because it's killing him. It's tough, this business about being kind. It's not what he wants to do.
But he holds steady, touches his brother softly on the arm, learns it all over again.