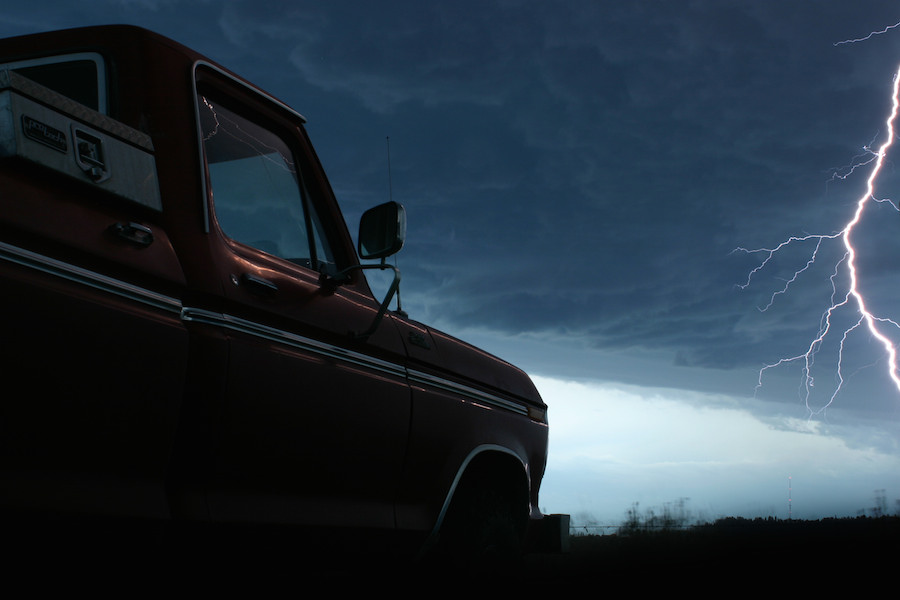 To feel God's presence The undeniable sensation that God is active and involved in a specific moment or situation.
I don't know when the storm started but by the time I woke up, the lightning was flickering in such quick succession that the room was lit with it.
It was shake-the-house thunder. It was rain slapping hard against the earth. Our bedroom window was open, and the room was full of the sound of it, the fresh smell of all that spring rain.
Two in the morning? Three? I've long stopped looking at the clock when I wake in the night to soothe a child, let the dog out, write down a sentence that breaks through a dream. It was late and early, the middle-of-the-night dark illuminated by all that lightning.
I stood in my pajamas by the thrown-open window for a while, arms crossed, watching. Without my glasses on, the whole thing was blurry, a vague kind of powerful: the sound, the smell, the warm wet air coming in through the window.
I stood there for a long time, and then I went back to sleep.
*
In the old, on-fire days, I used to beg for God's presence. My prayers joined the litany of pleas in the evangelical world around me: Let us feel your presence God and Please be with us today and Move in this place and We want to feel you, God.
And I have been in those moments where the room feels so packed full of the Holy that you can barely breathe. I know what it is to be knocked to your knees by the unexpected power of it, by a slight, shocking movement in that veil between heaven and earth.
They are heady, emotional moments, and they overwhelm us, and it's okay to want them. Our hearts were made to want them.
But I have also been in those moments when it feels like God is nowhere. I know what it's like when they build up, one upon the other, for months. Then years.
I know what it's like to sit with your Bible and feel nothing but loneliness, to pray and feel like you're talking to a wall. I prayed to feel God's presence, prayed it over and over, prayed it frantic and desperate, until one day, I stopped.
In the place we call "rock bottom," I felt nothing, anesthetized by my depression. At the craggy end of the world, it all came down to one question for me: do I believe what I do not feel?
Eventually, I decided yes. Eventually, I learned to operate under the assumption that feeling God's presence is something wonderful and unexpected. An eagle, cutting through the sky. A late-night thunderstorm.
I believe it's true, that God is here. That he will never leave. That he is in the details of each moment of each day. But I have stopped trying to get the formula right so that I feel His presence. I no longer try to muster myself up to this impossible task, and I have stopped believing that there's something wrong if I don't.
*
It is a beautiful moment at the window in the middle of the night. I close my eyes and feel the breeze on my arms. It doesn't feel charged and emotional like those nights of youth-group worship. It doesn't feel like I once believed the presence of God felt.
I suppose I could have asked for it, for the feeling of it, the experience of holy presence, but it didn't seem necessary.
He is here. There. The thunder is loud and wonderful and the rain is soaking into the grass. There will be earthworms for Dane tomorrow, and I suppose I could have breathed a prayer of thanks, praised aloud, sang a hymn in the dark.
But sometimes, I think, wonder is a prayer in itself. It is enough, sometimes, to let my heart simply stand next to the truth that I do not always feel and do not understand. To just watch a while before crawling back into bed and going back to sleep.
God is here. Someday, I believe that I will feel it with every last bit of me. Every last molecule of my body will know it completely and be completely moved.
But for now, I just believe it. It's all I know how to do.