Baby Christian: A believer who is satisfied to stay in the shallows of Gospel truth rather than plunging into the depths of doctrine. Derived from Hebrews 5, in which the author admonishes the slow-to-learn for needing milk when they should be eating solid food. Synonym: "Sunday Christian."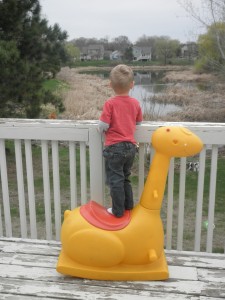 It is spring, and he is three, so naturally, it's all about the worms.
I have his grandpa (Papi) to thank for this, as he's the one who introduced Dane to the world beneath the world. Lift a rock, and you'll find all manner of creepy crawly things. You can pull them out with your bare hands and let them wiggle around in your palm.
He crouches by the pond, almost disappearing into the landscape of it: his hair the color of cattails, his sweatshirt gray like the water.
He digs into the earth until his fingernails are caked-under with mud. When he finds one, it's all wonder and excitement, his voice careening across the yard. "Mom! I found a worm!"
*
It always carried a bit of an undertone when we said it. Baby Christian. She was the one who was not doing enough, not committed enough, not moving forward quickly enough. She flit along the surface of her faith, and we pitied her for it.
Even Amy Grant, the musical sweetheart of the evangelical world in the '80s and '90s, wrote a song about the phenomenon. It was called "Fat Baby," and in the catchy, poppy chorus, she belted: 
He's just a fat little baby.
He wants his bottle
And he don't mean maybe.
He's sampled solid food
Once or twice
But he says doctrine
Leaves him cold as ice.
It was not the best. Admittedly, I used to sing it in the shower.
*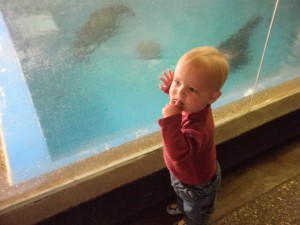 It is spring, and he is one, so naturally, he's tasting everything.
A leaf from the lilac tree. A stick. A piece of dog food. A paint fleck peeled from our aging deck. A nickel. I am fishing things out of his mouth regularly, making him angry, because he is not done exploring it, for crying out loud.
He is cruising along the furniture, bending to pick something up and pop it into his mouth. His world is expanding before him and he wants to touch it all, taste it all, understand it all.
*
If we're honest about it, we'll admit that knowledge is a faulty measure of faith.
The evangelical line-graph of life looks like a straight line, angling ever upward, life getting easier as your spiritual knowledge increases.
But if we were to draw it out honestly, faith would look more like the jagged up-and-down on the screen of a heart-rate monitor. Up. Down. Easy. Hard. Faithful. Faithless.
Which makes sense, as in the end, faith is mostly about the heart.
*
My babies are growing. I see them pushing toward it every day. They'll learn in their bones what it looks like to be gentle, to not hit, to not hurt, and they need to learn that. They need to grow.
But right now, they know wonder. They hold pieces of the world in their hands and are filled with amazement.
When Dane comes in from his play, dirt-streaked and sweaty, he might throw a moderate tantrum, but then he will say, "Maybe we can hold the worms tomorrow," and he has no reason not to hope. To believe that tomorrow will be every bit as wonderful as today.
Jesus told his followers to "become like the little children," (Mt. 18:1-4), and I think about Liam, who is learning to walk. While I am clinging precariously to the same old edges of my own small life, he is taking wobbly steps from here to there. Five steps. Then seven, and I can think of no better picture of faith.
In my own darkness, I struggle to call out. But for them, these boys, there is no reason not to. No reason not to cry for your mother at night, no reason to doubt that she will come.
We grow and we learn, but in the end, all the deepest parts of faith are already there. In the end, it's as simple and complicated as faith, hope, wonder, love.
In the end, it's like holding that worm, putting him down, waiting for tomorrow.