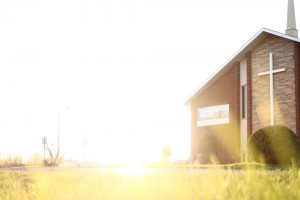 We didn't so much choose our church as crash into it. We were an airplane with a burning wing, damaged, making an emergency landing at the first wide open place we could see.
Our criteria for a church was simply this: must be close to home and must have small groups, because what had damaged us in the first place was loneliness, and we needed friendship like we needed water.
The irony, of course, is not lost on me: after two years of me railing against those evangelicals over margaritas and tortilla chips, we landed somehow at the most evangelical of community churches: Electric guitars and raised hands. Rick Warren Bible studies and Beth Moore videos. Seven-layer-salads and seven layers of Greeters and Christian catchphrases scattered like confetti.
Our church is big where I crave small, fluorescent where I want candles, loud with popular praise choruses where I want hymns, acoustic guitars, silence.
But sometimes, you just crash, and you don't get to choose how it happens. Your life is unexpectedly grounded, and you think it's because you're hurt or because you're just tired. But really, it's because God has something to say to you here, in this place where you never thought you'd end up.
It's like this: in my angry, cynical days, I called them The Church People. I saw them orbiting around their programs, high above the earthy, dirt-caked issues of us who were struggling. I separated myself from them using this language, feeling righteous in my own white-hot pain.
At one point or another, they had failed to see me, so I chose not to see them either. At least not individually. I grouped them, judged them, moved to the other side of the road.
But then we crashed, and we were among them. Weeks went by. They began to emerge, individuals with their own distinct personalities and ideas and smiles. I began to learn their names.
There was the woman who spent long winter nights in a trailer packed with clothes, handing things to the homeless. There was that other one who hates to speak in front of people but did it every Tuesday night anyway for the faithful women of the Beth Moore Bible study.
There was that group of men that invited my husband into their morning meetings, who weren't perfect, but who wanted to be better. When he lost his job unexpectedly, they reached into worn, brown wallets and pulled out More Than Enough.
There was that first little pod of couples that became our friends, listened to our stories, brought over pizza, helped us move forward.
I don't mean to simplify what is complicated. Certainly there is still ache. There is longing for the things that are absent from this church, the things that our souls also need. I am not saying that we will stay here forever or even that we should.
What I am trying to say is that I've learned they, too, are part of me. We can leave a church, join another, but they will always be Our People…because they are His People.
We express our faith in different ways. We find meaning and beauty in rituals or in the stripping away of rituals, in anecdotes or in poetry, in loud worship or in silence. Some places feel like home; some places feel less so.
In the end, we belong to each other and we belong to God, and this is what it means to be a family.
It's all still a little blurry for me. I believe in the mysterious beauty of Capital-"C"-Church. I am still not sure what that looks like shrunk down, jammed into a Sunday morning. I believe there is grace for the wanderer; I believe that sometimes we crash and it is exactly where we should be. I believe that sometimes we need to move on.
For now, we are here.
Now the junior high girl is at the door of the nursery, waiting for my son, Liam, who is her favorite.