Worship Service: Synonym for church service.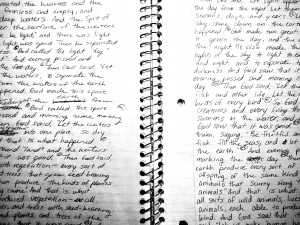 Welcome: We leave for the Festival of Faith and Writing at five in the morning, coffee, coffee, coffee as we slip through pre-rush-hour Chicago and into Michigan farmland and sunrise. We talk the whole way there, even when it's much too early for that.
The last time I came to this conference was 2006. I was fresh from that year in China, taking my first MFA class, wading back into my own writer's soul. Since then, I have accumulated: two babies, a deep wrinkle between my eyebrows, a diploma, this blog, stretch marks, and a sheaf of papers that I call a manuscript.
When we pull up to campus, everything looks exactly as I remember it: sun-dappled and lovely, tulips tall in the soil. The girls in the green Festival t-shirts look young to me as they hand me my name tag and the thick conference schedule. Welcome, they say in their sweet, college-girl voices, and it begins.
Call to Worship: It's okay, here, if your way to God involves a pen, paper, poetry. If someone is sitting in a sunbeam with her notebook, she is left graciously alone.
The language, the poetry, the tables of books, the quiet writers filing off toward various sessions: it's a holy landscape, God-soaked ground. We leave each other alone to take our shoes off, to kneel, to write.
Greet Your Neighbor: I begin to see them everywhere: my people. The ones who write in this pocket of the internet about their own faith in ways that speak to my soul.
First: Ed and Steph sitting on the edge of the fireplace; then, one by one, the others. Kristin and Suzannah. Dave at the Antler booth, who is tall and excited and looks like Seth Rogan. Micha, who shows up unexpectedly in the women's bathroom: an awkward place for that first can't-believe-I-get-to-meet-you hug.
They look like I imagined them, and also not like I imagined them. Height, for example, cannot be communicated through Twitter avatars, and neither can the beautiful complexity of a face. You can capture many things in a picture, but not recognition. Not love. Slowly online friendships are incarnated: face-to-face, hand-to-hand.
Sermon: The list of speakers is compelling, each session written in a way that makes you feel it might be essential for your soul. You make impossible choices between good and good and great.
They are speaking about a number of things, but at the heart of it, they are all speaking about that deep, mysterious place where faith and writing intersection. They are throwing the whole complex writing process into the stark relief of God's beauty, and we are bent over our notebooks, scribbling it down as fast as they can say it.
Their voices are distinct and wonderful. The poet farmer with the bestselling book. The old skinny guy with the long, silver ponytail. That social justice spokesman with his homemade clothing and his waist-length dreadlocks. Poets and memoirists and everyone in between, and there is a place at the table for all of us.
And the women! They are beautiful, smart. They say things like, Good News requires a new language. (Ann Voskamp) They say things like, Learn to hear the call of the moment. (Marilyn McEntyre) No one questions their right to speak, to teach men and women together. We are instead at the edge of our seats, waiting, pens poised for what they'll say next.
Communion: There are tables at restaurants all overGrand Rapids, and we sit around them. Over wine and root chips, I get to know my blogging friends. They ask, "What are you working on?" They ask, "How can we support you?"
I talk with strangers about art and excellence in the loud upstairs of a noisy bar; there's a quiet morning cup of coffee with a beautiful new friend in a coffee shop. They are my people, my tribe. I speak my heart aloud, and they understand.
We are passing the flatbread pizza from one to another. The fireplace throws warmth and light over us, and outside the rain falls, and I am happy down to the very bottom of my soul.
Response: The man at the literary magazine booth has a poem—a song—both…he can't decide, but he knows it's from God. He fingers the glossy covers of the books as he says it.
I am wandering this room also because of my book, my manuscript. I am trying to be brave, handing out business cards, trying to say with confidence the things I don't truly believe about myself.
We are a thousand different writers. We hear the voice of God and we respond to it on a million pieces of paper. It is its own kind of worship to create your very best thing and then throw it out in faith again and again. It shatters, you remake it. You are rejected, you get up again.
And in all this breaking and breaking and breaking, hopefully you come away with something like beauty, art, offering.
Benediction: We leave the Festival at three in the afternoon so that she can catch her flight. We talk. We are silent. We talk. We are silent. We are processing, full to the brim.
The quiet fields disappear into city, and we merge quietly into life.