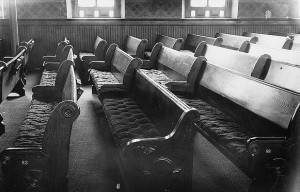 In the second year of our marriage, we lived on the outskirts of Shanghai, in a small, factory town of half-a-million.
On Sundays, we took a rickshaw to the town's Three Self Church– the one that is owned and monitored by the Chinese government. The only one that we were allowed to attend.
From the balcony, we listened politely to songs we did not understand, and then we sat, and the sermon was all unfamiliar sounds and tones. We were separate from it: the language, the traditions. Our foreignness was barrier that kept us watching from above.
After service, old Chinese church ladies handed us doughy, warm bread, and I think they knew. I think they meant it to feel in our hands like Bread of Life, like communion. I bravely tasted a few bites but couldn't eat much more than that, and it got thrown away in time.
Eventually, the twelve of us American teachers began to hold our own church services in the upper room of the Chinese church. The president of our school joined us, and if we didn't sing all the verses in the hymns, he'd shake his head, stand up and give a speech, and then make us do it again.
I spent a lot of time in those days looking out the window. Aching. Longing.
When we came home at the end of that year, I thought that this kind of sadness could be simply shaken off like water. Here there were so many churches. We could choose any one of them and hear our own familiar language brushing against the things of God.
And yet, loneliness creates its own kind of barrier inside of you. In China, I had turned a little colder. I'd curled up tight around my own inexplicable pain and alienation. It would still be over a year before we called it Depression with a capital "D" and began to lean into it.
We, all of us, search, hunt, visit, leave. We make our spreadsheets, and all the while, we carry our own pain, our own expectations. Our deep needs masquerade as shallow things like music preferences and programs and "how things feel" at a particular church.
Some of us even dive headfirst into a church experience, looking for belonging and life.  This is what Andrew and I did…barely at one church a week before volunteering for Jr. High Youth Group and relay races and ice-cream sundaes, assembly-line style.
We'd barely heard the first whisperings of a House Church, and we were In It, bringing casseroles on Sunday nights for potluck. We were helping one member move, helping another run a crepe stand at an art fair, calling them our family.
I hauled my broken self faithfully to ever gathering, just as I had done in high school. I wanted them to say the things that would make me feel whole. I wanted them to see that I was hurting, to sit with me and let me talk through the sadness until I had rendered it powerless.
But they were only people. Church people, with their own issues, hangups, busyness, lives. We look at each other, all of us, and we don't always see.
And even if they had, even if they'd done it right, I understand now what I didn't then: a church cannot fix me. That glowy, beautiful idea of "community," even if it were everything I had imagined it to be, could not have done it. I was broken, shattered, and even if they'd tried, all the king's horses, all the king's men, they could not have put me together again.
It is God, only and always. It is Christ, not other Christians, who takes our broken pieces into his own skin and absorbs them so that we can be made whole.
God didn't give me the church I thought that I needed, but he led me to a wonderful therapist named Sarah and to the medicine I needed to realign the neurotransmitters.
There were people, both Christians and not, who came at the right moment and said the true thing, and I could hear his voice through theirs, kind and quiet. There was a long evening walk with the new dog, and the sky was cold, and he came closer. And all those little pieces added up, one by one, to Enough.
There are so many churches, and we pass through on any given Sunday. We engage, or we don't. We give it time, or we don't.
We look for God in all the usual places, when all the time he is at the edge of our peripheral vision, working, loving, whispering. Spinning our pain into gold.