Church Hunting: The process of visiting a number of churches, looking for the one you will commit to attending (the one you will call your home church). A sort of rite-of-passage for the young evangelical, particularly overwhelming if you've attended one church for your whole life.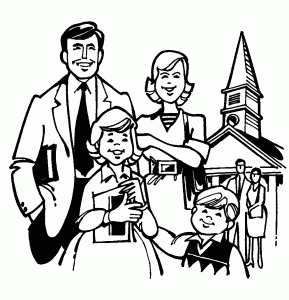 Note: This is Part 1 of a short series (to be continued on Thursday), so don't despair if the ending is totally depressing.
You begin with a certain amount of enthusiasm. Curled hair and your special-occasion eyeshadow and hope.
If you're Type A, like me, you've created a spreadsheet. You've done research. You've clicked into church websites to get a feel for their mission, their programs, their heart. You've written down addresses and service times, and you're walking tall in your trying-hard-to-be-cute heels.
You know how it goes: shake the hands of the greeters, stop by the welcome desk to introduce yourself. Drink the coffee, smile at the children, sing along with the songs projected on the screens. Clap on the beat. Stand. Sit. Stand again.
You know how it goes.
You're not sure, exactly, what you're expecting when you walk through those big church doors, but you can feel the absence of it heavy against you. The church bulletin lists half a dozen Ways to Get Involved, and it makes you tired in a way you can't articulate.
People are friendly, but their questions skim the shallows of your life—job, family, current residence—and then stop. You wonder how long it will take to move from the ankle-deep of acquaintance to that all-the-way-in, sink-or-swim-together kind of relationship that you crave. Friendship and sisterhood and brotherhood and family.
Once at a youth group overnight, you slept on a trampoline in someone's yard with half a dozen other girls. Your feet formed the center heart, your bodies angling out like tire spokes, evenly spaced. Above you, the stars were close and bright and you laughed until your throat felt hoarse and your nose was cold and you drifted off to sleep.
You still feel that, still feel those times in college when you sat up all night with your friends, high on caffeine, on the sharp bitterness of your first black coffee, on all these new ideas about God. Conversation charged like electricity, and you were a string of Christmas lights, linked together by that high power.
But the church bulletins of a dozen churches accumulate at the bottom of your bag. You stop curling your hair, give up on your pretty heels. It is tedious and long, this search for a group of Christians that will become your Christians. You weren't expecting that.
There are so many churches. They rise up from so many corners, from strip malls, from great fields that would be empty but for the big new building and its glassy black parking lot. So many churches, but also, never the one you're looking for. Never the church you have in your head, the one where you fit like a puzzle piece.
And there are those who would say that you are just part of a generation of wanderers. That this is an epidemic, that your discontent is, at its root, selfish. You just want to be catered to, they suggest. You want to be entertained.
But I know. This is not really what you're asking for – slick programs and fog machines and espresso.
I know that when you say "community," it's not a vague concept. It has faces that you can still see and voices that you can almost hear and the distinct smell of old popcorn. You're not sure, to be honest, what the grown-up version of this is, but you're pretty sure it's not the Women's Breakfast and Coupon-Clipping Seminar in the bulletin.
You tick down the list of churches. Get up Sunday morning after Sunday morning until one week, you turn off the alarm clock. Abandon, for now, the hunt. Sleep in.