Palm Sunday: The celebration of Christ's triumphant entry into Jerusalem the Sunday before Easter. He arrived on a donkey (to symbolize peace) and was welcomed with celebration and adoration, coats and palm branches laid on the path before him.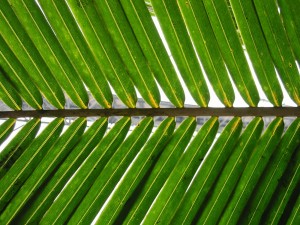 When we drop Dane off at his Sunday School class, there are little circles of green construction paper all over the floor. It takes me a moment to realize that these are meant to be palm branches, and that (of course) today is Palm Sunday.
His teacher holds out her arms, and he leans, cautious, into me. "Come in!" she says. "We're jumping on the palm branches because we're so happy Jesus came to town!" I put him down and he whispers, "Leave the door open," before he walks tentatively in.
I have vague memories of actual palm fronds in my early years, the heaviness of those leaves collected on one long branch. I remember the church sanctuary, ablaze in all the waving green, the lobby littered with fallen leaves.
But this morning, the church bulletin is bordered with red droplets, and it is already time for all that talk of death. I am jarred by it. In one moment, we are greeting each other with smiles and small-talk; in the next, we are watching Mel's Passion of the Christ.
The DVD is cued up to those last moments on the cross, and Jesus is already bloodied, already battered, one eye swollen shut. He lifts his eyes to heaven and commends his Sprit to God, gone before I've even had a chance to hold out my palm branch and welcome him.
The pastor comes up, "Whew!" He says, and it comes out Southern. "What does that do to your heart?" And if I'm honest, I will say Not what it should.
It is Holy Week, a term that I've only recently learned to speak. In other incarnations of Christianity, it is an entire week of tradition, liturgy, waiting, sinking into the heaviness of it all. But here, in the evangelical world, we just do the highlights reel.
We used to include Palm Sunday, but now it's mostly just the Two Big Ones. Good Friday and Easter. Death and Resurrection. Two sides of one coin.
Every year, pastors draw it out in detail, trying to communicate the excruciating pain of it. Crucifixion. Those nails. All those woven thorns. (In youth group one year, a plucky volunteer was even asked to stand, his arms outstretched, holding two folding chairs to demonstrate the exhaustion, the struggle.)
Imagine, they say.
And I try. But there is so much pressure to let this image penetrate my heart to the point of emotion, of understanding. The year The Passion comes out, I watch it all the way through, glad, in a way, for the fact that it pushes me to tears.
But in the broader Christian tradition, Palm Sunday is the beginning of a week that sends us spiraling toward the deepest dark…and then back out of it.
It seems poetic to begin by holding so many cut palm branches, imperceptibly dying in our hands. It is a kind of grace that we are not thrown straight into the dark but rather given space to move into it. To let ourselves be moved.
I don't know what this looks like, really. In spite of Holy Week, my life moves along the grooved paths of daily routines. Maybe it's just noticing the uncooked steak, blood red on my cutting board. The leaves shooting from the lilac bushes. The tulips pushing through broken seeds and hard ground.
The sun is falling straight out of the sky at eight o'clock every night. One thing ends, another begins.
And of course, they're important: those anguished moments on that lonely hill. But we'll get there soon enough. First there's a meal. There's God on the ground, washing our feet. There's a garden and a prayer and a fearful, faithless kiss.
First there are all these metaphors, all of these images. There are hot, yeast rolls torn open at dinner, and they too have something to speak into all of this.
We pick the kids up after church, and Dane has made a painting for Palm Sunday. His small, green handprints cover the page: one dark and bold, the rest smeared and abstract.
It looks like applause, like palm trees waving.
It looks like the beginning of the best story you've ever heard.