WWJD: An acronym for "What Would Jesus Do," a phrase so popular in the 1990s among Evangelical Christians that it was worn widely in bracelet form. The bracelet was meant to remind Christians to act in a way that communicates the love of God to others.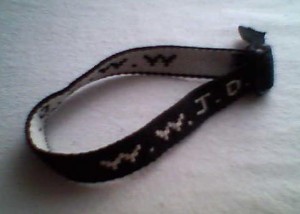 At first, the woven cloth is uncomfortable and rubs against your skin. You wear it anyway because you're not ashamed of your faith. And also, because it's The Thing right now, available in every color imaginable, noticeable even on the wrists of celebrities.
Should you sit next to that kid who is alone at the lunch table? WWJD. Cheat on that test? WWJD. Go on a missions trip? Smoke a joint in the parking lot? Pick up that child's photograph from the Compassion International table, and promise to send $28 in support each month? What would Jesus do?
At fourteen, it's as simple as a simple question. As easy as four letters on a bracelet.
You can't remember the day you stopped noticing. One day it was scratchy, the next, soft and frayed on your skin. You've lived with it for so long that you pay about as much attention that acronym as you do the lines on your own hand.
*
The boy in the hoodie sweatshirt was shot for no reason that anyone can understand. It's been a month now, and still the facts are a little hazy, his killer free. His name is still heavy among us. His picture circulates through the news – dark skin, glad eyes, wide smile.
Elsewhere in the world, a guerilla leader named Joseph Kony hurts children in unspeakable ways. I know his name because of a video made by a man who is broken in his own way. I know because the video was distributed by an imperfect organization. Because the internet blazed with it for weeks.
The world's great hurts are trending on Twitter, throbbing like a great open wound. Everyone has an opinion, a point of view, an answer.
Would Jesus wear a Kony 2012 t-shirt? Help plaster the city in signs on a night in April? Would he shake out his pockets to give change to the Invisible Children, or would he overturn their tables in a rage?
Perhaps he would wear a hoodie in honor of Treyvon Martin, and the hood raised up over his head would communicate a hard truth: "What you do to each other, you also do to me." Or maybe Jesus would just take a Greyhound bus toFlorida, put his hand on the boy's body, and raise him straight up from the dead.
*
My almost-three-year-old is standing on purpose on the fingers of my almost-one-year-old, and I am yelling at him in my loudest, most terrible voice.
These boys of mine are everywhere all at once, requiring a store of patience that I don't have, a level of consistency that I can't sustain. I'm cutting up another frozen pizza, wiping sauce from floors and faces, carrying, yelling, singing, hugging. I'm lugging him to the stair-steps for another time out.
And the tragedies keep happening, the world breaking open at its seams with grief.
I don't know what Jesus would do about all this murder, racism, genocide, pain. I can't even manage to take a picture of myself in a hoodie, because my camera is dead and I can't find the charger in that eyesore that is my "junk box."
But I do know that once, a man named Lazarus died, and Jesus wept. A woman was condemned, and he offered her mercy. He walked, healed, listened, narrated. He opened his arms and let the children come.
The dishes are out of control and the phone is ringing. We're late for class, and on the other side of the world, a child is being ripped from his home to fight an evil war.
We're late, and I'm yelling at my toddler who is white and therefore privileged in some sense. He will likely be able to wear a hoodie at age 17 without being considered a threat.
I don't know what Jesus would do about all of this mess. Except love. Love, love, love.
The answer is as simple and as complicated as that.