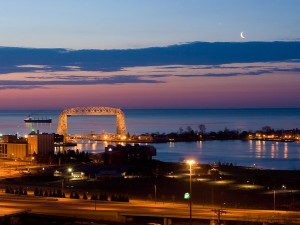 Ask me in winter, and I'll tell you that Minnesota is a vortex, a quicksand of dirty, cold slush that grabs you until you're stuck. A God-forsaken mess of subzero temperatures.
But in summer, the loons call to each other on ten thousand lakes and the light stretches into ten o'clock at night, and the whole place smells like pine. We drive north, and the landscape drops rocky into Lake Superior, and only the rugged souls can manage a swim because even in July, the water is take-your-breath-away cold.
Once I went swimming in Lake Superior during a rainstorm. Under a double rainbow. I'm not even kidding. It was like a postcard, and it's moments like these that that suck you in, and then, before you know it, it's January, and you're swearing under your breath about the whole thing.
I rage against it, but the truth is that I chose Minnesota at 18 when I packed my bags and drove my green Honda here for college. This place belongs to me now, and my life has found meaning and definition in the cold, the warmth, the pine, the water.
And we say that faith is a journey, and, as far as well-worn metaphors go, it's a good one. I like the way it reminds us all that faith is long and winding. That it's less of a defining moment; more of a kind of movement.
But sometimes I find myself using that phrase – faith journey – to distance myself from others.
"She's on her own journey," I might say of the one who doesn't champion my causes, agree with my insights, share my opinions. It's subtle, but what I think I might really be saying is, She's not quite there yet. She has not arrived, doesn't know what I know, hasn't yet seen the light.
What I really mean is that she's not like me.
*
There's this moment when Highway 35 rises out of the birch trees, and you can see all of it spread before you. The lake. The bridge. Smokestacks pouring white into the air. That rocky shoreline, both marred and enhanced by the work of life going on around it, and it makes me wonder, sometimes, if faith isn't more like a landscape.
What if faith is soil, air, water? The streets you walk on, the lot you park your car every day? What if it's a kind of place, and it's full of people, and everyone's just trying to make a life here the best that they can?
You are here. Some days, you can't remember why. You think about leaving, relocating to someplace warmer, someplace easier, someplace new. Certainly things would be better in, say, Hawaii.
But in the end, you stay because it is your home, because you've chosen it. Because it's chosen you.
The ice-storm comes, turns to slush, turns to water, running clear and clean in the gutters. The lilacs pop purple. The voice of the loon rises out of your sadness, and faith is all of these things at one time or another. Beautiful and terrible. Life-giving and exhausting. Easy and hard.
The winter comes, goes, comes. You stay another day, another month, another year. You drink water pumped from ten thousand lakes and find that you are filled.