The Feature
I found Relevant Magazine years ago, just as the depression was tapering down, the healing slowly beginning. The first copies were given to me by a  hipster who drove a school bus and frequented my Caribou, and I took them, because something about his kind of Christianity disarmed me.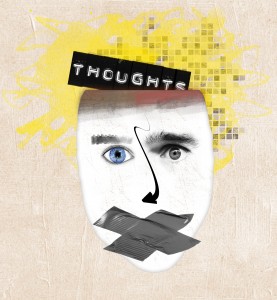 What I found in the pages was a kind of grace. A willingness to look at issues from all sides. Intelligence and wit and beauty. Over the past several years, this magazine has been a source of encouragement for me as I've re-imagined my own broken faith.
So when one of their online editors contacted me a month ago and asked me to write an article based on this blog, I could not have been more excited.
I set to work. It took me an obscene amount of time, but somehow, I got it done. (You can read it here.)
The Response
I stopped reading the comments after the sixth page (so if you wrote something awesome after that, sorry. I'll never know). Let me be clear, there were a number of very kind notes. Hundreds of "Likes" on Facebook. Dozens of Tweets.
But, of course, those aren't the things that stay with you. The comments that you internalize as a writer (as a person) are inevitably the harsh ones, the critical ones. And there were a lot of those.
My first response, of course, is to try to defend myself. It's to write a thousand individual comments saying, "That's not what I meant at all. Let me explain." My first impulse is to rewrite it, to try to make you like me better, or at least understand me.
But I keep thinking about that story at the very beginning of the Bible, that part in Genesis where we all got together and tried to climb to heaven on our own. We built a tower, called it Babel, and God said, "Enough now," and split us into a hundred thousand different languages. Scattered us all over the face of the earth.
I think that part of what it is to be human is to misunderstand each other. We spend ten excruciating hours writing a feature article, or we try to say it out loud in just the right way, and still, we hurt and confound one another.
Sin means that the whole world is broken—even the words we use to try to repair it.
The Same Old Discussion
If you've spent any time here, you know that this blog is something of a living glossary. My thing is Christian cliché. Evangelical catchphrases. The words we've whittled into weapons and used to stab one another in the back. The ones that have been so overused we hardly think about them at all anymore.
I'm not doing it for laughs. I'm not trying to take cheap shots at the culture that raised me. I do it because I've said every last cliché in all sincerity. Because I spent ten years getting into the Word until one day, I couldn't find my way back in.
I write because I know what it's like to say, "Just get plugged in!" and I know what it's like to have it spoken back at you when you are your most desperate, lonely self. I write because, believe it or not, I agree with that old adage, "Don't put God in a box," and because I think that it's possible to do that even with words.
I write because in the end, what I have to give you is this: my whole, unedited self. I write because I love it and hate it and can't seem to stop doing it. Because I believe that the work of God is redemption, and I believe that even words can be redeemed, even this same old, tired discussion.
You can love it or hate it or tweet it or slam it, but I'll be here again on Thursday. I'll write down another term, try to get at it in a fresh way with my own inadequate words.
I hope you'll come. I hope you'll offer your own thoughts, your own words, your own stories; I hope you'll join me in this tentative, imperfect, messy work of redemption. I hope we can figure it out together.