[Disclaimer: I am still in a coma from watching the three-hour Bachelor* season finale** last night. I'm not proud of this, but there it is. And now I'm going to sink even lower and blog about it. Read on if you still love me.]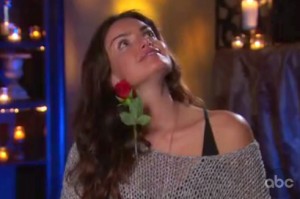 He introduces her by saying, "And now, the woman America loves to hate," and we do hate her a little bit. We can't seem to help it. It's something about the cutesy voice, her sing-songy catch-phrase "Winning!", the way she's always touching her hair.
She is the one with little regard for the "rules" of the show or, apparently, for clothing, and we all collectively shoot daggers into our television screens when she sneaks off in the night to instigate a skinny-dipping tryst with Ben.
She weeps, and we shout "Fake!" She speaks, and we roll our eyes.
I have been watching this stupid show for a few years now (since Jason Mesnick's Melissa/Molly Switcheroo of 2009). I always say I'm not going to, but come that first week of January, I'm parked on the couch, my capacity for grace wadded up in the kitchen next to the dirty dishes. I'm casting stones at women I don't know, real people, shrunk down, made 2-dimensional with all that TV editing.
And I'm never more aware of it than after a two-hour-Bachelor-binge: my propensity toward snap judgments; my fallen heart so prone to condemn others for theirs.
In the evangelical world, we always said it like this: "Love the sinner, hate the sin," as if it were as simple and clean-cut as all that. As if hate could be restrained, targeted laser-like onto only that which is deserving.
But who can say where a difficult personality ends and pride begins? Who can pinpoint that moment when truth fades into lie, attraction becomes lust, desire turns to greed?
We are, all of us, a tangled mess of beauty and brokenness. Try to separate the two (isolate the sin, cut it away with a scalpel, hate, hate, hate it), and you find it's ingrown, all intertwined with our identity. Judgment cuts deep. The whole thing becomes a bloody mess.
This is what is so striking to me about the story of God: He loves us not for what we could be, but for what we are. He looks at the whole broken, manipulative, sin-strangled mess and says I love you and I want you and You are mine.
Salvation is not a painful surgery meant to cut clean our sin. It is a God who would die so the scalpel could be thrown to the sea.
She is under the fluorescent light, she is working the camera, her eyes welling with tears. The women in the audience are shaking their heads, and I am shaking mine in spite of all this talk of grace and love.
But to God, she is beautiful. To God, she is precious. He waits, arms open, for her to see it.
* The Bachelor is a reality/game show in which twenty-five women vie for the love of one bachelor. Week-by-week, winners are given a red rose while losers are sent home crying, until in the end, one (lucky?) woman receives a proposal.
** A short recap (in case you are smarter than I am and watched The Voice on Monday nights instead): Bachelor Ben proposed to Courtney Robertson, the rule-flouting, ultra-confident model, in spite of multiple pleas for caution by the other girls. Neither America nor the 24 rejected Bachelorettes were very happy about it.