Communion: The giving and receiving of bread and wine (or wafers or crackers or grape juice, depending on the church) in remembrance of Christ's death on the cross. The mysterious command of Christ at the Last Supper, before his death: "Do this in remembrance of me."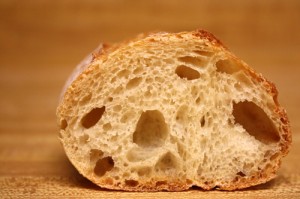 For a year, we lived and taught in China, my husband and I, and I was not cut out for it.
In the unfamiliarity and strangeness of it all, Loneliness came, and it was strong and destructive like a parasite. It grew unchecked, and then it was bigger than I was.
We came back to America. The church people said, "Get plugged in!" and so we did. This Bible study. That house church. I was hurling myself against all the programs, trying unsuccessfully to light that spark, to find community.
The church people said, "Feed yourself," so I drove to Caribou every morning before work. I sat in that fake leather chair with my Bible, my pen suspended over the empty pages of my prayer journal.
But Depression doesn't just make you sad, it makes you empty. You reach for the things you need, but you can't absorb them.
At first you are desperate in your hunger, willing to try anything to get at that Bread of Life. But then the numb sets in, and it is a kind of giving up, a kind of starvation.
Instead of eating, I drank. Margaritas. Coffee. Wine. Coffee. Vodka. Coffee. I drank until I felt full. I was tipsy or I was jittery, always a little bit shaken, a little bit hungry. I hardly noticed my arms growing thin.
It is a whole, long, hard story, and I won't tell it all here. I will tell you that the way back was hard. It included a lot of therapy and a prescription meant to get the synapses in my brain firing again.
But the way back also included, briefly, a church called Solomon's Porch: a strange, beautiful little community in Minneapolis that called themselves "holistic," called themselves "emergent."
They met in an old church building, the pews removed, replaced with old couches turned into a wide circle. When they celebrated communion, it was with tables set like stations around the sanctuary. At one table, hearty, homemade bread. At others, twelve grain or seed bread, whole loaves waiting to be torn. Here there was grape juice in small, biodegradable cups; there, a goblet of red wine.
However you needed it, however your heart could absorb it, whatever communion tradition you resonated with, all of it was here. Available. The table set for you.
Music played and people talked softly as they got up and moved about the room, and it was communion with God and with one another happening at once, all of us gathered around the mystery of it all. Someone was ripping the bread, and we were passing it to each other. Feeding. Being fed.
And this is the heart of it all, isn't it? When it comes down to it, the story of Jesus is this: we are hungry, and he gives himself to us like bread. He says, "Be filled." He says, "Feed my sheep."
This is where it all comes together: someone you don't know hands you a piece of bread, looks straight in your eyes, and it is community and sustenance all at once.
They offer you the broken, beautiful Love of Christ, and you take it, absorb it. Find that it is enough.