To feed oneself: To be able to read and study the Bible individually and to pull from it truth that can be applied to your everyday life.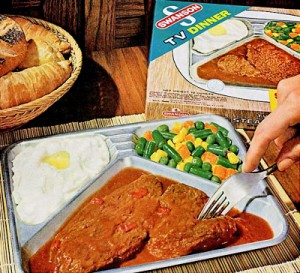 Take enough Bible classes, attend enough conferences and retreats and Bible studies, and it all begins to feel a little pre-packaged.
Step 1: Read a verse or a chapter.
Step 2: Meditate on it.
Step 3. Translate that verse or chapter or truth into an application – a thing that you can do, something that you can carry into your day and spritz onto the squeaky parts – a little spiritual WD-40. This is the purpose of most Bible study methods: the useful part.
"It's not enough to just come to church once a week," the pastor says as he introduces a church-wide 40-Days-in-the-Word initiative. "You have to learn to feed yourself," and it all sounds very American to me, faith as a sort of single-serving TV dinner.
I am thinking about our tendency here to consume. That complicated relationship we have with food. We are picking it up on the way, eating it alone, burning the roofs of our mouths. We are stuffing it down too fast, unable to recognize the feeling of satisfaction in our bellies, unfamiliar with the weight of just enough.
And it's in me too. I am having a rough day. I am hiding from the kids, alone in a dark corner of the kitchen. I am burying it in a pile of Girl Scout cookies.
Once in high school, I was on this missions trip to the Dominican Republic, and we were tired, dirt-covered, the face-paint from our Gospel drama dried thick on our faces.
I won't talk about all those painted masks and all that evangelizing just now. But I'll talk about the yellow school bus idling in the heat. I'll talk about the woman.
She was old, and it took her a while to board the bus with her heavy pot of beans and rice. No one asked it of her, but she came, carried that heavy pot with her down the aisle, her hips brushing against the vinyl. She scooped a portion out for each of us. Her smile was wide, her eyes almost disappearing in all the gladness.
She was feeding us, feeding herself, all of that giving and receiving mixed up together in one gracious moment.
And here is what I think: faith is not a value meal eaten alone in the car. Faith is a table. And whether you're alone in your kitchen or sitting around a room of people, we are connected to one another, all of us part of this long, beautiful meal.
I read a verse from Philippians or a chapter from a Kathleen Norris book or a poem by Luci Shaw, and I am fed. I read a blog, I write one. I hear a song, I sing it out, and we are all interconnected, passing back and forth that Bread that is Life.
It's like layered Jell-o and potato salads and cold, fried chicken and potluck! We bring what we can, what we have, what we've been given. We bring it to the great wide whole, near and far. We give and receive, even in those moments when we sit alone, the house quiet, the refrigerator buzzing.
The food goes together, and it doesn't go together. You sit around those metal folding chairs, paper plates balanced on your knees, and you don't really have time to worry about feeding yourself because the strawberry is so sweet, the bread so good, the laughter so nourishing to your soul.