Community: A vague concept meant to reflect experiencing the life of faith deeply and honestly with a group of other believers who you know well and see regularly.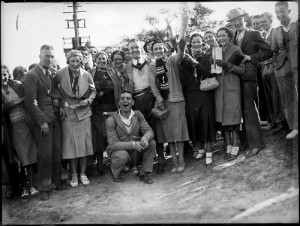 In my awkward, junior high days, it came like a gift.
I sat, that first day of youth group, shy and insecure on a ragged couch, and they absorbed me. In one moment, I was new; in the next, I was part of it, just one of the gang.
The eighth grade girl next to me with her toothpaste-ad smile and touched the end of my  braid. "You have the best hair," she said, and it was kindness, sincere and unearned.
I didn't have to say anything or prove that I was loveable. I was simply loved.
In the junior high days and the high school ones, they don't use the word community; they call it youth group. Fifteen large pizzas in the church gym and giant sumo suits and music loud enough to fill the whole place up.
It was ski trips and sledding and Superbowl parties, and in the midst of all of that, we were talking about Jesus, talking about life, our Light growing brighter because of each other, because of three hours of crammed in a van on the way to the Sparta bike trail.
Surely I knew that community would change in the growing up. It would include different people. It would look a little less raucous, a little more like backyard barbeques and card games. But ultimately, I imagined that youth-group-feeling would expand, grow, take into it spouses and children and 9-5 and routine.
But there is a natural gravity to the American life, and if we don't make an effort, we find ourselves pulled inward to our own nuclear families, circling our own rhythms and routines. We say "we" and what we mean is the four people who live and move and breath in our single-family homes, not that larger we, the more complex we, the one that we must choose to love.
At church, we have to be told to do it: "Turn and greet a few people around you," the pastor says, and there are awkward handshakes all around. In the foyer, it is weeks of small-talk before someone finally says, "Would you like to come for dinner?"
We get older, a little more broken and cynical. We focus all of our love on a few select people, and we lose the ability to absorb one another.
And you can go to every church in a fifteen-mile radius and still never find that whole thing, that unbroken thing, that ready-made community who takes you all the way in. If you are tired and delicate enough, this can feel like a reason to give up.
Don't forget, though, that last night of the Jr. High Bike Trip, when you all sat in a circle and threw that ball of yarn back and forth. "I appreciate you because…" you said. You had to look into their eyes and say it; that was the rule. You had to mean it. You were throwing the yarn, wrapping the small pieces of it around your fingers, and you were all connected in that moment, in one great web of grace.
And still, there is truth to this. We are one beautiful, whole thing that is broken across places and time zones, across personalities and disagreements. We meet one person for lunch, email another. We touch someone's hand, hold someone's child, go out of our way to say the kind thing.
It doesn't look like we hoped, doesn't feel like community, and it's okay to ache for the brokenness of it all. But when it's your turn, take that ball of yarn in your hands, throw it forward, look in someone's eyes. Mean it.