Stumbling Block – An obstacle to someone's faith. (This phrase is found originally in Romans 14, where Paul suggests that when it comes to the gray areas, Christians ought to keep in mind those whose faith is weak and avoid deliberately doing something that could cause them to falter.)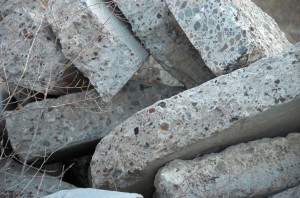 It seemed like the whole of the evangelical culture was busy building boundaries in those days, the air thick with the dust of all that construction.
We were pinpointing things that could cause a person to lose his way, and we were isolating them; we were building up walls to keep them out.
A short list of potential stumbling blocks:
R-rated movies, PG-13-rated movies, songs with sexual innuendo, rap.
Two-piece bathing suits, tight sweaters, goodnight kisses, dating.
A cupboard full of wine. A six-pack in a refrigerator.
MTV, reality TV, any TV.
Ghostbusters. A lit cigarette. Harry Potter. An unlit cigarette.
Any of the four-letter-words.
People who took part in any of the aforementioned things.
I think this is how it all started, that Christian subculture with its bookstores and music festivals and t-shirts. All that building, all those boundaries rising up around us until we were enclosed in them. Here it is safe¸ we told each other. Here you will not stumble.
Here is an interesting thing that happened to many of us in the growing up. The boundaries that hedged us in became themselves blocks, and we were stumbling over them, tripping, falling down flat.
For me, it was the big church-shaped boulder that did it. I was stumbling over judgment, over hypocrisy, over loneliness and isolation, over not really belonging. It was programs and party lines and broken promises, and I was face-down drunk under the weight of it all.
We try, we try, we try. We build up boundaries, we tear them down. We try to protect ourselves and each other, and still there is all of this stumbling, all this crashing down, and I think maybe that's just how it is.
Faith is a bizarre three-legged race, and we are all of us forced together, bound awkwardly by the love of Christ. We are all living it differently, interpreting it differently. We are doing it right and doing it wrong, and maybe stumbling is just part of it.
Liam is learning to walk, cruising tentatively, slowly along the too-sharp edges of the furniture.
All my life, I've thought that faith is like walking: it starts out rocky, but eventually you get the hang of it and it becomes as natural as breath.
But I watch him pick up one foot, put it down, pick it up, put it down, and I am seized with empathy, with compassion, with understanding, because I too am propped precariously against the edge of it all.
I am losing my balance all the time. I am tripping over the forgotten thing, the careless word, the unintended hurt, and I want to tell you that it's just like this. That faith, too, is a kind of stumbling. That there is grace for that.
You fall, you stand, you slowly make your way around that thing that is tripping you up. And, in the end, you stumble on.