White As Snow: A metaphor used to describe the state of our soul after being saved by Christ. Our sins are no longer counted against us; we are pure, blameless, white as snow.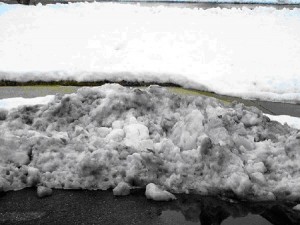 Maybe on the plains of North Dakota, the snow falls whole and clean, soft like a storybook, like a blanket, like the Beginning.
Somewhere there may be a place where the wind drives a wall of white forward from nothing to nothing, like Redemption, like a postcard from somewhere you almost recognize.
But here in the suburbs, it's as if the snowflakes fall already broken.
It has been a warm winter in Minnesota. There is no bite to the air, no moisture, no blizzards. Our "biggest snowstorm to date" was the three or four inches that we got Monday night. Scarce. Barely enough to cover the dead landscape of our winter.
In the night, the plows come slow and quiet, and in their wake the snow is pressed gray against the curbs. It is half-melted already, that thick slush that sticks to your boots and turns to chalk on your fake-wood floors.
And no one ever tells you that it's going to feel like this sometimes. There are days (more than you'd expect) in which it feels like the Great Love is not quite enough to cover all of your dead places.
There are days when it's all a little threadbare, and the snow is melting, and your pain is sharp like the brittle grass. From the living room window, it looks like the winter-scorched world is winning.
Here is another thing that is white – sand.
I'd forgotten about this until we were in Florida a couple of weeks ago – forgotten how different ocean sand is from the standard brown variety of our 10,000 Minnesota lakes. It is fine and soft, and it goes forever across the shoreline, disappearing into the waves.
And white.
I read somewhere that each grain is different, as intricate and beautiful and distinct as a snowflake, and that we walk, unknowing, upon magnificent beauty. But that doesn't stop us from chasing the sea gulls, from digging, from holding it in our hands, letting it run through our fingers.
We are alive, and it is vacation, and we play until the baby is beyond tired. When I pick him up, I notice that he is glowing with the stuff, that it gathers even along his thick, beautiful lashes, like drops of water on a rail.
And I think that sometimes it feels like snow, but sometimes, it's like sand. It is a beautiful seascape, and we play in it. We run, and we don't even notice the bottoms of our feet getting stronger, getting softer.
We sit and we dig and we laugh and we talk, and all the while, it is covering us. We are shimmering. It is everywhere, lodging itself in our fingernails, between our toes, along our delicate, fluttering lashes.