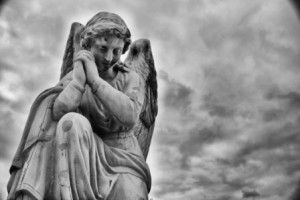 The Catholic kids came in from recess red-cheeked, smelling of sweat and grass, and their lunch bags had no desserts in them during those long weeks before Easter.
"My mom made me give up candy," they'd say morosely, and I understood that Catholic was about giving things up, about a confirmation class called CCD (which they called Celestial City Dump), about plastic baggies of crinkle cut carrots.
At our church we said things like, "It's not about religion, it's about relationship," and Catholicism was quintessentially religious with its liturgies and sacraments and saints.
We were dismantling the responsive readings, trading the hymns for worship choruses and electric guitars. We, who had a direct line to the Almighty had no need for confessionals. We who had Christ had little use for his Virgin mother.
In high school, a reporter from the Daily Herald called to interview me about the latest See You at the Pole event, and I mentioned my recent missions trip to the Dominican Republic. "Isn't that a Christian country?" she asked me. "Well, it's Catholic…" I said, and she was silent while she processed the unspoken judgment, as clear and loud as if I'd shouted it.
But how was I to know? This Jesus thing is all bliss and journaling and worship ballads until you put a little Depression on it. And then, it's like a wall and an ending, and you who used to raise your arms high above your head in worship can barely lift them from your sides.
I spent my own Dark Days reaching for a Relationship that I could no longer seem to access. God was somewhere, and I could not get to him.
What I wanted most in those days was an intermediary. I wanted to sit in a confessional and have someone else speak to God on my behalf. I wanted to hold a rosary, to count the beads, to feel them sure and simple under my shaking fingers.
And it would be like saying of marriage, "It's not about commitment, it's about love." Well yes. And no. Sometimes it's that piece of paper, that promise that keeps you going.
You fold the laundry, you vacuum the living room, you stand side-by-side at the kitchen counter, chopping vegetables—tasks and routines, steady and predictable. Beads on a rosary. You commit. You wait for it to feel like love once more.
*
I meet a woman in a coffee shop, and she tells me, "I grew up Catholic, and I had no idea about anything." She is fresh from the tanning bed, and her skin glows holy.
"Now I go to this church where they read the Bible. I'm actually learning," she says, laughing, and I am reminded that we are all on our own journey. We are flip-flopping, her and I. I am craving liturgy, the feel of ash on my forehead, the quiet mystery of stone saints.
And she needs it straight and simple, a shot of Jesus to the soul. The pastoral anecdote, the statistic that I've heard a hundred times before, worship, loud and spirited– these things are for her.
Someday, I will need them again too, because faith is like this, spiraling round and round toward the hidden heart of God.
It is religion and it is relationship. It is mystery and understanding, silence and prayer. Not one of us has it all exactly right. We take what we can from each other, we learn where we're at.
We are counting the beads in one moment, tossing them wild before His feet in the next.