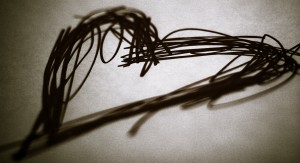 True Love Waits – An international campaign aimed at teenagers and college students promoting sexual abstinence outside of marriage.
We were a hundred thousand church youth groups meeting in auditoriums or classrooms or empty church gymnasiums, and if we weren't talking about Jesus, then we were talking about sex.
Not, of course, in any specific way. We did not give voice to unanswered questions, unspoken fears. Instead, we talked around it, giving it wide berth, like you do with something dangerous.
Here is how to not have sex. Commit. Join the movement, sign a pledge card, wear a special purity ring around your finger. Don't put yourself in Situations. Date in groups. Call it courtship; read that sepia-colored bestseller I Kissed Dating Goodbye.
If you kiss him, make it short, sweet. But better not to kiss at all.
Jesus. Abstinence. Jesus. Purity. Jesus. Wait, wait, wait for your Future Spouse. And if you do this enough, these things become inextricably linked. The cross is surrounded by yellow warning signs; the state of your soul gets all mixed up in the state of your virginity.
What I remember when I think of all this is the palpable sense that we were walking a thread-thin line over a raging sea, and that to fall, to give into the temptation was forgivable, but only barely. God might still love you, but you were still a little ruined. To give away your virginity before marriage was to lose your best, most sacred self, and there was nothing you could do to get it back.
True love waits. Maybe. Maybe not. I am not so much interested in a debate about morality here, but rather in that interesting turn of phrases. You are in one moment saved by grace and in the next saving yourself for marriage.
Note the subtle shift, the heavy responsibility of it, the way we hoist it onto the hormonal, insecure shoulders of the high school senior. We pat him on the back. True love waits, buddy. Good luck.
I am concerned about what happens to a virginity-bound faith, then, when he doesn't.
And what I most want to say about all of this today, Valentines Day, is that love is hard. Whether you wait or you don't wait, this business of two becoming one is messy and imperfect, and we are, all of us, a little bit broken coming into it. We come together expecting perfection, and we are surprised to find ourselves bleeding from each other's jagged edges.
What I want to say is that we wait and we don't wait, and the love of God is unswayed. It is true and big and wide. It is the hand that reaches into our glass-shattered hearts, bodies, moralities, and, bleeding, lifts us out.