Greeters: People positioned at the doors of a church to welcome newcomers with a smile and a handshake.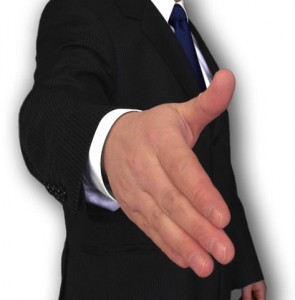 At my church, there is a small battalion of middle aged-men—a motley crew who throw a football back and forth in the parking lot, even as Minnesota fall turns to winter. They wear heavy coats and hats with ear-flaps and holler boisterous g'mornin's as you pick your way across the snow to shake their outstretched hands.
Once inside, there a few more—the older crowd, holding coffee in one hand while bending down to speak to your small son as if he is the only person in the world. Then straightening to look in your eyes, take your hand, say, "So glad you've come."
And I think there is something brave about this work, something holy about extending your hand to a stranger, even if it's for just a brief moment.
But on Child Dedication Sunday, they add another layer of greeting in anticipation of all the guests. She is young and beautiful, works at the church in the specific area of helping new people get connected, and she is grinning wide and purposefully. She is gunning for them.
I can see it in their eyes, the people who are stopped by her glad greetings after already enduring two rounds of handshakes at the door. This is overkill. I can tell that they are momentarily stunned by the fluorescent wattage of all this excitement first thing on a Sunday morning. They shift a little, look around the room. I feel a little sorry for them all.
We've been going to this church long enough to know a little bit about this girl. She is strong and honest and beautiful. Once she sang for us the song she wrote for her mother when she was on her deathbed, and the way that pain and hope mingled in the notes made everyone cry a little.
When she stands up on stage this morning, explaining that if you're new, you should meet her after the service for a free gift, she means it all the way through. She wants you to find something here; she wants it to feel like home.
But it doesn't really sound like that. It sounds like sales, like marketing, like a freebie designed to get you to subscribe to an email newsletter that you're not really sure if you want.
And it sounds awkward and inorganic because it is. Because this is not the work of a select few with the Greeter sticker slapped on their shirts, but the deep heart of Christian love. You look for the stranger, the wanderer, the weary, and you welcome them in.
It is quiet work, and it takes every single person, every last broken one of us.
It is hearing a name, a detail, a child's age, and holding it like treasure in your heart. It is asking questions, listening, introducing. It is helping to find the right classroom. It is exclaiming over a child's artwork in the foyer.
To greet is a kind of bravery. To take up the long consistent work that is welcome—that is a kind of love. And that belongs to us all.