Reading Through the Bible in a Year: The quintessential evangelical New Year's resolution.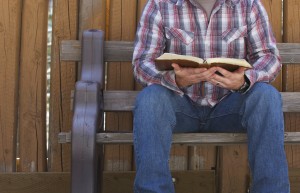 We have mostly not read it all the way through. Statistics suggest only a quarter of professing Christians have done it, Genesis to Revelation, the first glimmer of created light to the final, resounding Amen.
It is a big book, intimidating, but this year, many of us will try. Again.
We'll launch ourselves headfirst into the small print, the red letters. Into the genealogies and ritual sacrifices and miracles and prophecies and beauty and horror and love. We'll follow a plan. We'll get it done in 365 days.
And the internet is chock full of resources—sites that allow you to choose how you want to do it: from beginning to end, chronologically, historically, thematically. They've broken it into manageable chunks, bite-sized portions of your favorite translation. You can track your progress, received a daily email, listen to it while you run, get the App.
Here is the truth about me: I take my Bible in small doses these days.
I used to have one of those Bible covers with the handles so that you could lug it around like a suitcase—and I did—bringing it classroom to high school classroom, opening it on my desk, absorbing the language.
But over the years, it became heavy, weighed down with baggage. A boy once read me verses on modesty and suggested that my Old Navy sweater did not meet their standards. A high school friend mentioned that she'd never really liked me but had befriended me only because the Bible says to love one another.
I attended a Christian college, and my required Bible classes coincided with a growing rift I felt between myself and evangelical culture at large. I have known judgment cloaked in biblical language; I have met cruelty dressed as Scripture.
My relationship with this Book is complex—pure love tinged with grief and pain, with boredom, with cynicism sharp as glass.
I understand the desire to follow a yearly schedule, to be resolute, to have a goal. (I am, after all, the queen of New Year's resolutions.) And yet, of the Bible, I think Why the rush?
I am suspicious of the word through in this phrase read through the Bible in a year, as if once we make it to the other side of these pages, we will have arrived somewhere. Answers. Certainty. Some kind of epiphany.
Except that faith is not a tunnel but a labyrinth, constantly winding and unwinding, circling the unknown. We read through the Bible; we end up right back where we started.
I am reading. A little here, a little there. I approach the Bible carefully, tentatively. Yesterday, a Psalm. This morning, a poet's take on a verse in Matthew. For my journey, I need the luxury of time—freedom to linger on a beautiful line or to engage with a difficult thought.
At the end of this year, I will not have read the entire Bible. But maybe I will have encountered one new thing. Maybe I will understand something about grace.
Maybe I'll have spent some time idling at the feet of Jesus, twirling blades of grass between my fingers while he speaks about an upside down kingdom, about the meek inheriting the earth, about something brand new that has come.