New Creation: A metaphor for Christian conversion, described in the book of 2 Corinthians (5:17). "Therefore, if anyone is in Christ, he is a new creation; the old has gone, the new has come!"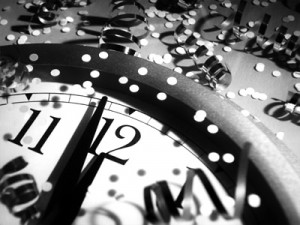 The year ends quietly at our house, first at 6:52 when we do a faux countdown with our two-year-old…10,9,8…and then Happy New Year!
His glad feet run back and forth along a strip of bubble wrap we've unfurled along the kitchen floor. He doesn't understand time yet, doesn't really know what we're celebrating, but he runs just the same, the plastic bubbles snapping beneath him.
When the kids are asleep, I run to the grocery store to get a few things for dinner. When I come out with my small bag of capellini and cherry tomatoes, the snow has started. The flakes fall big and soft on the empty parking lot—the first we have seen this month. A small Chinese woman sweeping the floor at the 88 Wok pauses at the glass door to watch it.
A year is ending; a year is starting. All is still.
Have I told you how this all started for me—this life of faith? Quietly: a small child's prayer after a nightmare one morning. I'm not sure you could even call it conversion. Christianity was the sweater my parents put on me all of my life, until one day, it simply fit.
I never had one of those Moments you hear people talk about—a strobe of light from heaven, stopping you mid-journey and blinding you into first sight.
Even in my darkest moments, those times I have almost stopped believing entirely, there was never the starkness of a "wake-up call," a moment of total transformation, a 180-degree turn. Just God, faithful and mysterious as a wave, pushing me ever back toward these shores.
At home, we make dinner and make new year's goals. When we get up from the table, the flakes are so big that you can almost make out their individual patterns through the picture window, so we slip on our shoes and stand out on the porch, catching them in our palms. Across the street, the neighbor kids run wildly across their yard, slipping along the white surface of the earth.
I love the warm glow of Christmas with all of it's lights and merriment and cookies and cheer. I love the charged waiting of Advent, the glad exchange of gifts with family, the flurry of paper and love and laughter.
But by the end of it all, I am ready for a new year. I need this night, this celebration of the moment when the world turns itself over and everything begins new.
Something is ending: we try to hold on to the best of the past year while putting behind us the pain, the grief, the failures and shortcomings. Something new is beginning, and the air is charged with hope. We are starting over. Anything is possible.
I've written before about my issues with phrases like born again and the way they suggest that upon conversion, your past no longer matters or hurts you or haunts you.
I like the honesty of the new year—that mix of remembering and letting go. The old year is still part of us. The Christmas charges will come through on next year's credit card statement; the weekend's laundry lies undone at the bottom of the stairs.  But there is something else going on here. Something brand new. Something untouched by my failure or sadness, and I think if I could remember this and dwell in this moment, I would understand in some small way what the writer had in mind when he said new creation.
We count down alone in our living room while we watch Lady Gaga in her terrifying couture initiate the ball drop. On screen, Time's Square goes wild, but our celebration is understated, simple. A kiss. A verse of auld lang syne, and then up to bed and into a brand new day.