Home [for Christmas]: A metaphor for heaven.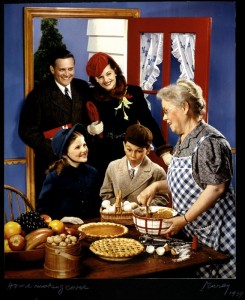 First, the old farmhouse west of the city where my husband grew up with baseball in the yard and basketball games in the granary and all those lowing milk cows in the barn.
His mom will make that cheese bread with the green onions and bacon, and his dad will crack open a can of smoked oysters, and after all the scraps of wrapping paper have been cleaned up and the kids are asleep, we will sit up in the kitchen and play 500.
Then seven hours down I-94 to the suburbs of Chicago. Eight if we stop for dinner. Nine if there's a lot of crying. At the first tollbooth in Illinois, the fluorescent lights will crash into the windows and wake the sleeping children in the back, and we'll say "We're almost there. Almost to Grandma and Papi's."
At the house where I grew up, my son will make a bee-line for the toy box his Grandma keeps for him, and my brother and sister and their others will hug us tight, and we'll squeeze onto the couch, arms linked. We'll say things like, "I'm going to take a shower! Anyone need to use the bathroom first?"
My dad will sit in his leather armchair; my mom will wear a path back and forth from the kitchen, bringing more lefse, more cookies, more slushy pink punch. Just like always, the Christmas cards will cover the garage door, spread along the living room wall, and we will look at all the pictures and marvel at how much everyone has changed.
For almost a week, my little family will be nomadic, living out of suitcases, running to Wal-Mart to pick up what I have forgotten. I will miss sleeping in my own bed, but when we leave I will cry all the way to the Elgin toll.
We are channeling, in a small way, that first small family who made the pilgrimage to their family home in the dark of winter to be counted. Home in a way, but also not home. Not really fitting in the town of their ancestors. Spending a silent night alone in a stable.
After all, this is what it is to grow up: you leave home to make your own life, and then you live in a constant tension of belonging and not belonging. Of being home for Christmas and not really home. You are always missing someone, always a little bit surrounded, always a little bit alone.
Someone somewhere passes away, and the Christians say quietly to one another "He's gone home to be with the Lord." And that word home as it relates to heaven conjures that jumbled feeling of belonging and not belonging, of crowded chaos and homesick loneliness and missing and being missed.
But here now: imagine. A living room big enough for all those you love. The taste of sugar cookies; the smell of evergreen; the sound of laughter. Family without hurt or pain or miscommunication. Love without loss, without leaving, without missing. And hope lengthening from that little light in a manger bed to a bright sun, filling you with warmth.