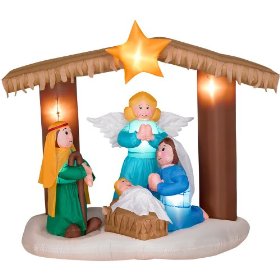 As if by the sheer force of our merriment, our distraction, our errand-running, we have managed to eliminate him, and now it is our serious duty to put him back in place.
We remind each other with trite sayings penned on Christmas cards. Jesus is the reason for the season, we say earnestly. We set up that Willow Tree manger set that we all went crazy for a couple of years ago—the ceramic one, where all the figures are faceless. We arrange it so that all eyes point to the babe in the straw.
We turn our candy canes upside down: See! It's a "J" for Jesus! The nativity glows fluorescent in the yard next to the inflatable Santa and the toy soldier, and somehow, it looks all wrong.
Today, rain: big glassy droplets all down the windows. And it is so unexpected, this Minnesota December rainstorm, that I stop and look out the sliding door at the way it gathers, shivering along the railing. The kids are napping, and for a brief moment there is only this: the quiet spattering of rain – almost silent, but also not silent at all.
Be still now. It is not up to you to put Christ anywhere.
Set down the giant, light-up Joseph, who is awkward under your arms, and look around you. God does not need to be hauled into the holiday; he is already here.
Incarnation means a lot of things, but one of them is this: the earth is wild with God's love, his beauty, his presence. One silent night he came and now he is here, and because of that, the world is glowing, lit from within by grace.
Breathe deep of the cold winter air. Feel your lungs fill up with hope.