Advent: To wait and watch, together, for the Light.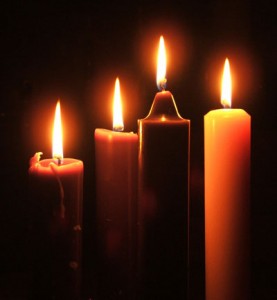 Here is the truth: I am fighting my own darkness.
It comes stronger with the winter, the cold, the gray skies. It comes with rejection emails, frank and unyielding. You are not enough, the darkness says, and I try not to listen, but it is so persistent, so sure of itself, so in-my-face, day after December day.
It is cold now, so cold that the dog will no longer venture out into the yard. Instead, he pees on the deck, leaving little yellow dents in the snow, and when we go anywhere, I have to jam the kids into their winter coats and hats and squish them into their car seats.
We live in Minnesota, where winter starts early and lasts an eternity, and already I am tired of the hats, the puffy coats, little fingers lost in mittens. At 4:00, the sun is a ball of ice, plunging into the snow…light dwindling, then gone.
Here is the lie: that Christmas is all mistletoe and holly jolly, silver bells ringing joy into our every moment. We call it "hustling and bustling" not rushing and stressing. We draw peace from picturesque nativities that fall so short of what must have been the reality of that true, harrowing night.
Just because the Christmas tree is lit and the fireplace is burning doesn't mean the darkness can't creep in, settling at the pit of your stomach. Sad is something that follows you into the holidays; inadequacy is that relentless tug at your soul.
We went to this Christmas concert, Andrew and I, at the small Christian college we attended. I bought tickets on a whim because we've always meant to go and because I wanted Christmas undiluted. I wanted to hook myself up to it like an IV and feel well.
And there was this moment.
It is at the end, the last song of the night. The choir, holding lit candles, leaves the stage. Their robes sway as they move peacefully, quietly up the aisles until they are all around us, the audience surrounded by their presence.
And then Silent Night. Of course.
Next to our row stands the soprano soloist, and the way she sings makes me blink back tears.
They are college students. Their minds are drifting along the course of their lives. They have plans after this with their friends. They will hang out in the student center, go to a late movie, sit next to the boy, the one with the smile. I remember.
But right now, they are surrounding us with their candles and their harmonies. It is enough to make me safe and quiet. It is enough to make me feel held, as if I am beneath a heavenly host, as if they are saying to me, The Light has come, is come, will come again.
They are singing and they are holding their small, flickering lights, and this, to me is Advent: Alone, we cannot dispel the darkness, but we surround each other with beauty and truth and love.
We hold our candles. We rejoice in that silent night. Together, we move forward through the shadowy darkness toward peace.