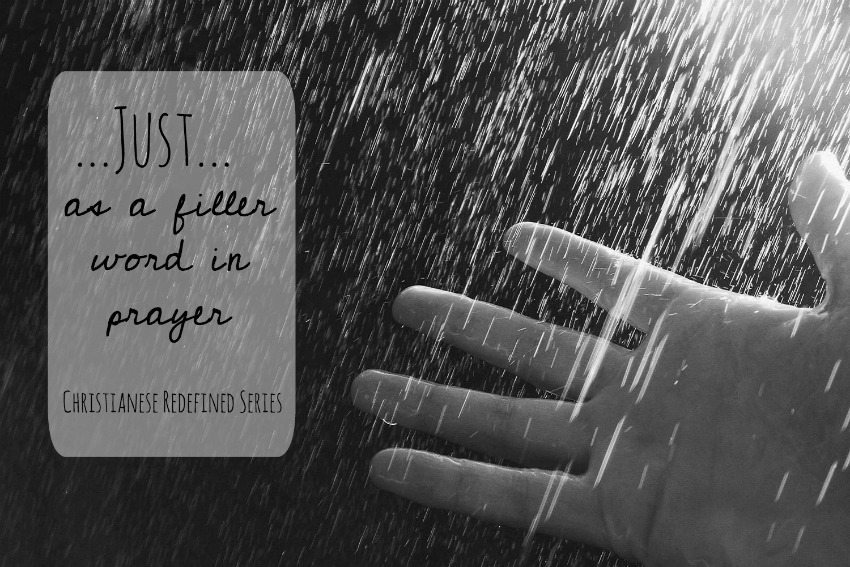 Just – A filler word commonly used in communal, evangelical prayer. (Example: "Lord, we just come before you today to ask that you would just fill this place with your presence…")
I learned how to pray in a group when I was a freshman in high school. I suppose I'd been hearing it all of my life, but here, I was listening. Here I was paying attention.
I was in the home of a boy I did not know. I was a freshman, invited by a senior, surrounded by upperclassmen. I was conscious of my hair, my outfit, my hands as I folded myself into a corner of the couch. There were guitars. Guitars are my undoing.
Here is how you pray in a group of evangelical Christians: you listen for the space between the end of one person's prayer and the beginning of another. You know when it's your turn to speak because even though no one is looking, it feels like everyone's eyes are on you.
When you pray, you repeat the name of God in different variations, you add in the justs to fill the spaces. Lord, we just…we just pray that you would do something in our school, Father God. We pray that you would just send revival!
You know when you on are on track when the room bursts into a chorus of Yes Lord and Thank you Jesus. Then you know that everyone else is just praying that too.
You pray for everything you can think of. You cast your words like a net in the air. You feel like if you just say enough, just put together the right combination of thoughts and syllables, all the sevens will line up on that great slot-machine of God's goodness, and the riches will come pouring out.
Just.
Only. Simply. (As in "just be yourself.) Barely. Precisely. Perhaps. Possibly. (As in, "it just might work.)
Here is the undercurrent, the connotation: a theology of not enough. As if there is not enough to give. As if He does not want to give it. So we ask, communally, for this. Just this.
I have trouble praying aloud these days.
I hate the way my words take on the old cadence, the sounds not of my deepest heart but of the people I once knew. I begin to speak, and I feel exhausted by all there is to ask for, beg for, hope for, wait for. There is too much; there is not enough.
But he wakes up at three in the morning still, and I sit in the darkness of his room, rocking him while he drinks. He makes his small, glad eating sounds, but other than that, there silence. It is vast, expansive, deep. There is enough here. Enough space, enough time, enough to go around.
I do not need to say anything aloud; I don't repeat the name of God in all its variations or cast requests like arrows. I don't need to put it just right.
This is enough: to be here, my heart split wide open, the silent, speaking, mysterious God all around me.
Photo Credit: Todd White at CreationSwap