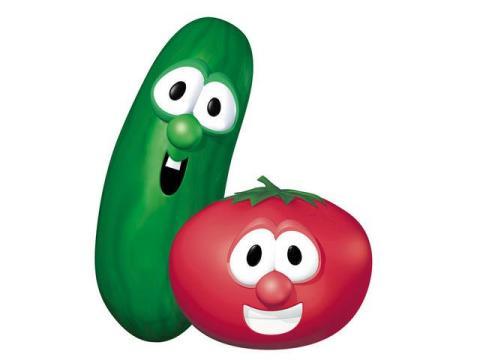 Veggie Tales: A computer-animated series developed in 1993, which, in its original format, was meant to communicate Biblical truths and moral lessons via talking fruits and vegetables.
My two year old, Dane, is swirling around in circles in the bathtub, singing the theme song from Veggie Tales. At least the two lines of it that he can remember. His baby brother, Liam, is sitting in the baby tub next to him, transfixed.
Water is sloshing out of the tub and getting my socks wet, but he is so happy with all the singing and the spinning that it doesn't occur to me to stop it.
I caved a couple of weeks ago and started letting Dane watch Veggie Tales at our kitchen counter at night while I make dinner. It seemed like a good alternative to his current favorite activity: trying to kill Liam.
So he clamors now, up onto the stool and says, "I watch Tomato!" And I think This is absurd, while I open up Netflix and click on the animated cucumber.
The Vegetables are doing an elaborate retelling of the story of David and Bathsheba—that violent, R-rated tale in which King David has an affair with a married woman, impregnates her, and then has her husband killed to cover up his indiscretion.
Except, in this version, King Larry the Cucumber merely steals a rubber ducky from the poor and adorable Junior Asparagus. He then sends Junior to the front lines of a food fight, where he gets a cream pie to the head. In the end, Junior Asparagus recovers, and King Larry returns the Ducky, and all is well in the kingdom.
I am listening to this while I sauté bell peppers. It occurs to me that perhaps I was a little bit too hard on Zacchaeus.
I'm thinking, also about how Veggie Tales has boiled the story down, stripped out the questionable, and made it into a lesson on greed.
But when I think about the actual story of David and Bathsheba, greed is not the first thing that comes to my mind. It's our frailty, that pull in all of us towards the darkness. It's our capacity for rationalizing our own evil. It's our numbness. It's the wrenching road back to freedom.
In her study of spiritual language, Amazing Grace, Kathleen Norris contemplates the importance of play in human development, in childhood. She recognizes the inevitable truth that we all will need to outgrow and unlearn much of what we are taught about faith.
I want to give my children this freedom to play in the shallows of Biblical truth. To laugh at the tomato on the screen. To sing the silly songs. But I struggle against the fear of teaching them things that will be painful to later unlearn.
I recognize, for example, that it is fun, so fun, to spread your arms like an airplane and zoom around the room singing, I may never fly over the enemy, but I'm in the Lord's army. But I worry—will this translate, later, to a wartime ethic that permeates their faith? Will they, like I did, see themselves as soldiers, fighting, always fighting for their beliefs?
I want to teach them that to know God is to have the joy, joy, joy, joy down in my heart. Where? Down in my heart. But I also want them to know that it won't always feel that way. That sometimes it will feel like loneliness, like pain, like too much too much too much. I want them to know that even when it feels that way, the joy can still be there, feeding their hearts like an invisible stream under the earth.
I am overthinking this, I know. But I'm a mom now. This is what we do.
A song comes on – Junior Asparagus on how God's way is the best way, and Dane starts singing along without really knowing the words. He is so happy singing and watching, and of course, I won't stop him. I smile back. I join in the song.
These are his earliest foundations. These are the songs he will still be able to sing twenty-five years from now. I close my eyes, pray for grace.