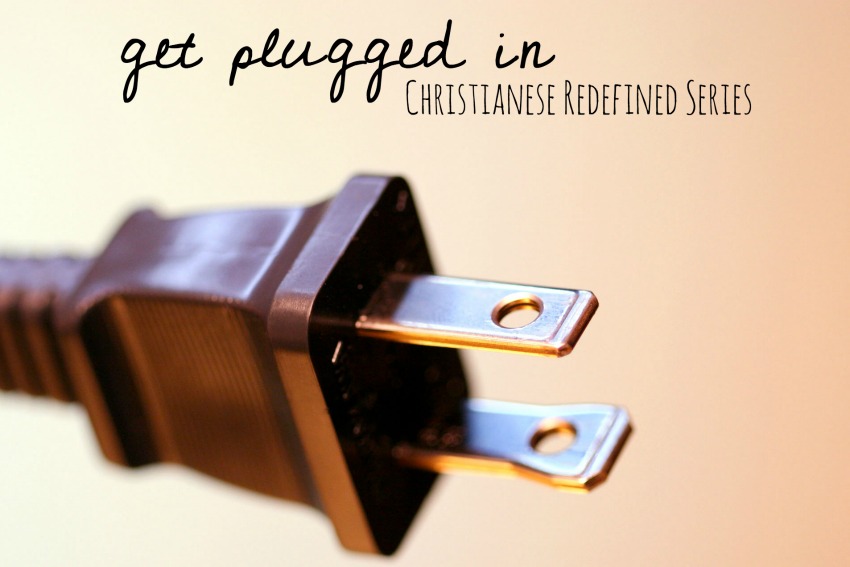 Get Plugged In: To enter into the life of a church by joining one of the programs it offers or attending an activity that it promotes.
Here is what I remember about depression: it's like being pulled under the deep water. Everything around you is muffled, the details obscured. You are aware of a vague kind of light somewhere above the surface, but you can't reach it no matter how hard you swim.
You're tired a lot. You meet new people, and you grasp at your collection of words and greetings and charming one-liners, but you come up empty every time. You feel shadowy, a sort of fragment of yourself.
You are broken. You are shards, jagged and cruel in your sadness. You are desperate for love and unable to receive it all at once.
It's not something you can slap a little church on. You can't just "plug" your tired soul into the electric current of this place and be filled with power. It's not a matter of joining a Bible study or volunteering with the Jr. High Youth Group or singing in the worship band. Plugged in. It's not really that simple.
There is a woman sitting at the end of the aisle on Sunday morning when I slip into church. Andrew is out of town for the weekend, and I've somehow managed to get both kids deposited into their classes by myself. I am focused on getting seated, on not spilling my coffee. I don't even notice her until I sit down and take a breath.
At communion, she does not get up, but shifts awkwardly out of the way to let us pass. During the worship time that follows, she takes a Kleenex out of her bag and dabs at her eyes. She studies the carpet. I want to say something, but I am too many chairs away. I want to touch her arm, but I cannot reach her.
The pastor is speaking, and the church bulletin is filled with programs and possibilities, but we are not this. We are, first and foremost, people. We need to train our eyes to see each other, to let the love of Christ move through us as we take each other by the hand.
Not join or plug in or get connected. Just come. Come as you are.
The woman at the end of the aisle leaves early. She goes in the small space between the sermon's end and the first chords of the last song. Gone. She will not stop at the Information Desk to see about getting plugged in to a small group, the women's Bible study, the clothing ministry.
She will hurry toward the glass doors, toward the parking lot. She will disappear into the day.