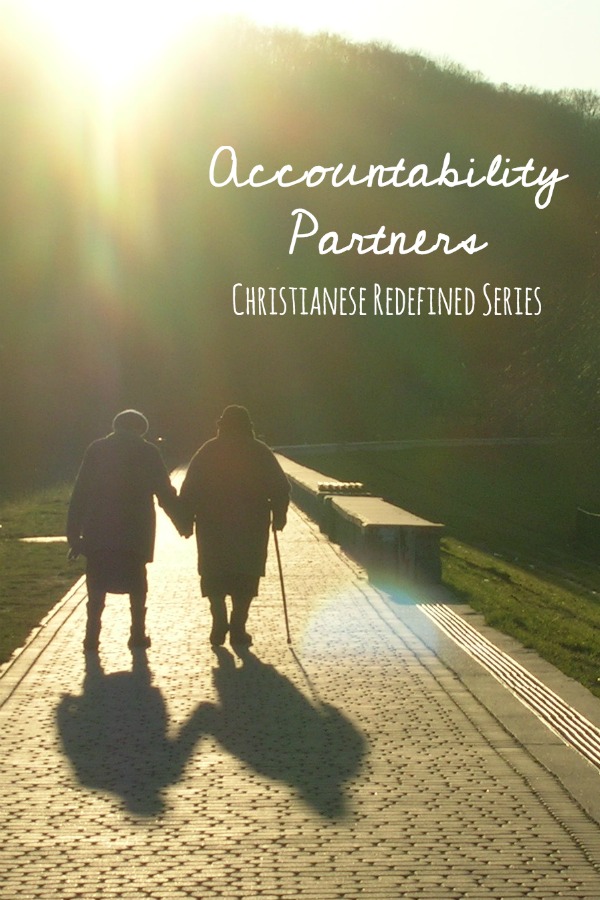 Accountability Partners: A relationship established with the purpose of helping one another remain true to the Christian faith in spite of temptations and challenges.
We can walk to Panera Bread from school, so every Tuesday we do. We order bagels, sliced. We fill paper cups with Dr. Pepper again and again until we are buzzing with caffeine, spilling over with laughter.
We are fifteen. Neither of has quite figured out how to do our hair, so we wear our ponytails frizzy, static from the classrooms and the dry winter air and that hasty wardrobe change at second period P.E.
We are "accountability partners," but mostly we are just best friends. We have to get that out of our systems with lots of talk about boys and classes before we reach for our backpacks, pull out the journals that we made ourselves.
"So, what are you learning?" I ask. This signals the transition to Official Accountability Time, and she opens her journal first to see what she has written over the course of the week. We sit by the tall windows, and behind her, cars slosh past in the lot. I look at her journal upside down. Her cursive is neat along the lines.
What she is mostly learning is about words. She is wearing paths from her Bible's concordance to the beautiful verses—the ones that satisfy our inner-poets. She is stacking them around her life like a shelter, and I am nodding because I understand just what she means when she says the future is so fuzzy, when she says, "I just don't know."
And then graduation. The hats fly, the summer ebbs. We toast one last time our usual table at the usual Panera.
College then. Marriage for me, a semester abroad for her. She decides to go back across the sea for another year. Then another. We are in transition, and our Bibles are lost in all the moving. The beautiful verses are forgotten, replaced with the tinny memory of broken theologies, painful interactions with Christians.
We deal with the pain differently; we shift, ever-so-slightly, away from one another.
Once, when she is home, we meet in Milwaukee. We have chosen Milwaukee not because it is fabulous or even halfway between our homes, but because it has a Panera.
We pick a table near the windows, but the price of bagels has gone up, and neither of us drink Dr. Pepper anymore. Our hair is styled, our makeup regimens have moved from experimental to totally routine. When I try the old method, that old transitional phrase, "What are you learning?" neither of us knows quite what to say.
We know we are learning, always learning, but we can't pin down what it is that we're figuring out.  The journal is no longer the right format. "Accountability" is no longer the right format. When I try to force it, we both come up empty.
It is the wrong word, "accountability." It assumes that she owes me something, that we owe each other: an explanation, a justification. But how can we explain? How can we understand? We are where we are –swaying in the wind, trying to keep our footing when we just don't know.
We are accountability partners, but mostly we are just best friends. No explanations are necessary. Just grace. Just love. Just a long hug upon seeing one another, the rapid-fire of one-line emails when we're frustrated or happy or lost in our not knowing.
We can say remember that time…and know exactly. We can bring up the beautiful words we once knew, and help each other find shelter in them again.
It is different, but it is honest. It is not sitting at a table, but it is walking, ever forward, toward the hazy light.