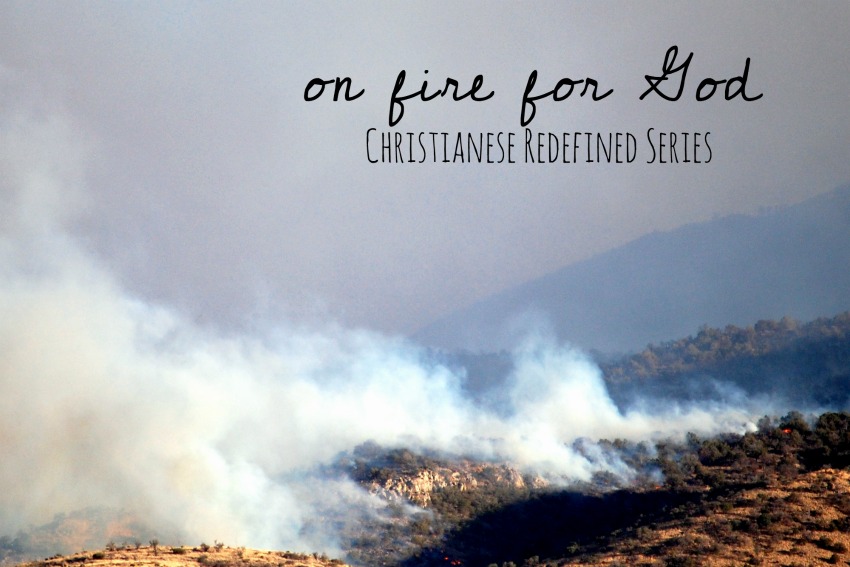 On Fire for God: To be enthusiastic, passionate and devoted to God in a way that is obvious to everyone around.
We called ourselves the Firestarters and sat every week in the back booth at Denny's, arguing over the best way to ignite revival in our high schools for Jesus. I had to beg my mom to drive me there because I was the youngest in the group – a sophomore with no car – and as we inched along in the pre-rush-hour traffic, I felt like my chest might explode with all the urgency, like I might be consumed by all this flame.
There were a dozen of us, Bible study leaders from various large high schools across the northwest suburbs of Chicago. We were 15, 16, 17, terrified of not mattering, filled with disembodied passion. We said words like ignite, like burn for God, like take our schools for the Lord.
We ate mozzarella sticks so hot that they burnt our tongues when they split open between our teeth. We quoted Scripture to one another: "Because you are lukewarm, neither hot nor cold—I am about to spit you out of my mouth," God was saying to someone in the book of Revelation.
To us, lukewarm looked like a minivan, a mortgage, like the daily mundane lives we assigned to our parents. We wanted to be bright like the burning stars – not the far away ones that you need a powerful microscope to see, but big enough, luminous enough to gain a proper name for ourselves.
What about a magazine? What about a concert? We could pass out flyers! We could get it into the announcements! We could make a difference for Jesus! We were throwing ideas around, growing more and more excited until the whole table blazed.
I knew a girl once who had been burned, an entire side of her body scorched away by heat so intense that it still gave her nightmares so many years later. Skin on parts of her face had melted away, and they had to graft in bits from her thighs so that her profile carried a broken texture of pain.
On fire.
A campfire goes out of control somewhere in Bear Wallow Wilderness of Arizona and burns through 469,000 acres, smoke and flame forcing evacuation, burning homes, turning everything to ash.
But we say "on fire" and think devotion, passion, arms raised high in the air for Jesus. We think of the Gospel spreading like wildfire—unstoppable, powerful, catching.
Fire. Flame. Burning.
There is a violence to all of this. The fire comes and goes, and you are consumed by it…until you aren't. The emotions die out, the passion runs dry, and then there is nothing left but destruction. The fire blazes on, unaware of all the ash.
I am older now. I have a mortgage and a minivan. I do mundane things like the dishes. I am trying to figure out what faith looks like after the wildfire has moved on. I am discovering things like stillness and peace. I am digging beneath the fire-scorched landscape of my life and finding a deep kind of quiet.
The Firestarters sat every week at the table, planning and dreaming. We were on fire. We burned and burned until eventually we burned out.