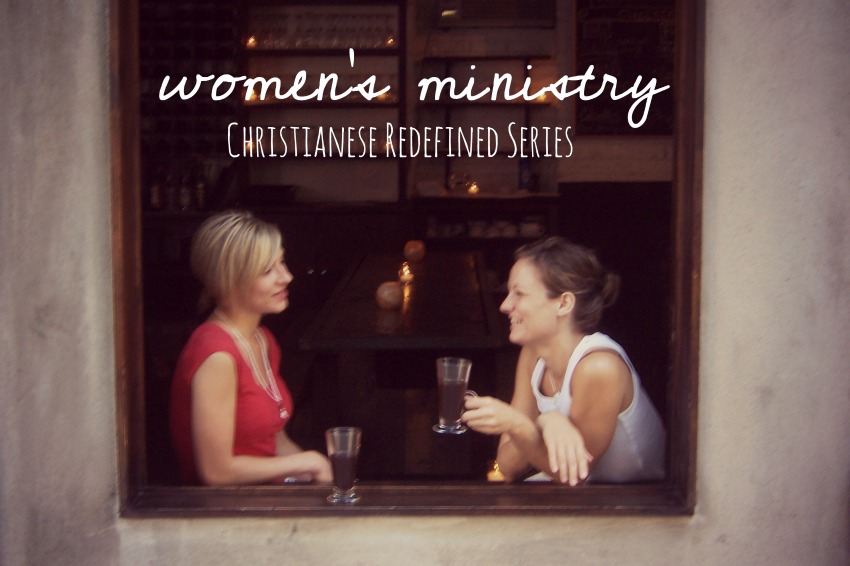 Women's Ministry: Events in a church geared specifically toward the spiritual growth of women.

I come every week at 7:00 to sit in a basement with thirty other women and watch Beth Moore talk about Esther. There is chocolate, beverages, nametags. An icebreaker question:
"Describe a time you had to wait for something," and since I've turned to a woman I've never met, I don't say the true things that come to my mind. Instead, I toss the question back like hot potato, and I listen to her tell about a time when the flight was delayed.
These are not the types of things I usually come to. It occurs to me that tonight is $5 night at Andover Cinema.
Beth Moore comes on the screen with her big hair and her wild eyes and her sweater set. She is analyzing Persian history and linguistics. She is telling us to turn to our neighbor and say, "It's hard being a woman!"
The last time I came to a woman's Bible study like this, I was battling depression, undiagnosed. I was hurtling destructively through my days. I could not take the small talk, the icebreaker questions; I could not take the distance between the woman talking on the television screen and my own pain.
I sort of can't believe I'm back.
In this study, Beth Moore is smart and engaging and beautiful and fierce. She says things that make me tear up; she says things that make me roll my eyes. And yet, though I fill in my blanks and try to internalize the truths she speaks, this is not the way my soul is nourished. This is not how I would do it.
I would do it small. Single living rooms. Wine. Bare feet. Unhurried prayer. Unfiltered conversation. I would do it at the back booth of the greasy diner with cheeseburgers. I want to be sitting on the edge of a dock, dipping unpolished toes into the great cold water, wondering aloud about the mysteries God.
I would love to lose track of time; I want to fill notebooks of unlined paper and share those thoughts, not necessarily the ones dictated by the study guide. I sometimes want to invite the guys, eat peanuts from the shell, drink beer.
But there is a woman over there on the couch who is learning to let go of fear, and she is learning it from Beth Moore on the television. There is another one who came in the shelter of the anonymity and who is slowly making a friend, one small icebreaker question at a time.
It is not how I would do it. But it's not really about me.
Sometimes love looks like this: you go to the study, week after week. You don't want to, but there are those who do, so you go.
I leave every week at 8:30, shuffling up the stairs with the other women, tossing my empty water bottle in the bin. Every week I try, "Anyone want to go grab a drink?"
And sometimes, a few of them say yes.
We are sitting in the back booth at the T-Box Grill, drinking late-night Happy Hour Pinot after Beth Moore. We are talking about our marriages, our pasts, our television shows, our pain.  We are saying the true things, the real things.
We are saying the things we never say.
It is exactly what I always want women's ministry to be. True. Honest. Quiet. Loud. Beautiful.