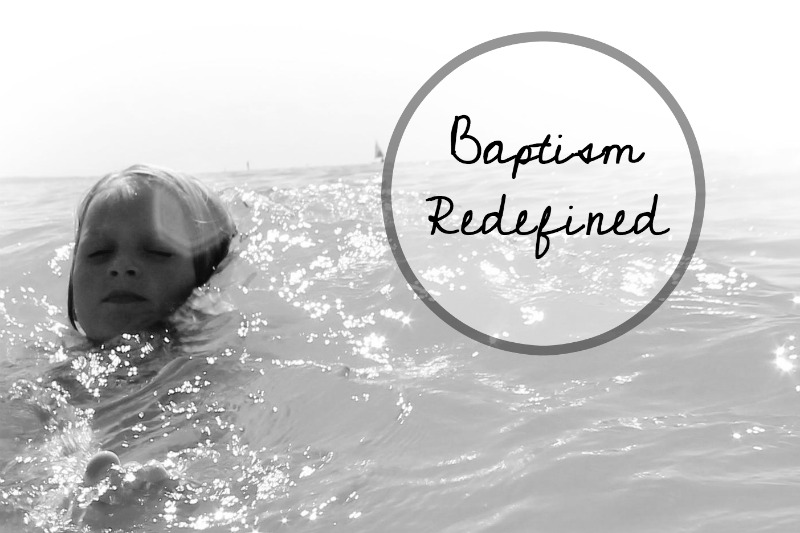 Baptism: From the Greek root-word baptizein, meaning to plunge, immerse, sink; hence to wash; to be immersed. (from Baker's Evangelical Dictionary of Biblical Theology)
I once heard a nun lead a congregation in a meditation on the love of Christ.
Think of it as water, she said. Think of it as a room filling with water. It is rising around your chair, surrounding your ankles, your legs, your waist.
It is cool. It is filling in all of your empty spaces, your open hands. It winds around every strand of your hair. It is filling up the whole room, and you are suspended in it.
Don't be afraid, now. This is not drowning. Take a breath. Feel yourself fill up.
Think of it as pure love. The love of Christ. You are immersed in it—every part of you touched, every part of you buoyed, floating, held.
*
I baptize you in the name of the Father and the Son and the Holy Spirit.
It goes so fast. You were standing, then you are pulled underneath the water ever so briefly, then you are hoisted back up, dripping.
You slip up the steps out of the baptismal pool, your gown slapping around your ankles. The congregation is singing a chorus. "I have decided to follow Jesus. No turning back, no turning back."
But at dawn, there is no one at Glencoe Beach on Lake Michigan, even in the summer. You sit on the life guard stand, and the seagulls fly in from all the far reaches of the air to sit on the sand and wait.
When the sun comes up, you walk into the water. It is cold at first, but you keep moving forward towards the light. Finally, you force yourself to go under all the way, and it is so quiet down there, so cool. The whole world is silent, muffled by the bigness of all this water.
Think of it as water, the nun said. Think of it as pure love.
When you bob to the surface, the whole world is orange and pink, and the sea gulls are back circling the sky. The new day is beginning, and you are in it, and this is a kind of baptism too.
You are alive. You float until your fingers prune.