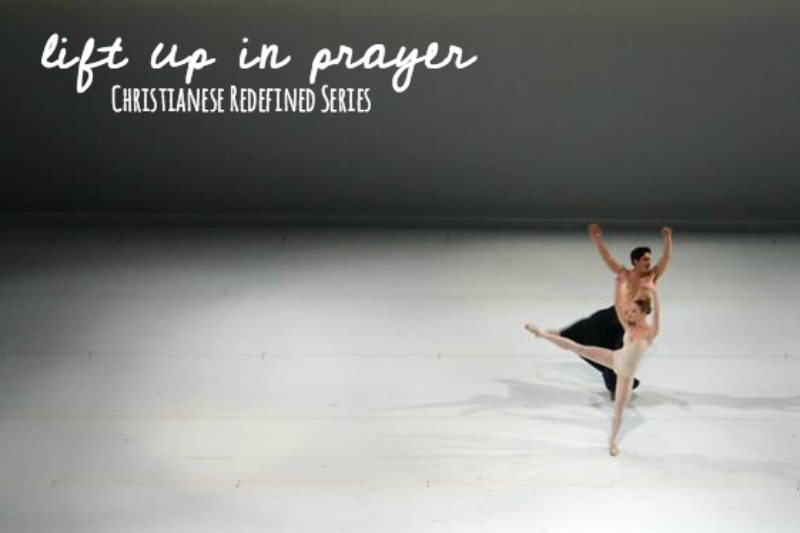 Lift Up in Prayer: To pray for someone, most often in a group setting. (Example: Lord we just lift Sarah up to you tonight…)
If you think of it like this, it's actually quite lovely: they are coming around you, these people who are praying. You are not strong enough to bring yourself to God, weighed down as you are with all of this sadness. So they come close enough to put their arms beneath you. Bend from the knees. Lift.
But then, inevitably, there is the drop.
The Bible Study ends. The paper cups are dropped in the garbage cans, a little cold coffee still in the bottom. There is some small talk as you shuffle out to your cars, to reality, to the world beyond where you will be expected to haul yourself through your day alone.
When you leave this moment, this Bible study, the Christians don't say, "I'll be lifting you up in prayer." It's as if they know that such a statement would be dishonest. We are only human beings after all. We cannot hold each other up indefinitely.
They say instead "I'll be praying for you." A slight shift in wording, a small movement toward vagueness.
Here is another image: ballet dancers.
He lifts her and it is seamless, beautiful. For a moment, she is suspended in the air by only the palm of his hand. But when he sets her down, he doesn't let go of her. They are still dancing, still in tune with one another, still moving as one.
She is held even when she is not lifted.
This is the truest way I can think to describe it. The prayers we say for one another are an undeniable, necessary, beautiful part of it. But after we raise our heads, clear our throats, turn out the lights in the church foyer, we are still moving through life together.
I am still in this with you. There is still, always, this dance.