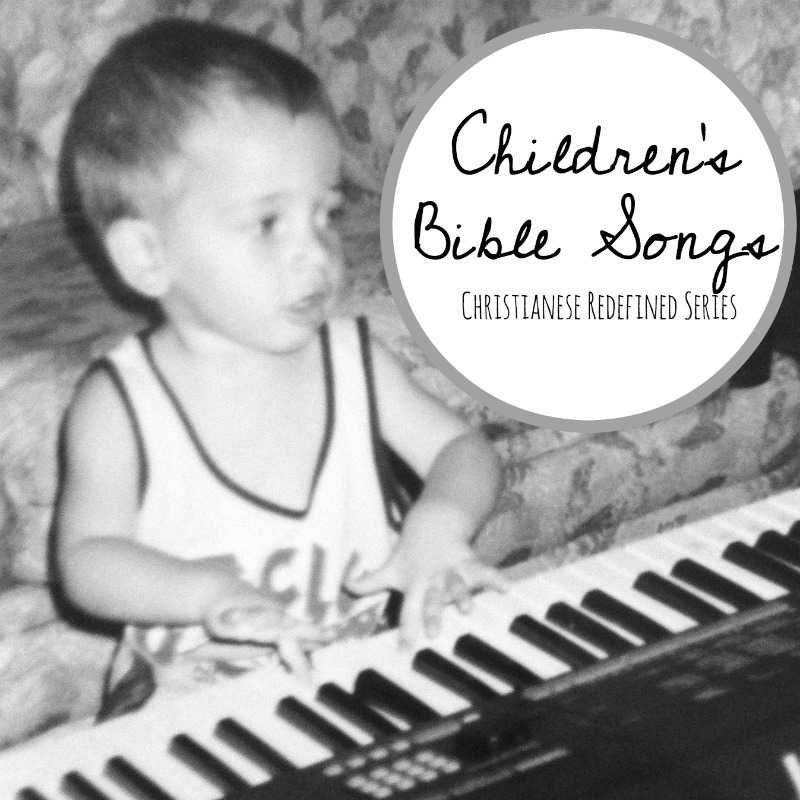 My 2 ½ year-old, Dane, got Adele's "Rumor Has It" stuck in his head the other day. We were jamming to it in the minivan on our way to Aldi, and when we got home, he stood at the coffee table driving his trucks, singing the chorus again and again.
Which, of course, got me thinking about the children's Bible songs. Because if you grew up in the evangelical world, there's a good chance you learned to sing evangelical before you ever learned to speak it.
A few particularly absurd but popular ones:
Zacchaeus: Zacchaeus was a wee little man/a wee little man was he/he climbed up in a sycamore tree/for the Lord he wanted to see/And when the Lord came walking by, he looked up in that tree/And he said, "Zacchaeus, you come down!"/For I'm going to your house today.
The main takeaway from this song is that Zacchaeus was short and scaled a sycamore. Which is probably not the main point of the story.
Father Abraham: Father Abraham had many sons/many sons had Father Abraham/I am one of them, and so are you/So let's all praise the Lord.
You sing it over and over again, swinging first your right arm, then your left, marching and then bobbing your head in and out until you finally get to the last verse and sit down. And while it's true that Christianity sprang from a lineage of faith much longer and older – from Jewish roots, from Father Abraham himself, is that really something a kid can understand? Ancestry? Why not sing about Father God instead? Why not highlight the daughters as well as the sons?
Deep and Wide: Deep and wide, deep and wide, there's a fountain flowing deep and wide…And every go-round, you replace one of the words with "Mmmm," so by the end of the song, the whole room is buzzing like a hive of bees. The song never gets to what the fountain that is so deep and wide is. God's love? His grace? And don't fountains spout upwards? Isn't it rivers that are deep and wide?
I realize that toddler songs, in general, are somewhat nonsensical. It's not just the Bible songs. Take "The Itty Bitty Spider." Take "Old McDonald" or "The Farmer in the Dell" or "Hickory Dickory Dock." I don't know much about brain development in children, but I'm sure that these songs were created this way specifically, with attention to the budding childhood psyche.
But I want to be careful here, because the music of childhood embeds itself in you in such a profound way. If we sing Zacchaeus in the car together now, will my kids ever be able to separate the story from this silly song? Will Zacchaeus ever be more to them than a little guy in a tree?
At night, we sing, Dane and I.
He is in his Big Boy Bed now, small on the twin mattress, covered in his sports quilt, clutching his bear and his blanky and whatever small toy he has attached himself to that day.
"How bout some Precious?" he asks. This is his favorite song right now: "Jesus Loves the Little Children." He likes that end part: Red and yellow, black and white, they are precious in his sight.
I'm not sure it's all that PC to use "red" and "yellow" as skin color descriptors, but what I love about the song is the message. God loves everyone, without exception, without prejudice, without holding back. This is something that I want him to get. This is something I want him to hold on to.
Later, he will learn about war and genocide and abuse and pain. Later he will struggle with the complexities of living life in a broken world. It will be hard for him, like it is hard for all of us, to hold this tension. But I want this to be his baseline: God is love. You are precious.
I want him to be able to filter that which is too awful to understand through that which is too wonderful and mysterious to grasp: the love of God.
What about you? What childhood Bible songs can you live without? Which ones will you hang on to?