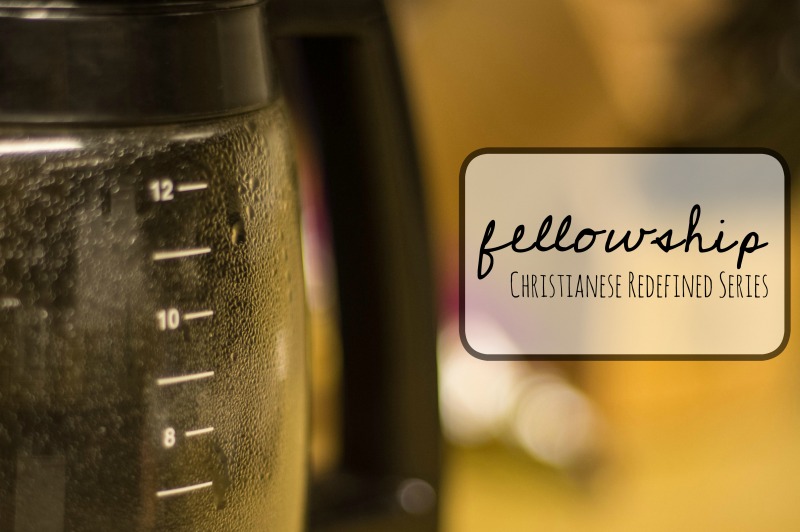 Fellowship: (n.) A community of believers (adj.) Describing a location where believers meet to chat (Example: fellowship hall) (v.) Getting to know other Christians, usually within the context of church meeting or program. (Example: After dinner, we'll have a short time of fellowship.)
It was where they always set up the buffet table for potlucks. Someone arranged pods of folding chairs, and we sat, stirring our ice cream and Hershey's syrup into cold, chocolate soup. We were getting buzzed on the sugar, bouncing like pinballs from person to person in the Fellowship Hall, catching bits of conversation here and there but never attaching to it.
Then, later, it was a makeshift coffee shop set up in the back of the gym where we had youth group. Three folding tables arranged like a counter. Lattes and cappuccinos and little packets of hot cocoa powder and white Styrofoam cups.
There was a fluorescent sign: Café Koinonia. In Greek, to share in a thing. Partnership. Fellowship. It was where we talked, where we flirted, where we made plans to take the train downtown to Moody Bookstore to meet Jennifer Knapp and the W's.
When I left home for college and adulthood and new, unfamiliar churches, fellowship became, for me, awkward. Stilted. Instead of ice cream and happiness, it meant standing, shifting, waiting. An occasional flurry of small talk, and then silence again.
It is hard to merge into the pulsing culture of a church as a young adult. Particularly if you are a little bit jaded, a little guarded, a little hardened by life. The clapping, the raising of arms, the voices, the children running around – all of this is familiar, and yet also unfamiliar. It is easy to distance yourself. It is easy to think, You are not my people.
There are not that many fellowship halls in churches anymore. The word is fading away, not appealing to people in the way that it used to. Instead, you have Soul Cafés. Foyers. Welcome Centers.
But here is this old word. Fellowship. If we strip away the connotations and the baggage and the coffee, it means this: we belong to each other. It means that no matter how different we are, at our deepest heart, we are the same.
We are a million dots connected by one line: our wavering, unwavering, tentative, hopeful, failing, unfailing faith in Christ.
In the church foyer, they are talking about shooting some deer. They are talking about scrapbook embellishments and about their weekends at the cabin and about their grandchildren. They are wearing camo. They are wearing leggings. They are wearing t-shirts that say Jesus is Lord.
They are not my people. But also, they are my people.
We are in this together, our disparate hearts all desperate for one true thing.