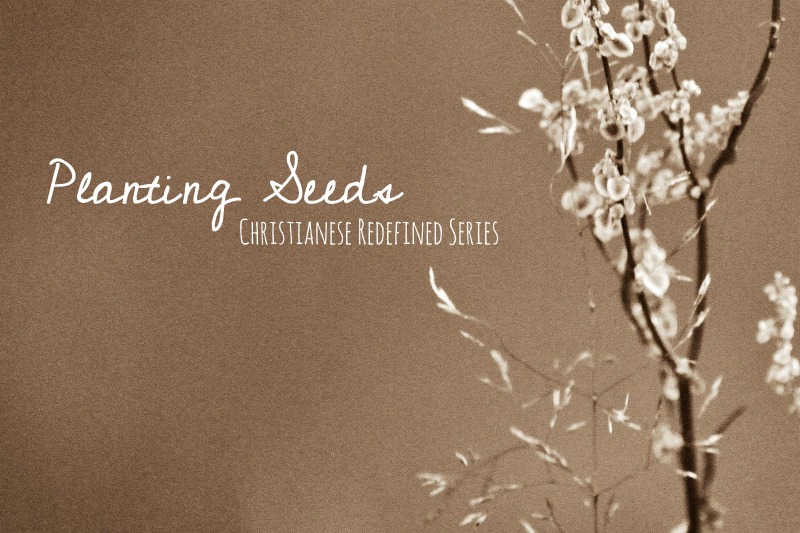 Planting Seeds: Early, unsuccessful attempts at sharing the Gospel that lodge into the souls of the unsaved and grow, eventually, into salvation.
Our Gospel drama in e did not go well. At all.
It was a kind of flash mob before flash mob was a thing. Here were these people, sitting in the sun, eating their lunches at small metal tables, and then—BAM—Stephen Curtis Chapman was blaring out of a boom-box while we staged a dance/drama in the square.
The people in our drama were chained to their addictions. I'd spent hours looking for enough rubber handcuffs in local costume shops so that at the chorus of the song, Jesus could touch each person, and we could all fling them off in unity. Free.
"So, did you catch our drama?" We'd asked the people sitting around after it was over. We were sidling up to them while they were finishing their food, trying clumsily to segue into spiritual conversation.
"Yeah…"  They'd say, jamming the remainder of their lunch back into its paper bag and hurrying away. "Great stuff…"
We sighed, gathered our discarded handcuffs. "It's okay," we said to each other. "We planted some seeds today."
It is an image used throughout the parables of Christ, the planting of seeds. Yet, when I think of planting seeds in the evangelical sense, I think of Inception, that movie where Leonardo DiCaprio keeps trying to sneak stuff into people's brains.
I think of my past, of tossing the Gospel message into the air like confetti, hoping it worked its way into someone's heart.
I hear resignation in the word. I hear disappointment thinly veiled with theology. What we wanted was instant conversion; I guess we'll have to settle for this.
*
Somewhere, there is a gardener, pressing a seed into the dirt. It is quiet: just her and her work, soil under her fingernails, birds flying overhead.
She is intentional about where she puts it. She covers it with earth and waters it. She will stare out her kitchen window every morning while she drinks her coffee, and she will think about that seed that she planted with her two hands.
You can't talk about planting seeds without these things. Earth. Rain. Water. Weeds. Seasons. Moon. Sun.
You can't plant a thing without choosing to plunge your hands into the sad darkness of another's pain and reality. Reach into the heaviness of it. Say, I know this doesn't seem like much now, but I believe that one day it will give you hope, and then joy…and then, finally, peace.