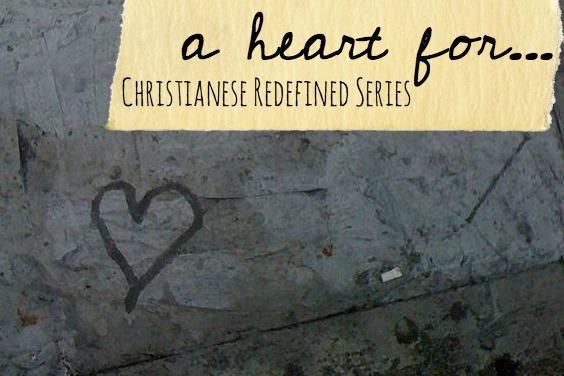 To have a heart for [something]: To be passionate and enthusiastic about a particular ministry, demographic, country or people group.
It was, of course, too late for Andrew. Over the course of church foyer small-talk, someone had asked what he did for a living, and he had told them about his job in the education industry. "Well you must have a heart for kids!" And BAM. Just like that, he had somehow committed to serving in the children's ministry.
And now, she was sidling up to me, this enthusiastic church lady.  "What about you? What do you have a heart for?"
I used to have an answer for this.
Back in high school, I had a heart for my school. This did not actually mean that I had any non-Christian friends at my high school or even knew the names of the people who walked by me in the halls. Rather, I was hoping, in some vague, achy way, for revival. For the seamless, easy conversion of all these students in one bright, gleaming moment.
What do you have a heart for? It's a question that asks you to zero in on something. One issue. One group of people. Kids or junior highers or toddlers or third graders. The elderly. The homeless. Unwed mothers or underfed children or Darfur.
To have a heart for something is to zoom in on it with a supernatural laser focus. It is a term that to me is both limiting and overwhelming at the same time.
What do you have a heart for?
The way my five-month-old looks at me when he first wakes up – I have a heart for that. My two year old, who is growing each day into a boy full of words and thoughts and emotions. My husband, Andrew, as he sits in our old wooden rocker and reads his book.
My heart is for my sister in Boston, who is trying to make her way among strangers. It's for a friend who is struggling with depression. It is for the other moms I have come to know and love, women who feel guilt and inadequacy and exhaustion and joy all at once every day.
It is often, mostly, for myself. The whole crumpled, beating mess turns in on itself, obsessing over its own needs, desires, insecurities.
I'd like to be able to say that my heart is for the God who is love. I'd like for that to be more than just another Christian cliché.
Here is a problem: when we zero our great, wide hearts in on one quantifiable ministry or country or demographic, we miss out on a great mystery, a great complexity. And it is this:  We are capable of loving things we never imagined we could love. Of doing things we never thought we'd do. Of knowing people by their names instead of their demographic.
To "have a heart" for something is passive, possessive. It is a phrase that allows us distance from whatever it is we have turned ourselves toward.
Why not just say love?
Love, after all, is mostly a verb. It is a gift that we must give and give and give again. It demands from us more than vague passion. It is daily, specific, grinding, wonderful, terrible. It demands all that we have.