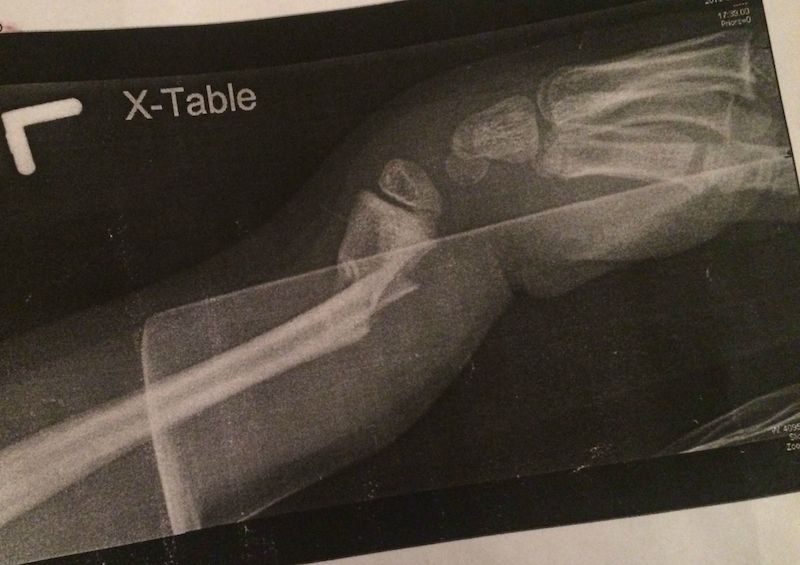 Have you ever thought about what protects our hearts?
Just a cage of rib bones and other various parts.
~ Ingrid Michaelson, "Breakable"
My oldest son, Dane, fell off the monkey bars last weekend, and his wrist crumpled like a paper bag: our first broken bone.
After it happened, Dane and I sat at the picnic table while Andrew went home to get the car, and we held it very still, this broken wing. Dane's face was streaked with tears and dirt and disbelief. I broke my arm?! I BROKE it?!!!!
On the car ride over, Dane was sobbing and Liam was pointing out McDonalds franchises, and it was a little morbid, the way I couldn't stop hearing Ingrid Michealson singing that "we are so fragile, and our cracking bones make noise, and we are just breakable, breakable, breakable girls and boys."
Shattered. Fractured. Splintered. Broken. These are words that I have often used to talk about my faith, my journey toward God, my whole fragmented story, turning out so differently than I thought it would. When I say these words, I picture shards — cracked and broken glass or porcelain thrown against a hard wall of doubt and disillusionment.
But in the emergency room, his arm was broken broken — nothing metaphorical about it. 
The X-ray machine whirred like a hovering helicopter over our bodies, which were draped with heavy, lead-filled aprons. A giant male nurse tried twice before getting the IV into Dane's arm. We have to sedate him so that we can reset the bone. Otherwise it will heal with a big bump like this, the doctor said, because the truth is, the bone was already trying to heal itself. Already the blood was clotting, the arm swelling as invisible cells begin to remove the dead and damaged tissue.
Left to their own devices, the fibroblasts will begin to produce fibers of collagen and chondroblasts will produce cartilage to bridge the gap. The body is made to heal. And if we want it to heal correctly, it has to first be realigned. Nothing to worry about, the white-coated doctor said to us gently. Her hair was braided around her head like a halo. If it were my own boys, this is what I would do, she said.
So we let her dose sleep medication into his IV, watched as his eyes close, his head lolled sideways. We let ourselves be ushered into a waiting room with an old TV and a Pixar DVD because they had to set the arm.  Because bones don't stay broken. Because we are made resilient, made to get through this, made to carry on.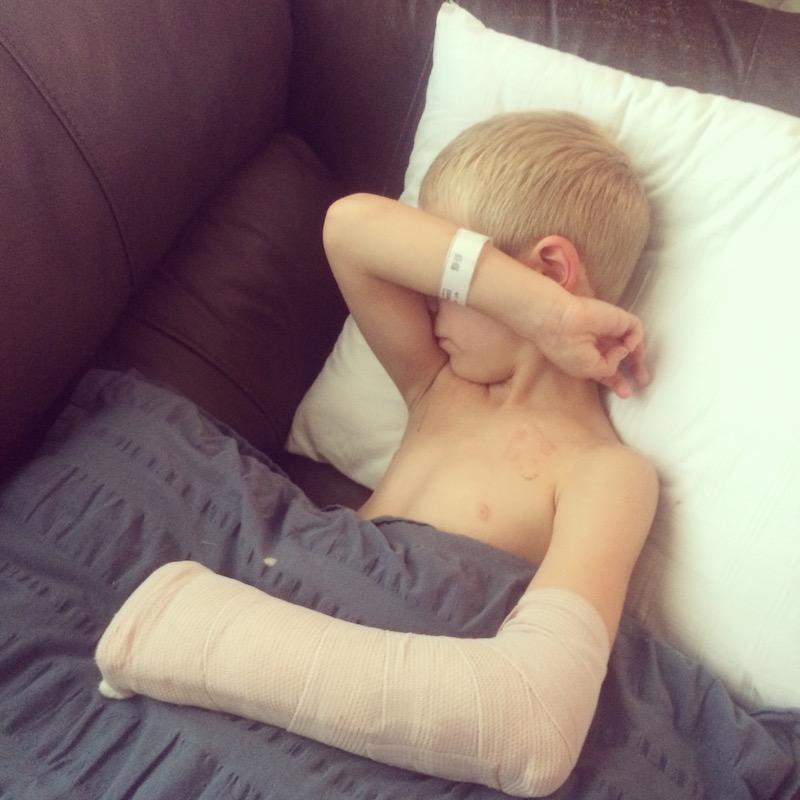 It's been over a week since the monkey-bar-incident. Dane is (finally) in his hard cast. Did you know that they make them waterproof now? WATERPROOF. Genius.
Now he's flipping over the couch and wrestling his dad and slapping his brother and not needing any more ibuprofen. And there are dozens of scientific words for the cell magic happening along the jagged part of his broken bone, but the simplest way to say it is that the body is healing itself.
And the whole thing has me thinking a lot about breaks and fractures. About the things that I have survived. The things that all of us have.
I scroll through my photos of the accident, and I see Dane's crumpled arm, and I think about all the places in me that "healed over" without ever being reset correctly. Church wounds and relationship wounds — broken pieces of me never realigned with Truth. Perhaps this is where the cynicism comes from. The suspicion. The bitterness. Perhaps it comes from that crooked kind of half-healing that left me better…but also worse.
It's sort of a little half-epiphany for me, staring at those X-rays on the fridge (we have several; Dane kept asking the X-ray technician for print-outs of his "skelebones.")
I look at the Before pictures — the jagged bone ridging up into a kind of peak under his wrist.  And then I look at the After photos. The bones are still broken, and they're not perfectly lined up, but they're close enough that when the body fills in the gaps, it will be strong and straight, just like it was before.
This is why it's no good to tell each other to just "get over it" to just "forgive and forget" to just "let it go and move on." Because even though the body can heal, sometimes we need professionals to help snap things back where they belong first.
And it occurs to me that this is why this whole grown-up faith thing is so hard sometimes. It's more painful than simply reimagining and redefining faith — those gentle words I like to use. Sometimes, wholeness requires a re-breaking and re-setting of those places that healed crooked inside of me.
It requires me to admit that though I can do some of it alone, I can't do all of it. I need help. I need people who are trained to see inside, to assess the break, and put things back together as closely as possible. I need to be splinted up, kept still, given time to heal up correctly.
*
Here's the other thing I learned about broken bones. They hurt like hell for several days. And then all of the sudden, they don't hurt at all.
That's what the doctor told us would happen…and that's what happened. For a long four or five days, Dane was moaning on the couch, waking in the night, sobbing in my bed at three in the morning. For a while it was awful. And then it wasn't. Because, in the end, pain is no match for the healing.
And my son…he is strong and brave and broken and healing.
His cast is bright green and WATERPROOF and hard as nails. It is keeping him safe, keeping him healing, even as he bursts through the door into the wide, scary, beautiful world.