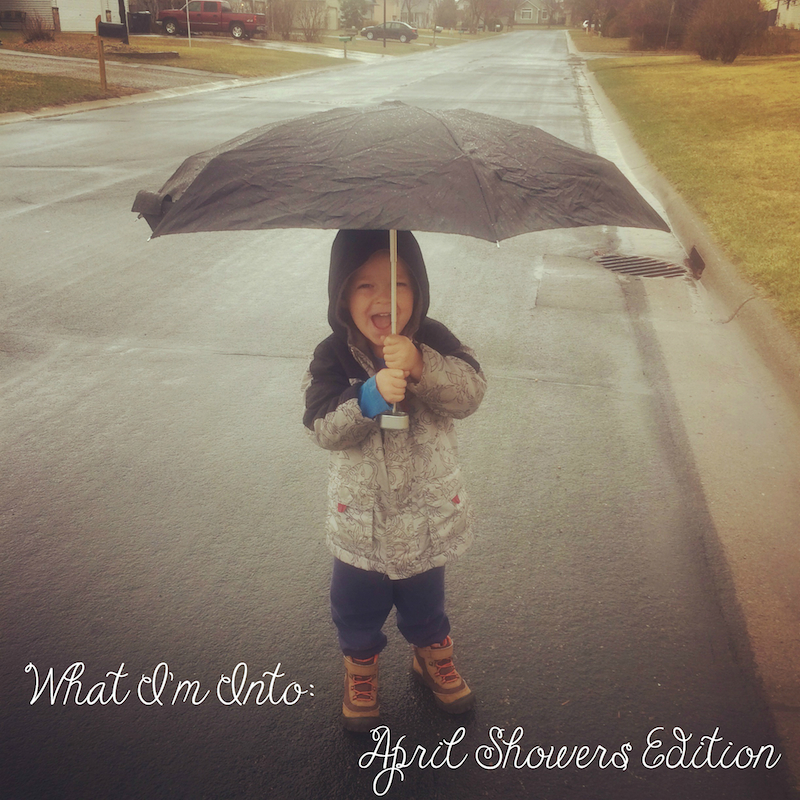 I have no idea what just happened to April. None.
How come January never goes this fast?
What I've Been Reading: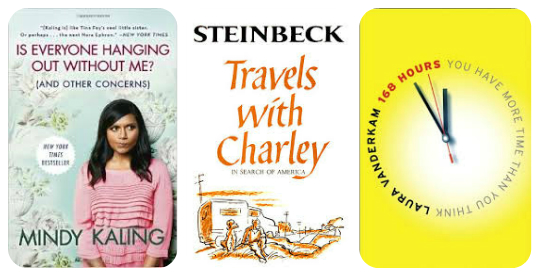 Is Everyone Hanging Out Without Me (and Other Concerns), Mindy Kaling: I thought this was a sweet, fun little memoir. I listened to it on my way to and from Chicago this month, and I think that probably part of the charm of the book is hearing Mindy Kaling herself read it. I thought she and a lot of good thoughts on body image and, surprisingly, marriage.
Travels with Charely in Search of America, John Steinbeck: I'm ashamed to say that this is my first Steinbeck. I know. It's embarrassing. I know his fiction has a lot more "meat" to it, but I chose this book because my second book follows the structure of a road trip, and I wanted to see how Steinbeck handled his journey. Of course, it's Steinbeck, so his language and descriptions were stunning, and though I think he missed some opportunities to make the book more than a simple travelogue, I enjoyed it and took some good things away from the reading.
Favorite quote: "This monster of a land, this mightiest of nations, the spawn of the future turns out to be the macrocosm of microcosm me."
168 Hours: You Have More Time Than You Think, Laura Vanderkam: This book has been profoundly perspective-changing for me. The premise of the book? You actually do have enough time. Enough time to have a meaningful family life, the career you want, and moments of relaxation and joy. I love this concept, because like so many others, I so often feel overwhelmed by all there is to do. It's not a "Christian book," but this book has done more than any other book I've read this year to remind me that I serve a God of abundance, of more-than-enough, and to help me figure out how to start living like it.
Vanderkam gives tons of great tips and tools to make the most of your time. I didn't finish reading this book until just a few days ago, but I'm already beginning to make some changes in the way that I view and use my hours and minutes. Hopefully I'll update you a bit more as I get a few weeks under my belt.
What I've Been Watching:
Still watching Grey's (reluctantly because COME ON), Scandal, Nashville and Vampire Diaries. I'm also LOVING the new sitcom Younger about a 40-year-old woman who pretends to be in her 20s to get a job. Sutton Foster (whom I fell in love with during Bunheads) is perfect, and the whole thing makes me laugh. I also accidentally-on-purpose (thanks to one of your brilliant comments) signed up for CBS full-access so that I could get caught up on The Good Wife.
With Andrew, I'm watching Game of Thrones, which is just losing steam in my mind. Kill off enough important characters and I start to not care (ahem, Grey's Anatomy, take a note). We're also watching Brooklyn Nine-Nine, Silicon Valley and have started Last Man on Earth. I find these shows entertaining, but never laugh until I cry like Andrew does. Maybe it's a guy/girl thing.
What I've Been Listening To:
Mostly, I'm ashamed to say, pre-made collections on Spotify. I was jazzed to find this one of Acoustic Covers because covers make me happy. I love it when artists reimagine each other's work. There's something about it that seems to nod to the community of the whole music scene. If one of my key lessons for this month is abundance and more-than-enough, covers are the music incarnation of that: there are a hundred different ways to interpret a single song, and every single one of them adds something, a new layer, a new idea. Beautiful.
Other Things I've Been Into:
Easter egg hunts. The kids and spent the days before Easter down in Chicago with my parents, where we did one of those chaotic, mad-dash community Easter egg hunts. I have never seen anything like it — parents and kids trampling each other to get to plastic eggs. It wasn't my favorite — but this picture of my Dad and my son is my favorite. (Liam had just seen the Easter bunny.)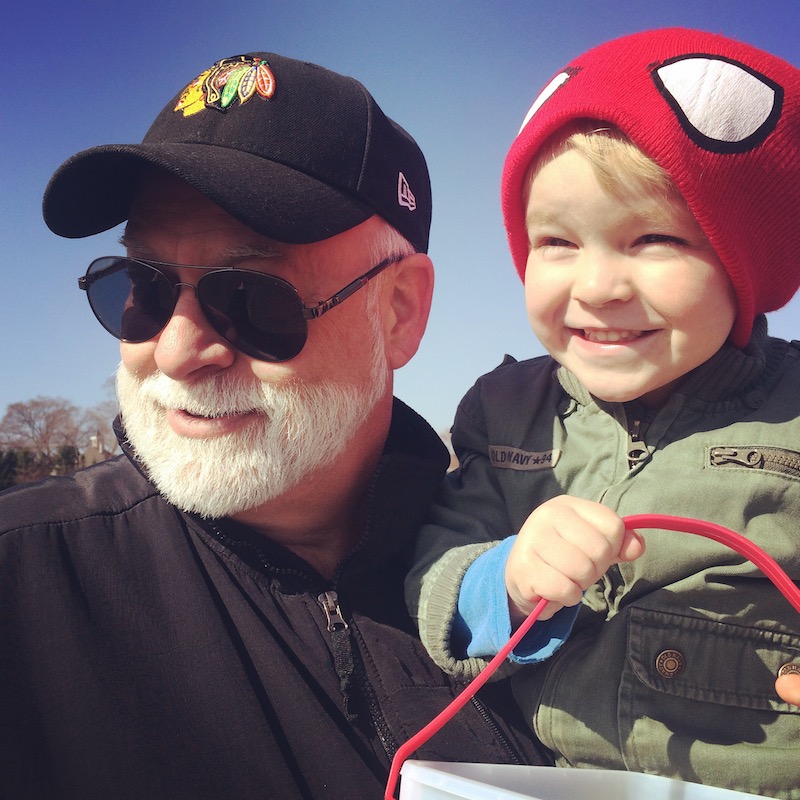 ART. This month, I got to listen to a ton of my favorite poets at the most raucous and fun reading I've ever been to. I also got to go see Les Miserables at Iowa State University with my friend Barb. And then, Andrew, the kids and I topped the whole thing off with a visit to our favorite off-beat sculpture garden, Franconia. That dead space between true winter and true spring is always kind of tough for me…and so much of April was like that. But the art. The art is what saved my life this month.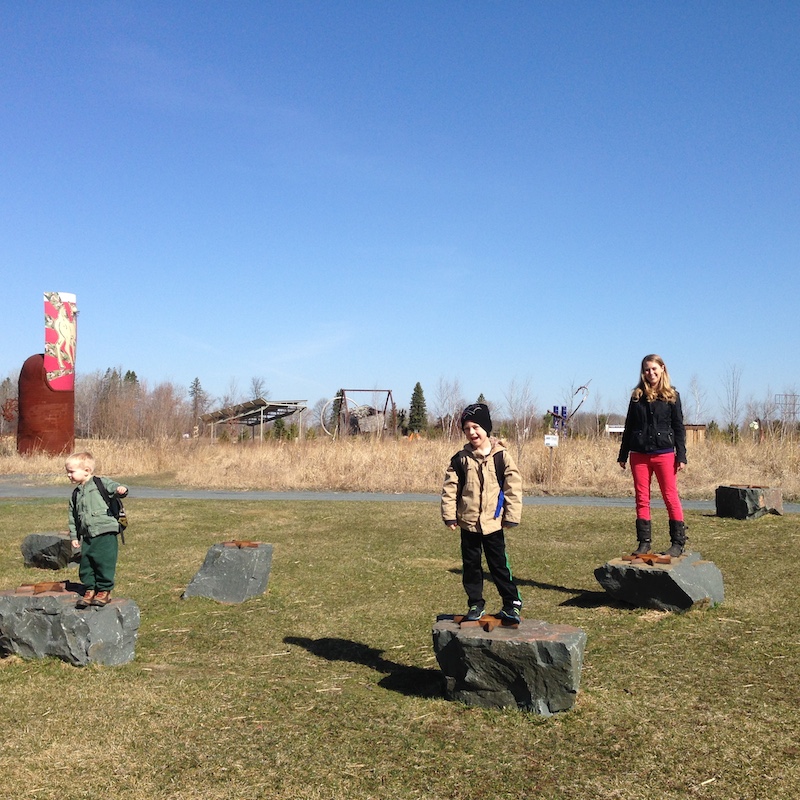 Speaking of art, I've been into Dave Harrity's Making Manifest: On Faith, Creativity and the Kingdom at Hand. I wrote a little about this book back when it first came out here, but I'm sitting down purposefully with it again this season. Writing and art is the pathway that most often leads me to God, and so I'm using this alternative kind of devotional book to draw me back toward him this spring.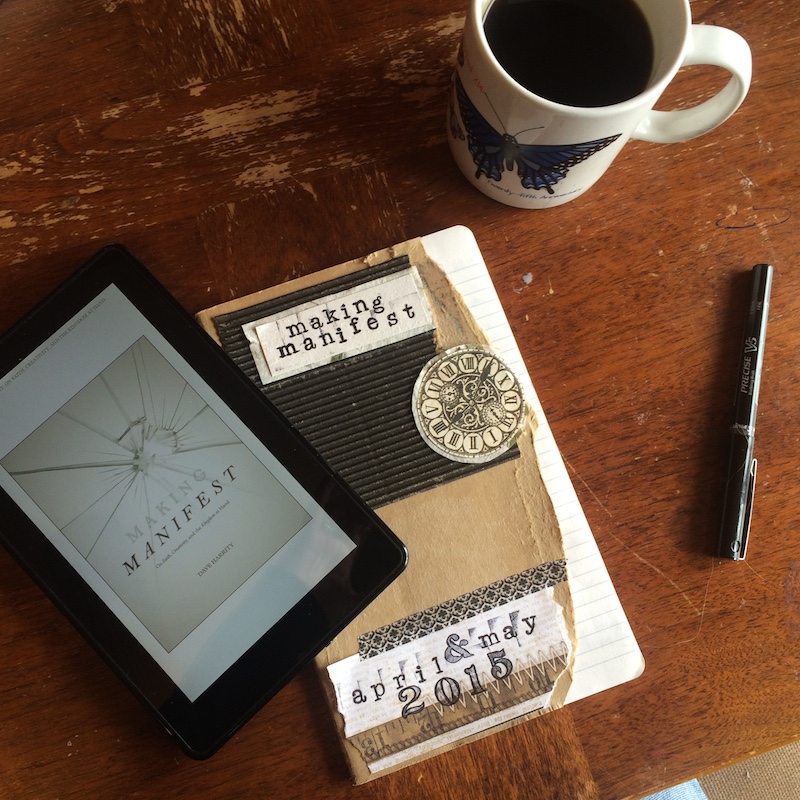 I accidentally ordered the Premium Starter Kit of Young Living essential oils. I feel a little bit like I joined a cult, but I was looking for ways to help treat Andrew's regular sinus issues and to aid in my battle against Depression. So whatever. I promise not to be annoying about it.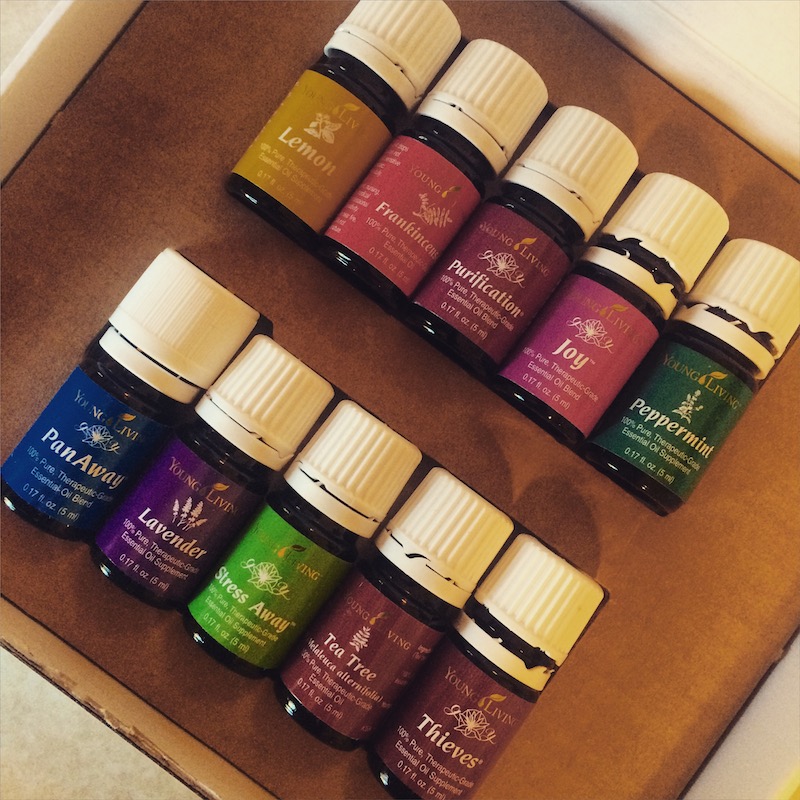 Dane had his school art show. So much adorable goodness, including this sculpture that he titled "Super Castle Park."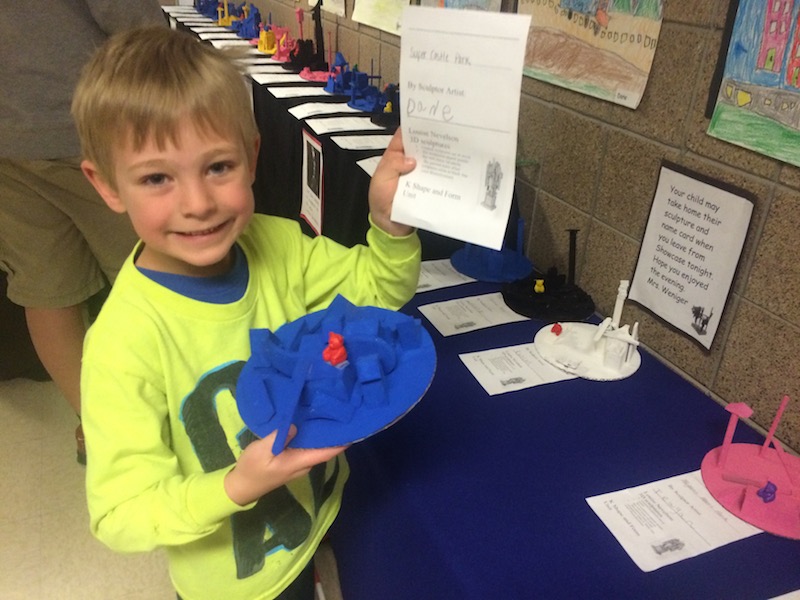 Liam turned four. FOUR. What?

And we went to a rodeo. I tend to like these better when it's summer and you're outside in the sun, but I was pleasantly surprised by how much fun this indoor version ended up being.

The Blog, The Book:
It's been another down month for blogging. I'm back in the throes of book revision, which is consuming most of my mental energy and time. I'm hoping to have a complete revised draft to my editor by June 1st, so I've been working like mad. On the upside, I feel like Book #2 is getting closer to what it's supposed to be, and I'm so excited to tell you about it one of these days.
I did write this piece — The Duggars, Rock Hudson, and the Courage to Change the Narrative — after reading a People Magazine with Barb on the way home from Les Mis. Now if I can just convince Andrew that I need to subscribe to People — FOR THE BLOG.
I also had a chance to speak to a couple of groups this month: a Mom's group in Edina, Minnesota, and the sweet little youth group at my church. Though I do "speaking gigs" pretty regularly these days, they still always make me stomach-knotted-nervous for days and then leave me feeling totally spent. Still, I am always grateful for the chance to look into people's faces, to share a little bit of my story, to make that connection.
Linking up with the loveliest Leigh Kramer (whom I also got to see in April. Woo hoo!).
What about you, dear neglected readers? What have you been into this month?