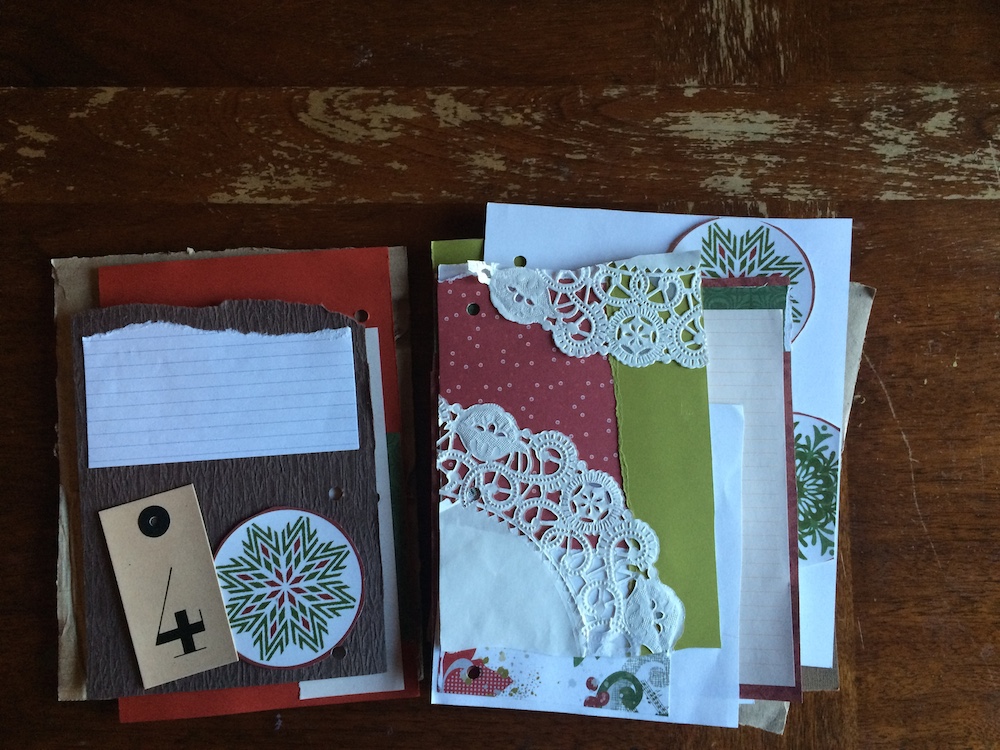 Advent is coming, and I am ready.
I'm always ready for the Advent season — but this year, it feels like it can't get here soon enough, like I need the sacred space that it has to offer.
If you've read much here, you know that I am one of those people who is always so aware of the gap — that emptiness that exists in life whether you are a person of faith or not. I don't know if it's the depression or just my artistic leaning, but I feel it all the time like a gaping hole in my side.
And much of my faith angst comes from the cliches and formulas and bumper stickers that we slap over that gap in order to pretend it doesn't exist.
God will not give you more than you can handle.
If you feel far away from God, guess who moved?
That hole in your life is God-shaped…and only He can make you feel whole!
But the songs and scriptures and of Advent aren't like that.
They're songs of longing and need and desperation. The hymns that are reimagined by a hundred different artists this time of year — O Come O Come Emmanuel and Come Thou Long Expected Jesus and Lo How a Rose E'er Blooming and all those others — recognize the darkness while also holding a space for the coming light.
Sit in the dark, but leave the Christmas lights on, Advent says.
See the beauty in the darkness. Light is coming, light is coming, light is coming.
Light. Is. Come.
And I need this season. I need this validation of both darkness and light…particularly as we begin another long, dark winter in Minnesota.
There is something important, vital, beautiful, essential that I find when I take the time to sit in this tension…
But it's Advent in America, and so there are Hallmark movies and Christmas Light Shows and Big Giant Sales and Christmas parties and cookie exchanges, and so Advent requires a kind of intentionality.
It requires us to find a sustainable way to choose it all over again, year after year after year.
*
Because I love the Advent season so much, I'm annually tempted to do every possible Advent related thing. (And there are so many beautiful ideas. A couple of years ago, I crowd-sourced with my readers, and we came up with a pretty exhaustive and amazing list. And my friend Tanya Marlow has cultivated a great list for 2015 here.)
But his year, I've decided to just pick just a couple of things. (Sometime in the next week or so, I'll tell you what I'm planning to do with the kiddos to help them to learn to make space in their hearts this season. But today's post is just about my own personal engagement with Advent.)
Enter my Advent Junk Journal.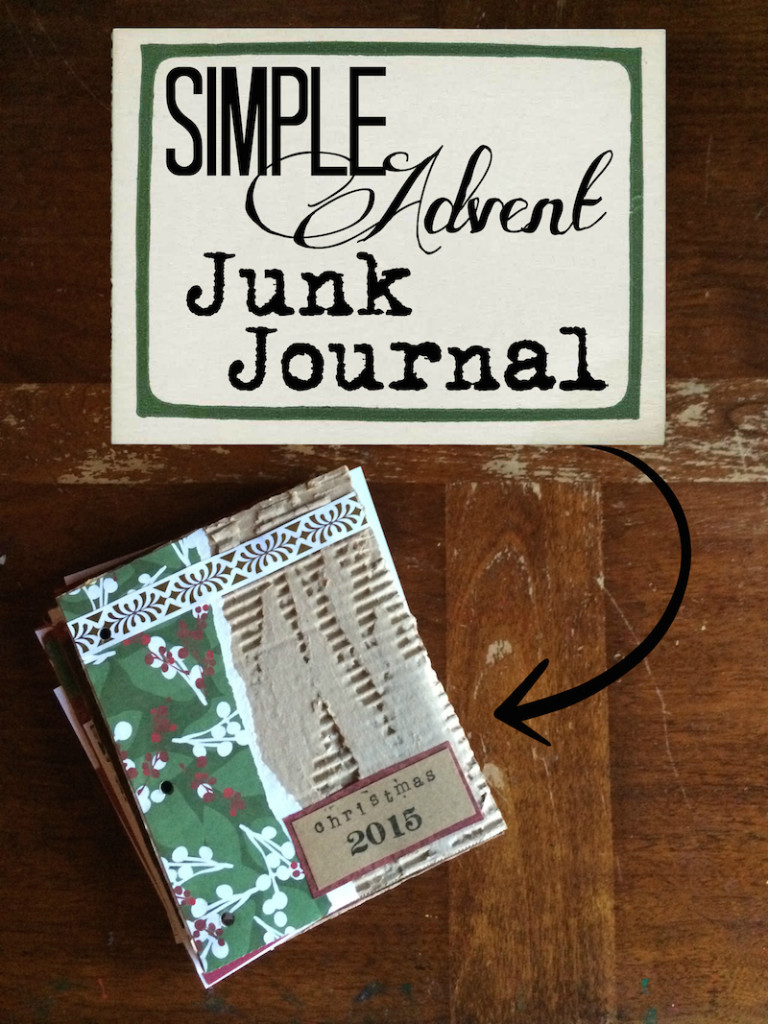 A few years ago, at my church women's group's Christmas session, there was a table filled with all sorts of paper scraps. There was cardboard and envelopes and scrapbook pages and notebook paper. Anything you could think to write on was there. Old teacher logs. Calendar pages. Pizza boxes. Vellum. They even brought in a couple of old typewriters.
After we'd talked around our tables about Christmas and intentionality and noticing, we were invited to get up, to take whatever we wanted, to create our own space.
I was, to use the old cliche, like a kid in a candy store.
But that year, that Advent season, something weird happened. I actually wrote things down. 
That junky journal with its helter-skelter pages — all of which were different widths and lengths, all of which were shoved into a sort of messy, beautiful pile — gave me exactly the space I needed to capture the skittering thoughts and insights that I found coming my way that season.
Now I make one every year.
I don't have quite the same variety of papers available to me, but I can always find random stuff around the house. Scrapbook paper I forgot I had. A notebook with lines that are too wide-ruled for regular use. That grocery list pad from the fridge. That stack of paper that Liam colored on and then decided he hated.
I cobble them together into one book with just the smallest space for writing. And then I keep it around when I'm reading through my motley collection of advent books. When I'm sitting in front of my sun lamp in the morning. When we have the Christmas music on in the evening. And so if some old hymn stops me in my tracks, the book is there. And I have just enough room to write it down.
*
I have a rotation of favorite Advent books that I read here-and-there throughout the month of December. They are the best — guides and voices as I try my best to sit still in the mystery.
I like having a few different ones because it gives me options depending on my mood. My favorite go-to's are:
Watch for the Light: Readings for Advent and Christmas – If you get just one, make it this one. It is such a well put-together compilation of great voices; you won't be disappointed.
Accompanied by Angels: Poems of the Incarnation, by Luci Shaw – The poet's eye on Advent is a crucial one, and I love Shaw's particular take. Gorgeous and haunting.
God is in the Manger, Dietrich Bonhoeffer – I just got this one last year and didn't get a chance to read much of it. Still – there is something powerful about the advent prayers written in prison cell, and I'm looking forward to engaging with this one more this year.
I'm constantly going back to the Advent section of the Henri Nouwen reader Seeds of Hope, but I imagine that these same bits — plus more — are compiled in Advent and Christmas Wisdom from Henri J.M. Nouwen: Daily Scripture and Prayers together with Nouwen's Own Words.
Advent with St. Franics, Diane M. Houdek – This is not, strictly speaking, a series of writings from St. Francis, but Houdek does a nice job of integrating his quotes, insights, and life to deepen the advent experience. It's also the tiniest book I've ever seen, so it's easy to keep in my bag and read when I find myself out and about and with a minute of boredom.
Preparing for Christmas, Richard Rohr – I've gotten in the bad (awesome?) habit of ordering myself a new advent reader at the beginning of each season, and I just bought this one for my 2015 read. I'll keep you posted on that one, but it's come highly recommended and I'm looking forward to checking it out!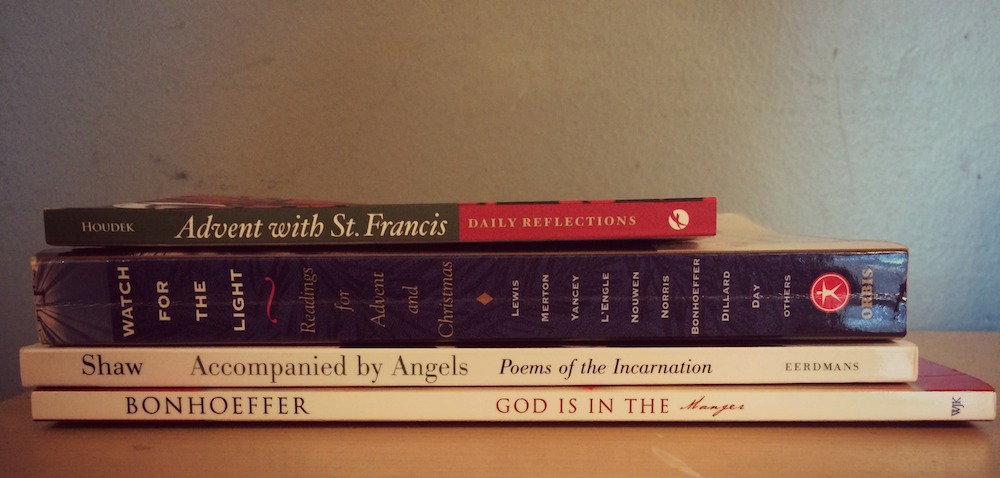 But here's the great thing about the Advent Junk Journal. There is only the tiniest space to write. There is no daily scripture reading with study questions and fill-in-the-blanks that mock you if you don't have time to do them.
I make a point of never including much more writing space than a small notecard or post-it…and then I write down one thing.
One line or quote or insight or metaphor that struck me in my reading…
One verse…
A line of a hymn or a Christmas song that keeps running through my head…
A moment of transcendence with my children…
One unexpected thing that happened today…
One glimpse of a slant of light as it falls over the icy pond…
There are a thousand ways to encounter God, to experience the hard beauty of Advent, and what I've discovered is that more than spending hours reading and praying and journaling — it's just catching one minute. Capturing one small incandescent bit of beauty falling like a snowflake. To jot it down before it disappears.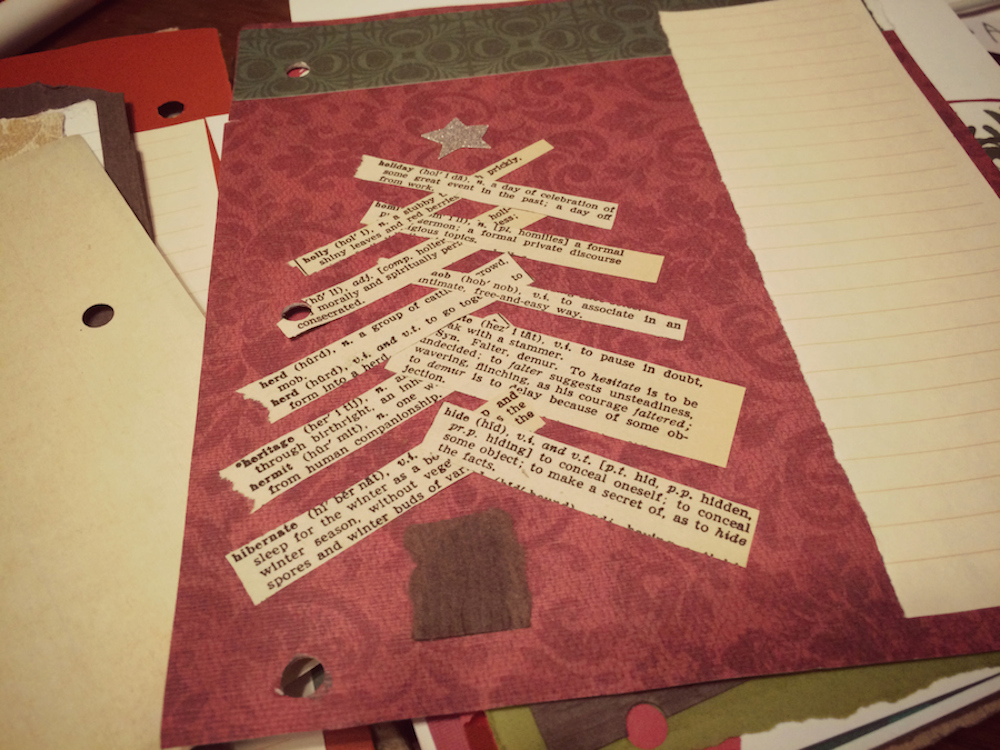 What you need to make an Advent Junk Journal:
Random papers of any types/sizes. Envelopes. Grocery lists. Graph paper. Computer paper. Notebook paper. I had a bunch of unused Christmas scrapbook paper at the bottom of a drawer, so I used a bunch of that, along with cut-up dictionary pages, ripped up notecards, Post-it Notes and
Cardboard for the cover (Literally just rip the top off of some cardboard box. It looks even cooler if you rip it a little to reveal the corrugated inside.)
Book binding rings. The ones at the Dollar Tree are too small. Go with the bigger ones. (You want to have space to be able to add photos, cards, a random church bulletin, flier, or newspaper article)
That's it. It's the easiest craft project ever because it looks even better if you don't line up everything perfectly. (This is perfect for Christmastime when the pressure to be PERFECT seems to reach its boiling point.)
Not crafty? There is no shame in that. You can still have your own version of an Advent Junk Journal. Get one of those tiny moleskin notebooks with just enough space on each page for one small thought. A stack of post-its. A handful of notecards. You could even just use the space in your daily planner to jot things down.
You can do this project however you like. Do whatever helps you mark the days. Whatever centers your heart toward beauty.
Whatever helps you to wait and watch for the light.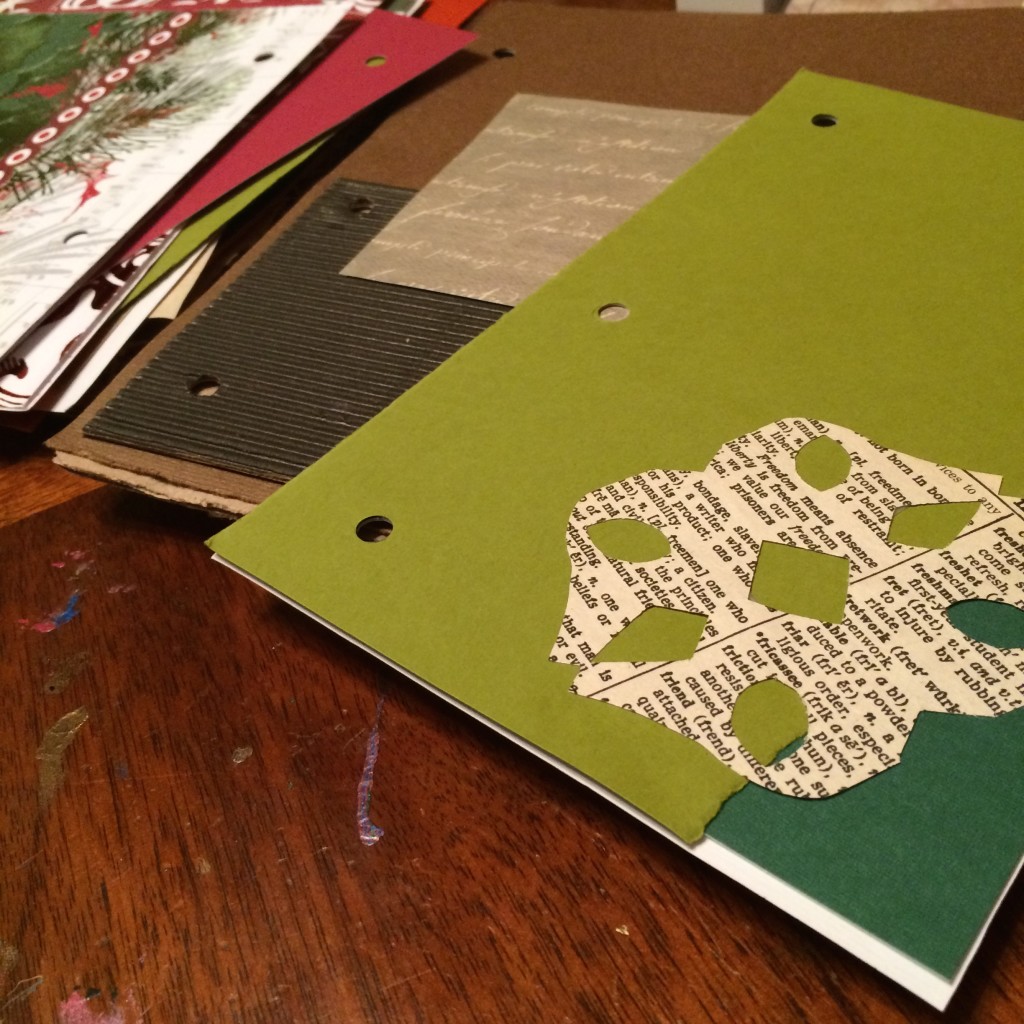 What about you? How do you make space for intentionality at Advent?