The night we lit the first Advent Candle, the CenturyLink sales-guy came to the neighborhood and seduced us away from a tumultuous relationship with Comcast with low rates and the promise of cable. We haven't had cable in half a decade. Maybe longer.
The CenturyLink kid came into our house, took off his boots, loosened his scarf and sat at our kitchen table in the glow of our Hope candle. He sat there while my kids refused to eat spaghetti and meatballs, and we asked him questions about his life while Andrew compared plans and signed the papers.
Within a few days, a dish had been installed into the roof of our house and four-hundred channels were streaming in. Most of the channels don't interest me, but I am thrilled that the Hallmark Channel, with its nonstop "Countdown to Christmas," is here now to make my wrapping/baking/cleaning more bearable during these Decemebering days.
On the Hallmark Channel, there seems to be an overabundance of female executives who are obsessed with their work and who have some Lesson to learn about the Magic of Christmas. And some attractive fireman/lawyer/novelist/woodworker to help them figure it out. I finish some, half-watch others, turn some off only a quarter of the way in when it becomes clear that they're bad even for what they are.
The Hallmark Movies are like glasses of cheap red wine. One or two is fine. But take down any more than that in too short of a time period, and you find yourself nauseous and filled with regret.
*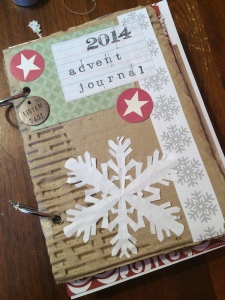 I made an Advent Journal out of ripped cardboard and scraps of pretty paper, and every day I try to write down something. A quote from my advent reading; a moment from our day; a scattered list of gratitude. In the mornings, when I am reading the pretty words, writing in my pretty book, I remember that Christmas is complex and shattering and revolutionary and heartbreakingly beautiful.
In the morning, I remember that when we say Peace, we're talking about a great power — the kind that banishes every bit of unpeace. But by the afternoon, I am bogged down again in all of my middle-mess. A book that's almost-but-not-quite done. A blog that's been ignored; a pile of half-wrapped, half-finished gifts. Gift cards still to buy for teachers and bus drivers. Christmas cards to get mailed out.
In the afternoons, the Light fades into the afternoon gray, and I forget about that powerful peace, and all I can think about is the mess. The kitchen, strewn with dishes and the dishwasher that's leaking and the laundry that's piled up on the bed, waiting to be folded. I'm thinking about the upended lives of friends in pain, wanting to do something — feeling stuck in the middle of my horrendously messy house. Not sure where to start.
In the morning, I want to make my heart a sanctuary for God. I sit in the dim-lit living room, staring blearily at my Christmas tree, and I know in that moment that nothing I do can bring Christ into the world. The he comes anyway, without any of my hand-wringing angst, without my struggling and scraping and scrambling to make things "ready." In the morning, I understand that making space is not about eliminating mess…it's just about opening my heart up wide, wide, wide. As wide as I can.
But then.
Afternoon.
*
I keep forgetting things at Walmart and having to go back the next day. I have been there a shameful amount of times this past couple of weeks.
On Saturday, when I went for laundry detergent and juice for the kids and a couple of other staples, there was a Santa Claus installed between the artificial Christmas trees and the toiletries. He was nothing like the magical, twinkling versions in the Hallmark movie — or even the moderately senile one we saw last week at Culver's. This Santa was wearing a removable white beard with pronounced white elastic and could not have looked less jolly if he tried. Every now and then, he let out a half-assed Ho ho ho that sounded so strangled and hopeless it could almost make you cry.
So many illusions. All these strings behind the magic. It didn't seem quite as exhausting until I was the one in charge of conjuring up magic for little people. Now it seems downright excruciating.
A few parents pushed their children toward the Santa, but the kids looked unsure…if not scared.  I wasn't over there for very long — just long enough to grab a couple of gift boxes — but as I left, I watched a two-year-old burst into tears and resolutely refuse to get out of her cart and into Santa's lap.
Probably best. If the photograph centered the picture even a centimeter wrong, neatly arranged bottles of shaving cream would find their way into the shot, shattering whatever illusion they might have been trying to capture.
*
I bought Ann Voskamp's new Jesse Tree book and tried to read it to the kids, but at five and three, it's too much for them. I kept reading the words louder and louder while they punched each other across my lap. I feel like Ann's children do not respond this way when she reads to them and curse myself silently for doing a bad job of teaching my children the true meaning of Christmas.
What they actually interested in is Elife — our inherited Elf on the Shelf. They have a borderline unhealthy obsession with him, every morning waking up early to figure out where he is. One day, when friends were over, I heard Dane yell, "YOU GUYS. ELFIE IS WATCHING AND HE'S GOING TO TELL SANTA THAT YOU ARE BAD!" I smacked my head on the kitchen counter a few times and lamented my terrible parenting.
At three and five, Dane and Liam could care less about the Advent candles except for when it comes to who gets to blow them out. When I suggested that Dane and I go to the Dollar Store to buy a gift for his brother, he burst into tears and said, "But I want to buy a gift for ME!" and if I'd been alone, I'd have found a place to smack my head again.
I think that maybe we're failing at Christmas, but then Andrew says, "Maybe this is the part where they learn the joy of expectation." And for a minute I feel better.
*
I slide my credit card through the machine and buy a Chipotle gift card for the kid whose name I pulled off of the McDonald's Christmas giving tree on a whim. I can do this — buy gifts for strangers. Feel a certain amount of satisfied goodness when I give it to the lady at the counter. We're not poor — not in that way. Not rich of course— not free from money troubles — but not destitute. I can give good gifts to the people in my life. I can give good gifts to strangers.
In the morning, I am writing in my beautiful journal, feeling the gratitude of all of this.
But then Afternoon, and I feel just as poor as anyone else, standing in my fully stocked, wildly messy kitchen. I am not sure what it is I need to be delivered from, only that I am clinging to this story of a Deliverer born in Bethlehem.
I am desperate to believe that he will deliver even those of us who find our homes in the suburbs, our hunger and poverty not quite as physical but every bit as terrifying.
On the table — a pile of gifts that will communicate love, but not the kind of love that the world needs. On the counter — cookies that are sweet but that cannot fill our hungry hearts. Red wine that does not quench our thirst; Hallmark Movies on a reel whose fictional plots are a two-dimensional, shadowed attempt at capturing That Great Romance — the one I will never wrap my mind entirely around.
*
Christmas is just barely over a week away, and I'm doing it wrong…and I'm doing it right. I'm rich and I'm poor. I'm giving, and also, I'm standing in my kitchen, destitute. I'm receiving something beautiful that I don't feel, don't understand, don't know how to accept.
In the suburbs, the Christmas lights are glowing bright on lonely homes, and the trees are heavy with baggage and hope. The Walmart Santa is carrying his own set of demons, and the Hallmark Christmas Movies actors have washed out of hopeful film careers into this netherworld of sappy movies. They kiss, and the credits roll, but we all know that the story goes on past "Happily Ever After." That it's never quite that simple.
And it's just another Christmas in the suburbs — just another month of seeking and being sought, of looking and losing and being found, found, found again by the God who always comes to the most unexpected places in the most unexpected ways:
A manger. A big box store. The buzzing silence of your own hungry heart as you eat a sugar cookie in two giant bites over the kitchen sink.