I'm so excited to introduce you to my friend Kelly O'Dell Stanley today! I've known Kelly via the Internet for a while, and I had the honor of connecting with her in real life this past February on my Epic Winter Road Trip…and then again at the Festival of Faith and Writing. She is an amazing writer, and as someone who has a complicated relationship with prayer, I absolutely can't wait for her first book, The Art of Praying Upside Down, due out next spring with Tyndale!
Please give her a wonderful welcome and lots of comments — and then pop over to her site and read more!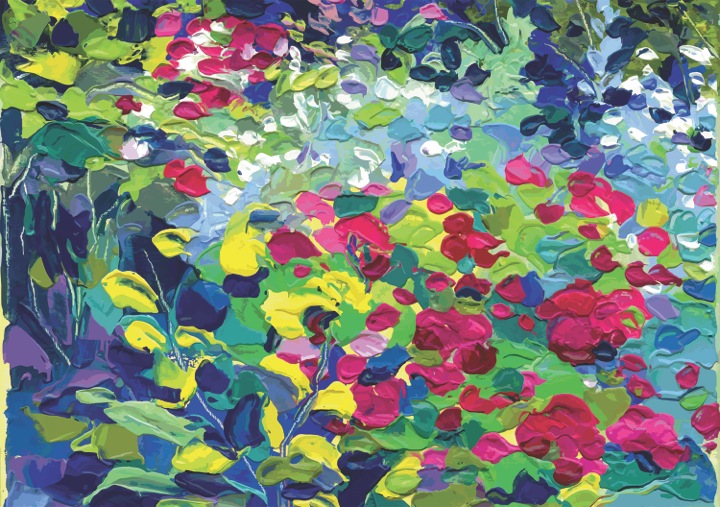 I remember the moment that the pieces clicked into place. I was sitting in a stuffy art history room, taking notes in the ambient light from the slide projector. As a college graphic design major, I liked the idea of studying History of Modern Art. As the daughter of a watercolorist who painted realistic scenes, I was skeptical. Picasso? Mondrian? Who cares about a big red square?
And then my professor explained that these artists weren't celebrated for their accurate drawing skills. They were not lauded for their attention to detail or the caliber of their brush strokes. Rather, they're famous because they expressed their views of the world in a whole new way. They started with the same traditions and skills as the rest of the world, and then.
And then.
Then they saw something new. Maybe it took courage to put it out there for the world, or perhaps they had no choice. The truth of what they'd glimpsed—while elusive and not always immediately clear—mattered too much for them to ignore it. They translated what they saw, what they knew, into art. And now we study these paintings because of the path the artist took to get there. Because what they revealed was unusual. A mishmash of techniques and traditions—keeping what works, discarding the rest—resulting in a whole new take on something that had grown stale.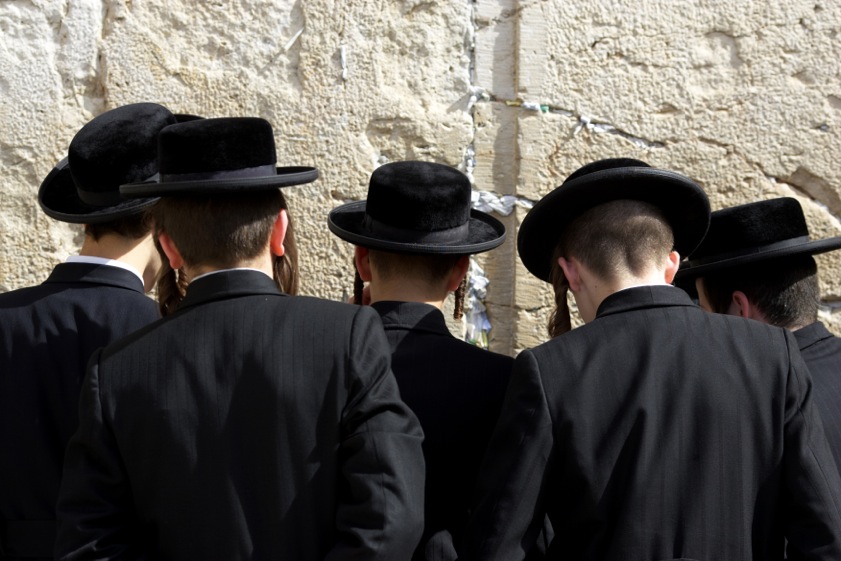 One Friday night on a business trip, I glanced out my fourth floor hotel window. Across the lawn, in another wing, a large conference room was wrapped with glass. Men in black suits, yarmulkes circling the crowns of their heads, dark beards covering their faces, stood in tidy rows. And back and forth, in different rhythms, they rocked. Quickly, almost frantically, their upper bodies moved forward and back, forward and back.
I clung to the window frame, static electricity molding the curtain to my head. Hoping not to be seen watching this intimate ritual, yet unable to pull myself away.
I pray like that.
Not just like that, of course, but I find myself rocking forward, slowly and softly, when I kneel to pray. I have never known why, although something sparked inside me years ago when I read that Jewish men pray like this to engage their bodies as well as their minds. This is the first time, though, that I'd witnessed davening in person.
A kind of certainty chinks itself deep inside, an errant puzzle piece falling into place. Another borrowed tradition. This has always been the rhythm of my prayer, a melody that echoes the rhythm of my faith. Forward and back. An ebb and a flow. Moving as quickly in one direction as the other, equal parts forward-surge and reverse.
In prayer, I close in with the Holy One, but I'm afraid to stay too close. I feel myself burrowing under His protective wing, but before I get too comfortable, I find excuses to leave.
That night, forehead pressed to the glass, I began to understand something about my own worship. That if I move too far in either direction, I can't stay upright. It may look like I'm all over the place, but I'm simply trying to reach Him without falling over in the process. Because faith, prayer, growth—they sometimes happen in tiny, tentative steps. Not gigantic leaps, but a precariously orchestrated dance for balance.
*
Lately, it seems all the loud voices shout and condemn, sharp beaks pecking at our beliefs again and again—until all that's left is a decaying corpse and a large black bird circling ominously overhead. When we look at all of the differences, blasphemy and indoctrination and cultural shifts, Christians who don't look very Christ-like, judgment and condemnation, how do we stay upright?
I wish I knew all the answers. But I suspect it has to do with where we're looking for our inspiration. And how we display it when we find it.
This makes me think again about those artists I studied in college. Acceptance wasn't what drove them. Something deep down inside insisted that they express themselves. They borrowed techniques and traditions, wrestling with them until they could transform the pieces into something new, something true. Something that, even if it was beyond most people's understanding, eventually made a lasting mark.
And that comforts me. Because my faith—my relationship with God, the ways I practice, the words I pray—may not look much like anyone else's. And yours may not look like mine.
I hold tight to the conviction that even if it doesn't change the world, my faith changes me. Whatever way I come to express my faith in Jesus will be worth all of the stumble-steps, all of the discarded attempts, if I find God along the way. Because as flawed as a particular church or tradition or teaching may be, there are still parts worth clinging to. I won't—and don't have to—wrap my arms around the ideas that don't work. But I do have to open my eyes in order to see the ones that do.
I'm willing to explore. Willing to take a chance. Willing to lean forward, adding a dot of paint to my canvas, quickly, before I rock backwards and can no longer reach it. If I yield to my natural rhythm, the to and fro of my prayer, before long, my face will draw near to the composition. Those times are sweet and lovely. But so are the ones when I pull back—because if I'm lucky, just like with art, maybe the distance will reveal something that I couldn't see up close.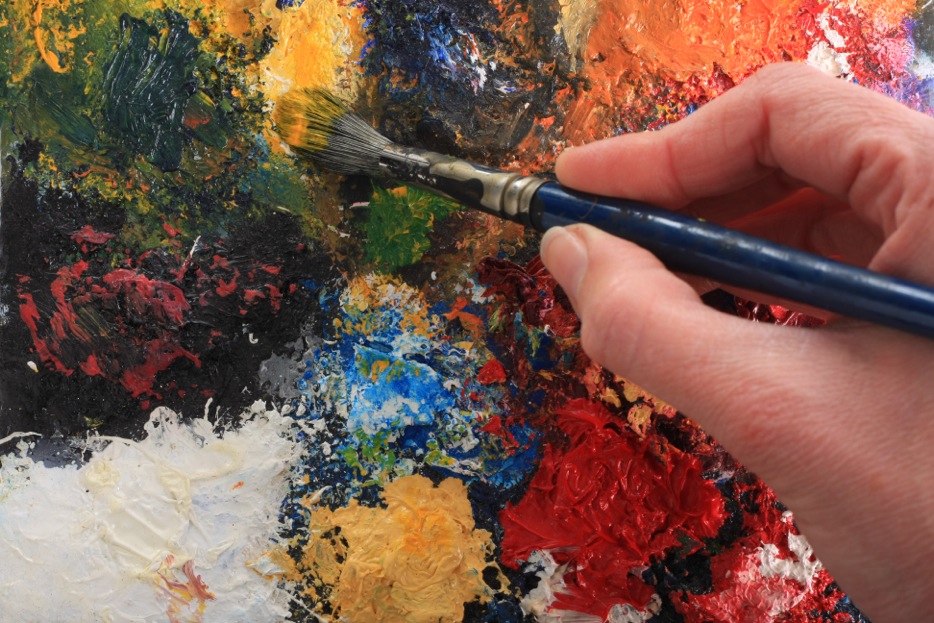 So, for now, I'll stop fighting it. I'll lean into my own rhythm, one much like that of these men praying in the glass conference room and the artists who struggled many years ago. Forward and back. The faith I've found through loss and love, heartbreak and despair, hope and joy and sorrow. The rhythm of my faith that rocks me, gently, through doubt and questions and wonder.
Into a place—a new place—where I can remain.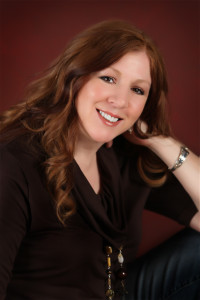 Kelly O'Dell Stanley is a graphic designer, writer, and author of The Art of Praying Upside Down (to come this spring from Tyndale Momentum). With over two decades of experience in the advertising world, three kids (20, 18 and 13), and a husband of 23 years, she's learned to look at life in unconventional ways—sometimes even upside down. In 2013, an essay of Kelly's received first place in the Writer's Digest Competition in Inspirational Writing. She lives in Crawfordsville, Indiana, where she operates her own graphic design business and constantly seeks new ways to see what's happening all around her.